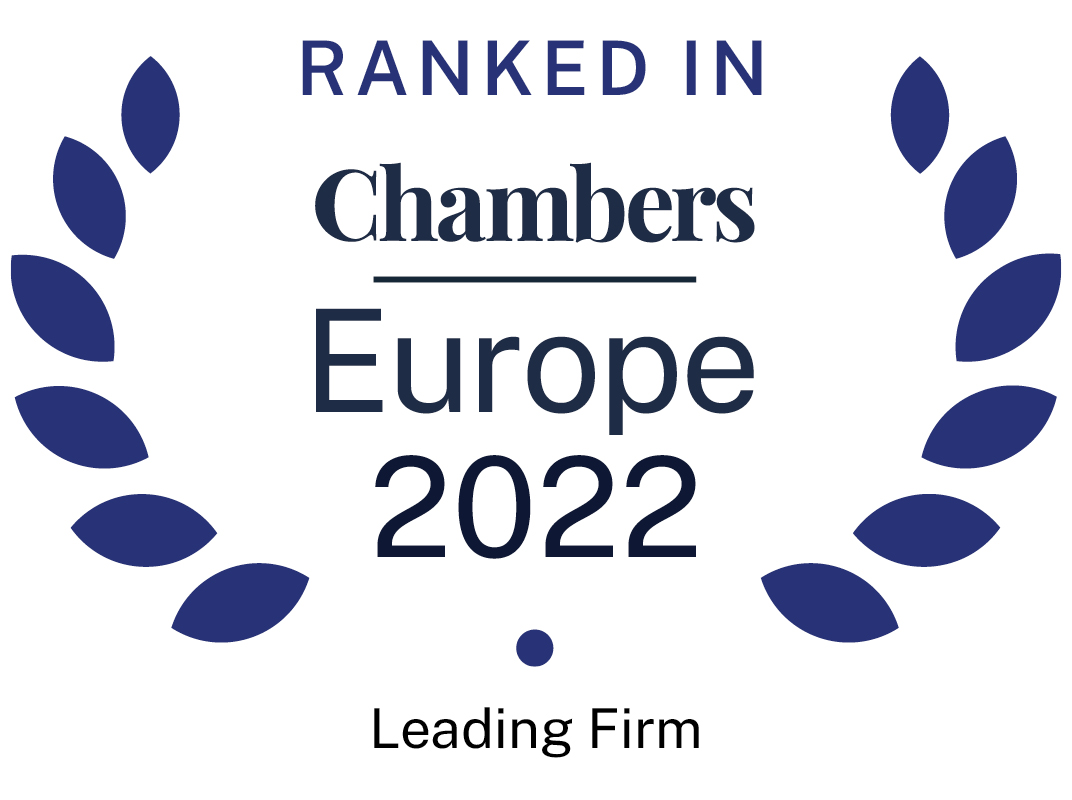 About
Provided by SSW Pragmatic Solutions
Europe
Chairman: Wojciech Szczepaniak
Managing Partner: Piotr Spaczynski
Member of the board: Szymon Okoń
Number of partners: 38
Number of lawyers: 157
Languages: English, French, German, Italian, Spanish, Chinese, Polish
Firm Overview:
SSW Pragmatic Solutions combines innovation and experience to help clients tackle their commercial, legal or tax challenges. SSW stays ahead of the curve regarding the latest trends. The firm's solutions are designed to help its clients anticipate and prepare for challenges both now and in the foreseeable future.
Main Areas of Practice:  
Capital Markets: 2 Partners; 5 Fee Earners based in Warsaw
■ J.P. Morgan, Bank of America – local counsel to Joint Global Coordinators on an international public offering
■ ECM: Santander Bank Polska – advice on the sale of the bank's transfer agent business to a strategic investor
■ DCM: Fasing – advice on creating a bond issuance programme
Key Clients: Bank of America, J.P. Morgan, Marie Brizard Wine & Spirits S.A., Paged S.A., UBS AG Group, AllianceBernstein, Ipopema TFI, Stelmet S.A., Master Pharm S.A., WDB Brokerzy Ubezpieczeniowi S.A., Erbud S.A., Capital Park S.A., White Stone Development Sp. z o.o. BoomBit S.A., Ferrum S.A., Games Operators S.A., Brand24 S.A., Michael/Strom Obligacji Korporacyjnych FIZ, Ten Square Games S.A., XTPL S.A., PlayWay S.A., SpyroSoft S.A., Big Cheese Studio S.A., JR Holding S.A., Event Horizon S.A., HiProMine S.A., Erato Energy S.A., INC S.A., Zakłady Przemysłu Cukierniczego "Otmuchów" S.A., PIT RADWAR S.A.
Contact: Wojciech Szczepaniak
Tel: +48 600 433 522
Email: [email protected]
Energy & Natural Resources: 6 Partners; 8 Fee earners based in Warsaw and Poznan
■ Baltic Power - legal support regarding a complex of offshore wind farms on the Baltic Sea, with a total capacity of 1200 MW
■ Wpd Europe GmbH - advice on financing five wind farms to be constructed and operated under the new Polish auction regime
■ PKN ORLEN S.A. - legal and transactional advice on acquiring an operational wind farm (Kanin) with an installed capacity of 20 MW
■ ExxonMobil – representation in connection with day-to-day downstream operations in Poland regarding regulatory, environmental and corporate matters, contracts, data privacy and compliance
■ Wirtgen Invest Energy GmbH – advice on the acquisition of a 42MW wind farm from a German project developer in Barwice (Poland)
Key Clients: ExxonMobil, Wpd Europe GmbH, PKN Orlen, IKEA, Better Energy A/S, Lumina Capital, Electrum Group, Wirtgen Invest, NextEnergy Capital, Orlen Południe, Goldbeck Solar, Equitix, Thumos/Paged Energy Group, Baltic Power, Jeronimo Martins Polska, Polpharma
Contact: Piotr Spaczyński
Tel: +48 602 250 491
Email: [email protected]
Contact: Dominik Strzałkowski
Tel: +48 501 741 747
Email: [email protected]
Real Estate: 1 Partner; 5 Fee Earners based in Warsaw
■ Legal advice on acquiring a real estate portfolio consisting of over 300 hypermarkets / shopping centers in Poland (ongoing project)
■ Origami and 4Fi - legal advice on a cross-border transaction i.e. acquiring Tesco's real estate portfolio - 6 shopping centres
■ 7R SA and InSite - legal advice on negotiating and concluding a programme agreement to construct BTS projects throughout Poland. Portfolio value approx. EUR 150m
■ Legal advice on negotiating a joint venture agreement with REIT from South Africa to construct a portfolio of warehouse projects throughout Poland. Programme value approx. EUR 200m. (ongoing project)
■ 7R Legal advice on negotiating and concluding several significant lease agreements concerning BTS projects. Total leasable area over 300,000 m².
Key Clients: Grupa PKN Orlen, 7R S.A., H&M Hennes & Mauritz logistics Sp. z o.o., Bouygues, Immobilier, PZU TFI, Waimea Holding S.A., Real Management S.A., Aerium Finance Ltd., Segro plc, Multishop, Wund Industriebau GmbH, Skanska S.A., Impexmetal S.A., Origami Partners, 4 Friends GmbH, Eiffage Immobilier, CCC S.A., Naspers Classifieds, Value Real Estate, DL INVEST, CRM Students, Aldesa Construcciones, Steinpol Central, Services sp. z o.o.
Contact: Robert Wodzyński
Tel: +48 664 445 115
Email: [email protected]
Tax: 6 Partners; 8 Fee Earners based in Warsaw
■ Sawex Chemicals - obtained a positive ruling by the Supreme Administrative Court confirming that tax authorities may not refrain from issuing tax rulings explaining regulations of the Polish regulations on Mandatory Disclosure Rules, implementation of DAC6 Directive
■ Impexmetal – devising an effective tax structure as part of the sale of the listed company's business unit to a Swedish manufacturer of aluminum products. 
■ VRE – Tax assistance during the transaction of selling werehouse complex
Key Clients: Delve, Skanska SA, Żabka, 7R SA, Lumel SA, Lumel Alucast SA, Arriva, Lerg, Ceramika Końskie, DL Invest Group, Sawex, Nałęczów Zdrój, Origami, Stelmet Group, VOX Group, Eveline, Aerium, Budizol, CD Projekt, Cinkciarz.pl, Dirlango, Erbud, Fogo
Contact: Patrycja Goździowska
Tel: +48 664 445 116
Email: [email protected]
Contact: Tomasz Wickel
Tel: +48 517 270 826
Email: [email protected]
TMT: Data Privacy, IP, TMT & Digital Transformation: 2 partners; 8 fee earners based in Warsaw
■ Credit Agricole Bank Polska – providing on-going legal support as a dedicated digital transformation legal partner. Legal services included support in drafting and negotiating contracts with IT services providers
■ Jeronimo Martins Drogerie i Farmacja – advice on data protection, consumer protection law and e-communications law in connection with launching a retail platform for a nationwide drugstore chain and its relationship to a prior loyalty programme
■ Santander Consumer Bank S.A. – support in drafting and negotiating a data processing agreement concerning the implementation and development of an IT system
■ mElements S.A. (a subsidiary of mBank, one of Poland's largest retail banks, owned by Commerzbank) – providing on-going legal support as a dedicated cloud computing transition legal partner. Legal services included support in drafting and negotiating contracts with cloud computing vendors and dealing with regulatory and compliance legal issues
■ Copernicus Capital – comprehensive legal services
Key clients: LERG S.A., Apollo Vredestein Opony Polska Sp. z o.o., Techland sp. z o.o., Medapp S.A., iDeals Solutions Group Limited, Sun Investment Group Polska Sp. z o.o., XTPL S.A., Riot Games Inc., Stock, Polimex Mostostal, SPiDOR/Interactive Software Federation of Europe, Ewa Wendłowska - Biznes Partner Serwis, Harper Collins Polska, WellWell, Motion VFX, Prison Games
Contact: Jakub Kubalski
Tel: +48 538 553 087
Email: [email protected]
Contact: Katarzyna Szczudlik
Tel:+48 538 557 569
Email: [email protected]
Ranked Offices
Provided by SSW Pragmatic Solutions
SSW Pragmatic Solutions rankings
Europe Guide 2022
Filter by
Poland
Banking & Finance
1 Ranked Lawyer
Lawyers
Capital Markets: Equity
1 Department
1 Ranked Lawyer
Department
Lawyers
Corporate/M&A: Mid-Market
1 Department
1 Ranked Lawyer
Department
Corporate/M&A: Mid-Market
Lawyers
Dispute Resolution
1 Ranked Lawyer
Dispute Resolution: Arbitration
1 Ranked Lawyer
Energy & Natural Resources
1 Department
2 Ranked Lawyers
Department
Energy & Natural Resources
Lawyers
Projects & Infrastructure
1 Department
Department
Projects & Infrastructure
Tax
1 Department
1 Ranked Lawyer
Department
Lawyers
Tax: Consultants
1 Ranked Lawyer
Lawyers
Articles, highlights and press releases
12 items provided by SSW Pragmatic Solutions