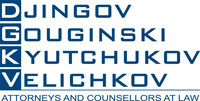 Djingov, Gouginski, Kyutchukov & Velichkov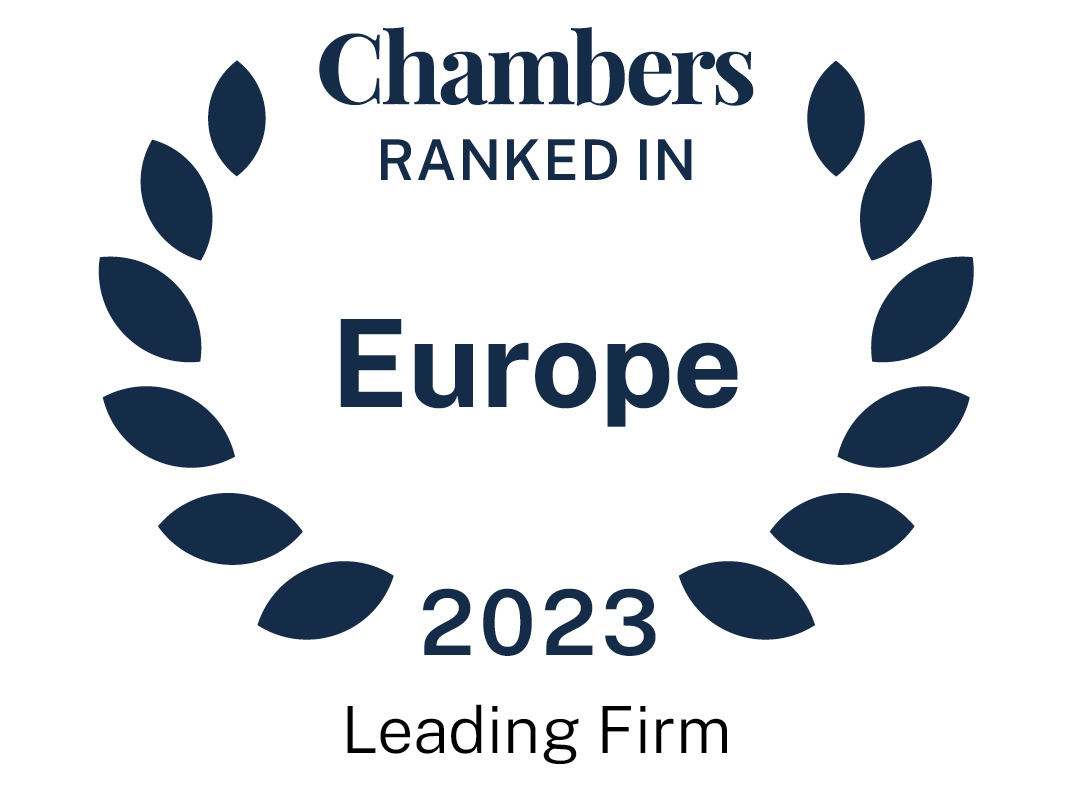 About
Provided by Djingov, Gouginski, Kyutchukov & Velichkov
Europe
Managing Partner: Assen A Djingov
Number of senior partners: 18
Number of other lawyers worldwide: 60
Languages: Bulgarian, English, French, German, Russian
Firm Overview:
Djingov, Gouginski, Kyutchukov & Velichkov is one of the best full service law firms in Bulgaria, providing top-tier service and advice to primarily international corporate clients.
Its ever growing portfolio of over 5000 major multinational clients is a fair attestation of the high quality of its legal services.
We work with a single-minded commitment to one goal: Providing our clients with the most timely, effective, and professional assistance possible.
In doing so, we prioritize a set of core values and principles:
Client Focus and Commercial-Mindedness
Hard Work and Innovation
Teamwork and Communication
Ethical Conduct
Our lawyers are leading specialists in their fields, offering advice in Bulgarian, English, German, and French to publicly and privately-owned companies investing in Bulgaria, major international investment and commercial banks, securities firms, institutional investors, venture capital funds, industrial, utilities, service, distribution, and retail companies, hotel corporations, real estate developers, non-profit organizations, and international financial and development institutions. We also advise the Bulgarian Government and EU institutions on transactional, regulatory, and compliance matters.
Main Areas of Practice:
Corporate/M&A
Banking & Finance
Energy & Utilities
Competition/Antitrust
Real Estate & Construction
TMT
Dispute Resolution
Intellectual Property
Employment & Mobility
Taxation
Corporate / M&A:
DGKV is a firm with a clear focus on business law. The firm's experience spans for more than 28 years of advising major domestic and international clients of the law firm in some of the largest M&As and privatizations to ever originate on the Bulgarian market and on the most significant global transactions with Bulgarian law aspects. DGKV's team has a superb reputation for advising on the most significant both large and small-scale local and cross-border M&A transactions in Bulgaria with an impressive track record in the outsourcing, IT, banking, energy, TMT, pharma, and real estate sector, etc.
Recent Key Clients: P.P.F. a.s., Sony Europe, Hitachi Solutions Co. Ltd., QuickBase, Inc, ERG Insaat Ticaret ve Sanayi AS, DOHLE Trading Group Holding, Globe Trade Centre S.A., LKQ Corporation, Lukoil Europe, etc.
Banking & Finance:
Banking and finance constitutes a core area in the legal practice of DGKV. The law firm has one of the largest and most diverse banking and finance practices in Bulgaria and is recognized as one of the factors on the financial market in the country by the most respected international legal guides. With more than 10 highly regarded practitioners, DGKV has the resources to assemble the right team to address the most complicated and time-sensitive matters. What sets DGKV apart is the firm's thorough understanding of the clients' business and objectives. Blending insights and experience from across the law firm, DGKV's lawyers identify solutions and deliver positive results when handling a variety of sophisticated financial projects. The firm advises major local and Fortune 500 companies on complex domestic and international financial projects across a variety of industries.
Key Clients: World Bank, EBRD, JBIC, BSTDB, China Eximbank, The Export Import Bank of China (CEXIM), Deutsche Bank, EIB, Dexia, Komunalcredit, Procredit Bank, Citibank, OTP and DSK Bank, Barclays Capital, Merill Lynch, JP Morgan Europe Limited, Western Union, Visa Europe, etc.
Energy & Utilities:
DGKV's energy and natural resources practice represents one of the oldest and most prominent teams in Bulgaria. The firm's experience spans for over 28 years of providing interdisciplinary legal solutions for major, both Bulgarian and international, clients on a broad range of issues related to implementing energy business in Bulgaria. DGKV's lawyers have played an active role as consultants in some of the cornerstone energy projects in Bulgaria and the region, and more particularly on pipeline development, power generation and distribution projects.
Key Clients: ABB, AES, China Development Bank, Chinese Investment Corporation, China Export & Credit Insurance Corporation (SINOSURE), Chevron, Gamesa Energy, Gazprom Marketing & Trading, Mitsui&Co, Verbund, CountourGlobal, Lukoil, J,P Morgan, Marubeni Europower, etc.
Competition:
With a strong competition practice, DGKV has made a significant contribution to the development of the law and practice of the Bulgarian Commission for Protection of Competition ('CPC').DGKV is advising/ advised:
■OMV on all competition law matters stemming from their operations in Bulgaria
■Gazprom Export with respect to an alleged breach of competition rules related to an alleged refusal to supply by Gazprom
■The Bulgarian subsidiary of British American Tobacco plc on competition law and regulatory matters in our jurisdiction on an ongoing basis
■Nikon with respect to an investigation launched by the CPC into an alleged abuse of dominant position and prohibited practices in vertical agreements
Other Key Clients: Abbott Laboratories, Merck, Visa Europe, Coca Cola Bulgaria, Cisco Systems, NEPI, Froneri, Mayoral, MasterCard Europe , Italfood, Biofresh, Karsan Otomotiv, Devnya Cement, etc.
Real Estate & Construction:
DGKV enjoys stellar reputation on the real estate market in Bulgaria and is renowned for its expertise in handling large-scale, complicated investment projects. DGKV advised:
■NEPI Rockcastle plc on the EUR 252.9m acquisition of Paradise Centre shopping center in Sofia. This is the highest price paid for a real estate in Bulgaria
■Latecoere Group on the opening of a production plant in Trakia Economic Zone
■The acquisitions of TZUM, Sofia's largest trade and office center, and of Sofia Radisson Blu and Sofia Hilton, both Sofia landmark hotels
■A number of operating mall acquisitions
■Land acquisition and construction and/ or acquisition of residential, office, retail and mixed-use developments, for clients, such as Multi Development B.V., Orchid, Corio B.V., Arcapita Limited, State General Reserve Fund of Oman, GTC, Deutsche Bank's RREEF
■Large scale commercial real estate financings such as OTP Bank, IFC, Bank Hapoalim, Piraeus Bank, etc.
TMT:
DGKV offers a 'one stop shop' for the technology companies which operate in Bulgaria. The law firm is globally recognized as market leader in TMT law in Bulgaria being consistently ranked as top-tier by the world's most prestigious legal guides and directories.
■Google on a regular basis
■Facebook and Instagram on IP matters on an ongoing basis
■Universal 1440 Entertainment LLC on Actor/ Stunt Agreements
■Progress Software on the acquisition of Telerik
Key Clients: P.P.F. a.s., Discovery, Nokia, SAP, Accenture, CBS, News Corp, Ingenious Media, etc.
Dispute Resolution:
DGKV has doubtlessly the largest and most diverse dispute resolution practice in Bulgaria and is recognized as a key factor in litigation in the country. Recent work:
■Gazprom Export in a EUR 110 mln. complex cross-border commercial dispute against the Bulgarian Overgas group of companies
■ V2 Investment S.à r.l. under the pending court claim initiated by the trustees of the bankruptcy estate of Corporate Commercial Bank
■BMW AG with regard to insolvency proceedings against a major Bulgarian supplier
■TD Bank in a USD 1 million bank fraud case
■Swiss Latam AG on the Bulgarian anti-money laundering regulation with a view to reimbursing substantial funds worth millions of euro
■Ongoing litigation service provider to Turkish Airlines
■Shanghai Chaori International Trading in revocation of arbitral award.
Intellectual Property:
DGKV advises clients from various industries on IP matters: Facebook, Instagram, Warner Bros., Carlsberg, Pierre Fabre, Guess, Transport for London, Universal, Universal Pictures International, Wizz Air, Sony Interactive Entertainment, British American Tobacco Trading, Karelia Tobacco Company.
Employment & Mobility:
DGKV advises major labour and social security clients: Sanbolic, Abbott, AES, Actavis, Accor, Merck, BNP Paribas, CEZ, Carlsberg, Dell Europe, General Electric, Marks & Spencer Group, Babcock Networks, Palfinger, PepsiCo, SITEL, SKF, Temenos, etc.
Taxation:
DGKV advises on a variety of tax issues: Abbott Laboratories, Siemens, Merck, AES, Barclays Bank PLC, CEZ, Petro Singapore Trading.
Offices:
10 Tsar Osvoboditel Blvd., Sofia 1000, Bulgaria
T: +359 2 932 1100, F: +359 2 980 3586
Schlegelstrasse 29, 10115 Berlin (Mitte), Germany
T: +49 30 2758 1561, F: +49 30 2758 1562
Ranked Offices
Provided by Djingov, Gouginski, Kyutchukov & Velichkov
Contributions
1 Contribution provided by Djingov, Gouginski, Kyutchukov & Velichkov
Slide 1 of 1
Law and Practice | Bulgaria
Law and Practice | Bulgaria
Djingov, Gouginski, Kyutchukov & Velichkov rankings
Europe Guide 2023
Filter by
Bulgaria
Banking & Finance
1 Department
3 Ranked Lawyers
Department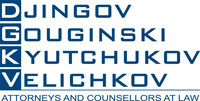 Lawyers
Georgi Tzvetkov
Head of Banking & Finance
Nikolai T Gouginski
Head of Banking & Finance
Competition/Antitrust
1 Department
2 Ranked Lawyers
Department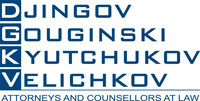 Lawyers
Nikolai T Gouginski
Head of Competition/Antitrust
Corporate/Commercial
1 Department
1 Ranked Lawyer
Department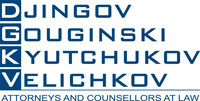 Lawyers
Zdravka Ugrinova
Head of Corporate/Commercial
Dispute Resolution
1 Department
1 Ranked Lawyer
Department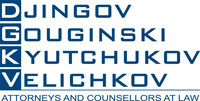 Lawyers
Angel Ganev
Head of Dispute Resolution
Employment
1 Department
1 Ranked Lawyer
Department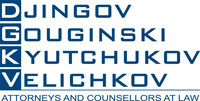 Lawyers
Youliana O Naoumova
Head of Employment
Energy
1 Department
2 Ranked Lawyers
Department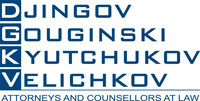 Lawyers
Milan Pandev
Head of Energy
Intellectual Property
1 Department
1 Ranked Lawyer
Department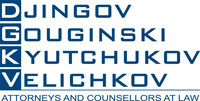 Lawyers
Kalina Tchakarova
Head of Intellectual Property
Real Estate
1 Department
2 Ranked Lawyers
Department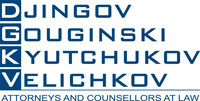 Lawyers
Stephan Kyutchukov
Head of Real Estate
Articles, highlights and press releases
50 items provided by Djingov, Gouginski, Kyutchukov & Velichkov