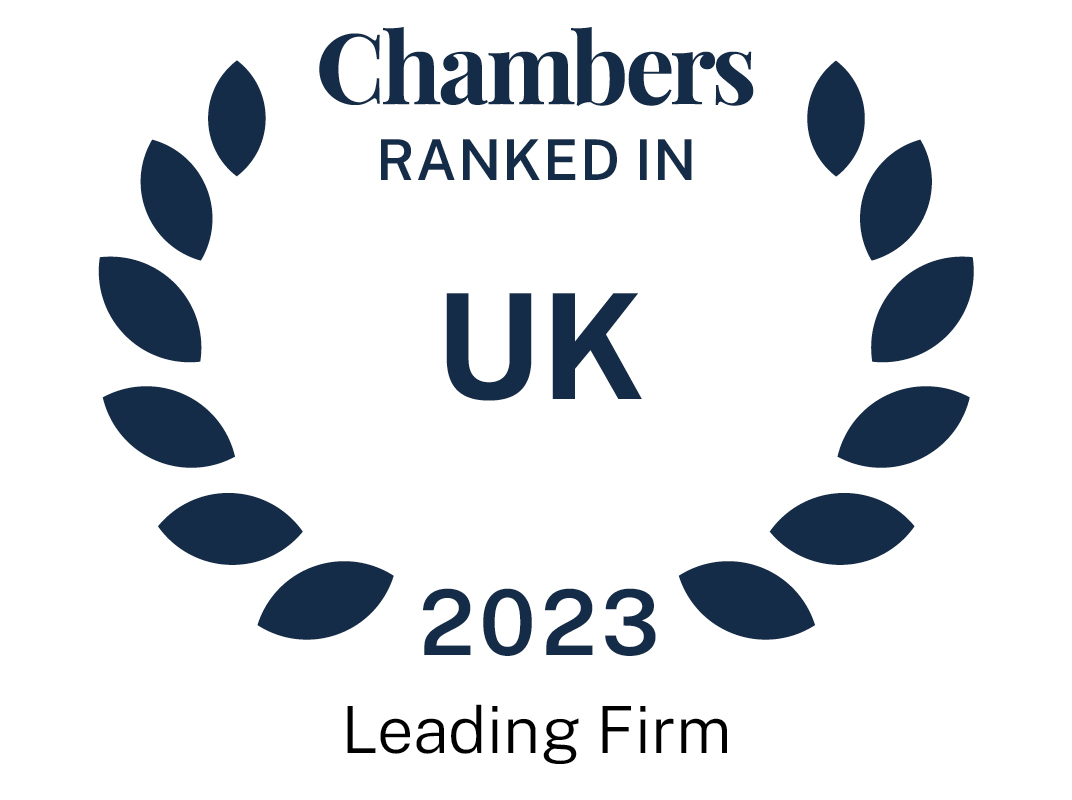 About
Provided by Carson McDowell
UK
Managing Partner: Roger McMillan
Senior Partner: Neasa Quigley
Partners: 34
Other Lawyers: 84
CONTACTS
Banking & Finance: Sinead McGrath & Damian McElholm
Clinical Negligence: Roger McMillan, Leigh Linton, Jacqueline McAleese & Francesca Lowry
Commercial: Dawn McKnight, Neasa Quigley & Richard Gray
Competition & Regulation: Kerry Teahan
Construction: Stuart Murphy & John Dugale
Corporate/ M&A: Neasa Quigley, Richard Gray, Hilary Griffith, Paul McGuickin & Gerard Armstrong
Employment: Orlagh O'Neill & Rachel Penny
Energy/Renewables: Neasa Quigley, Gary McGhee, Emma Cooper, Sinead McGrath & Dawson McConkey
Insolvency/ Restructuring: Sinead McGrath & Darren Toombs
Intellectual Property: Dawn McKnight, Declan Magee &Peter Guzhar
Licensing, Betting & Gaming: Niall Hargan
Litigation & Dispute Resolution: Declan Magee & Peter Guzhar
Media: Declan Magee
Planning & Environment: Gary McGhee & Grant McBurney
Private Client: Neil Bleakley
Procurement: Declan Magee & Kerry Teahan
Professional Discipline: Roger McMillan & Leigh Linton
Professional Negligence: Hugh McGrattan, Roger McMillan& Declan Magee
Projects: Gerard Armstrong
Real Estate: Dawson McConkey, Mary-Kim Doherty, Emma Cooper, Richard Dickson & Chris Phillips.
Real Estate Litigation: John Dugdale
THE FIRM Carson McDowell is Northern Ireland's largest commercial law firm with 34 partners and 200 staff. It is one of the few genuinely full-service commercial legal practices in NI, and has a considerable reputation built upon its experience and expertise across corporate, banking, mergers and acquisitions, commercial litigation, real estate, energy, renewables, regulation, planning, environment, employment, projects and procurement. The firm is ranked number one in more areas than any other local law firm. Its 'preferred partnering' approach means Carson McDowell is able to work with the best global law firms on behalf of its clients as well as deliver local advice to international law firms looking for a 'best friend' relationship for clients requiring local advice.
PRINCIPAL AREAS OF WORK
Banking & Finance:
The firm has one of the leading specialist banking and finance teams in NI. The team has built sound relationships with financial institutions locally and across the UK and is regularly instructed by leading London law practices. It has extensive experience in project and asset finance, secured, unsecured, senior, mezzanine and subordinated lending, funds, derivatives and insurance.
Clinical Negligence:
The team is adept at defending high-value and complex clinical negligence claims. The team is known for its provision of prompt, high quality advice.
Commercial:
The team of commercial lawyers services the diverse needs of clients across a range of sectors. As a number of the team's members have experience working as in-house counsel, the team prides itself on being well placed to understand and fully anticipate the needs of its clients.
Construction:
Carson McDowell advises a significant number of the larger NI contractors both locally and in relation to their projects throughout the UK and has a long history of providing specialised construction law advice to clients, offering expert advice to contractors, developers, design teams and funders.
Corporate:
Lawyers advise on the most significant M&A and corporate transactions in NI. The firm's experience and reputation speaks volumes and it is widely recognised as one of the leading corporate and M&A legal practices in NI. The partner-led team has over 100 years combined experience, delivering a results-driven, problem-solving approach.
Disputes & Litigation:
The dispute resolution and litigation team is distinguished by the number of specialist areas covered and unrivalled experience in insurance, product liability, personal injury, defamation, planning, environmental and IP. It handles commercial litigation work such as contractual claims, employment disputes, contentious corporate insolvency and recovery actions. It has considerable judicial review and public law expertise.
Employment:
This dedicated employment team is one of the busiest in NI, acting on both contentious and non-contentious matters. It has vast experience in acting for respondent companies in the industrial and fair employment tribunals as well as in the civil court system. The firm is a leading adviser on TUPE, senior executive departures, complex disciplinary and grievance issues and drafting and advising on employment contracts and policies.
Energy & Renewables:
The multi-disciplinary team advises on, among other things, project development, finance issues, power purchase agreements, renewables, energy trading and dispute resolution. Tihe team also provides advice on energy regulation, procurement, EU and competition law, environmental law and planning law.
Insolvency/Restructuring:
With an ability to draw on expertise from the leading banking and litigation teams, Carson McDowell's insolvency offering is an all-encompassing service to clients ranging from non-contentious advisory through to insolvency litigation support.
Intellectual Property:
The intellectual property team advises on both contentious and non-contentious matters and team members have significant expertise across a number of sectors.
Licensing, Gaming & Betting:
The team provides advice to clients from multiple jurisdictions on all aspects of Liquor licensing, betting and gaming law in NI. The team has advised on significant and high-profile applications and issues which are at the cutting edge of this complex area of law.
Media:
Carson McDowell has NI's leading specialist media, entertainments and reputation management team. The team has extensive experience providing bespoke advice on all media law related issues to a diverse range of clients across the UK , Ireland and internationally, for both the mainstream media and social media platforms.
Planning & Environmental:
The firm has the largest dedicated planning and environmental teams in Northern Ireland. The firm acts on behalf of a diverse range of clients and is involved in most of the leading planning and environmental judicial reviews currently taking place in NI. Clients are drawn from every sector including: retail, transport, energy, renewables, manufacturing, mining and quarrying.
Private Client:
The firm is one of only a small number in NI having a specialist and dedicated private client team. The team advises across a broad range of private client issues, but has particular experience in high-value, complex estate administration and estate planning matters.
Procurement & Competition:
Carson McDowell is a leading NI procurement firm, with a team of five lawyers working across both contentious and non-contentious procurement issues. The team has a wealth of experience advising both public and private sector clients on procurement law, competition and merger control issues.
Professional Discipline:
The experienced team of specialists regularly represent individuals in complex multifactor regulatory cases. The team is best known for significant expertise in the field of healthcare professional disciplinary work, utilising its in-depth knowledge of the Northern Ireland healthcare sector.
Professional Negligence:
Experienced in the defence of high value and complex claims against solicitors, accountants, construction professionals, valuers and a range of other professionals. The firm provides a holistic service advising on coverage, reserves, and reputational issues and has considerable expertise in all forms of ADR.
Projects:
The firm's projects team is highly regarded by peers and clients alike, continuing to advise clients involved in PPP, NPD and large-scale infrastructure projects throughout the UK and Ireland.
Real Estate:
The real estate team, incorporating specialist licensing and property litigation subteams, is the largest in Northern Ireland. Core strengths include site assembly and development, investment acquisitions and disposals, and it has an unrivalled stable of retail clients.
Ranked Offices
Provided by Carson McDowell
Carson McDowell rankings
UK Guide 2023
Filter by
Northern Ireland
Administrative & Public Law
1 Department
2 Ranked Lawyers
Department
Administrative & Public Law
Lawyers
Banking & Finance
1 Department
2 Ranked Lawyers
Department
Lawyers
Clinical Negligence
1 Department
3 Ranked Lawyers
Department
Lawyers
Competition Law
1 Department
1 Ranked Lawyer
Department
Lawyers
Construction
1 Department
2 Ranked Lawyers
Department
Lawyers
Corporate/M&A
1 Department
6 Ranked Lawyers
Department
Lawyers
Articles, highlights and press releases
7 items provided by Carson McDowell