WKB Wierciński Kwieciński Baehr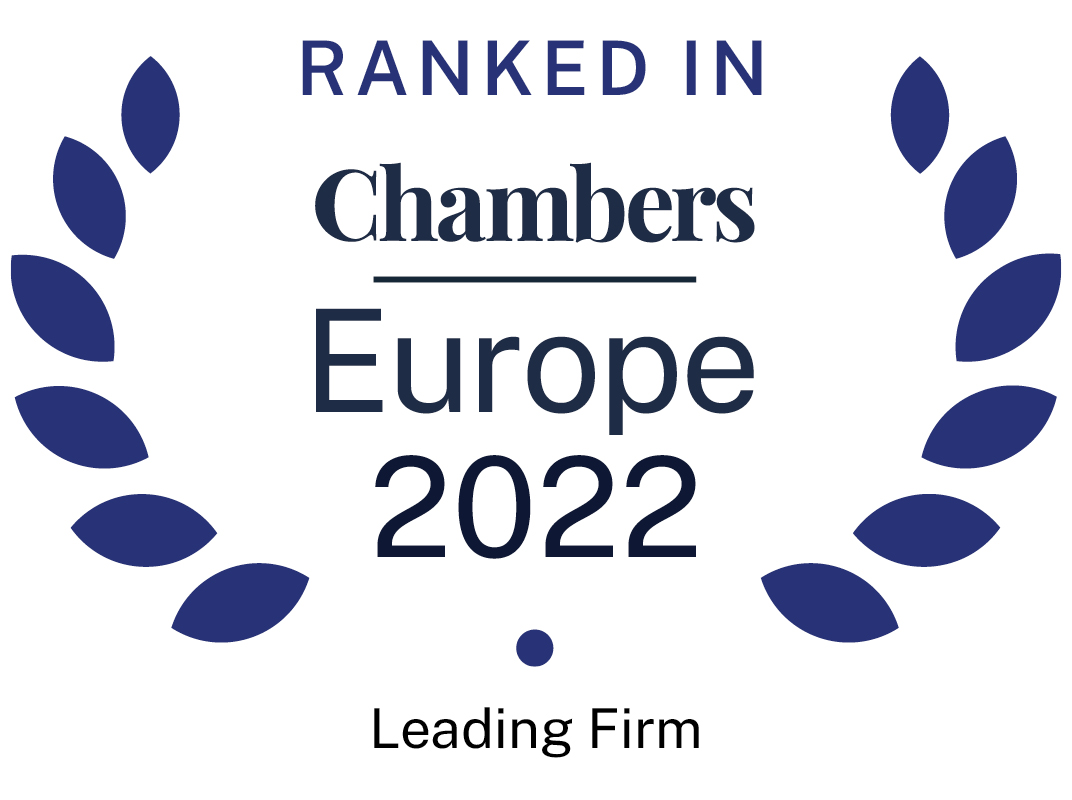 About
Provided by WKB Wierciński Kwieciński Baehr
Europe
Managing Partner: Jerzy Baehr, LL.D.
Number of partners: 26
Number of lawyers: 120
Languages: English, French, German, Italian, Polish
Firm Overview:
WKB Wierciński, Kwieciński, Baehr is a leading Polish independent law firm advising both domestic and international clients across all areas of business law. WKB's international outlook and cross-border experience, combined with thorough local market knowledge, make it a reliable partner across the board.
Main Areas of Practice:
Banking & Finance: With extensive expertise in general lending and project finance (particularly strong in renewables), this continuously growing practice has developed and maintained capabilities in regards to NPLs, securitization and bonds (incl. mortgage-backed), as well as factoring and consumer finance, also demonstrating regulatory (e.g. PSD2) experience. Additionally, the practice is well recognised in relation to advising on financial restructuring, domestically and with foreign elements (incl. HYBs). The team often acts alongside top international firms on significant cross-border deals.
Contact: Marcin Smolarek
Email: [email protected]
Competition & Consumer Law: Recognised for its expertise in competition law and antitrust matters and proceedings, the team also has notable experience in compliance reviews and programmes, distribution and franchising networks, consumer law matters, unfair competition and unfair commercial practices. Team members have co-authored two editions of the 'Commentary on the Competition and Consumer Protection Act'.
Contact: Aleksander Stawicki
Email: [email protected]
Energy: Experienced in the energy sector, including the electrical (both in conventional and renewable energy projects), oil and gas, and mining industries, the team is regularly instructed by major industry players. Recent highlights include advising on significant investments in new power generation units, being involved in the implementation of the renewable energy auction system, involvement in the legislative process of the development of offshore wind industry and assisting in the merger of two domestic key energy market players.
Contact: Jerzy Baehr
Email: [email protected]
ESG: The team is offering clients comprehensive services in respect of ESG standards by utilizing the knowledge of a multidisciplinary group of recognized experts in the fields of environmental protection, financing, real estate, public sector, energy and public procurement law.
Contact: Augustyn Wróbel
Email: augustyn.wrob[email protected]
Infrastructure Projects: The team is recognised for its expertise in advising on strategic investments in key sectors of the Polish economy (such as the gas and energy industry, public utilities, construction of roads and railways' infrastructure, public transportation, chemical sector), and draws on this experience in assisting clients with realizing innovative infrastructure project plans (such as Baltic Pipe, smart city investments, the building of infrastructure used in electromobility, renewables).
Contact: Anna Flaga-Martynek
Email: [email protected]
Insurance: WKB's insurance experts are recognised for advising clients from across all segments of the sector (including insurers, domestic and foreign insurance brokers and policyholders) and their deep engagement in the industry. Have significant experience in representing insurance clients in high-value proceedings (including multi-million złoty court disputes and competition and consumer law matters). Members of the insurance team have co-authored a commentary to the new Insurance Distribution Act, edited by team co-head Jakub Pokrzywniak (Publisher: Wolters Kluwer).
Contact: Jakub Pokrzywniak
Email: [email protected]
Intellectual Property & TMT: WKB's IP and TMT experts specialise in all aspects of intellectual property protection and enforcement, data protection, new technologies, IT contracts, cybersecurity, consumer matters, advertising and marketing, and protection of personal rights. The team boasts experienced litigators and represents many leading IP owners, including in the media, entertainment, FMCG, retail, clothing and healthcare industries.
Contact: Agnieszka Wiercińska-Krużewska
Email: [email protected]
Dispute Resolution: The lawyers assist clients in proceedings before courts, tribunals and public administration agencies, including in pre-trial negotiations. Well-known for advising major Polish cities and utilities, the team has been increasingly active in complex corporate, post-M&A and construction disputes, as well as disputes in the renewables sector.
Contact: Bartłomiej Jankowski
Email: [email protected]
M&A/Corporate: The team, led by hands-on partners, offers full support on transactional and corporate matters. Recent engagements include a number of high-profile cross border and domestic transactions, notably for private equity funds and blue-chip companies, including in the energy and payment services industries. The team also advises private and public clients from both local and foreign capital groups on restructuring projects and day-to-day matters.
Contact: Jakub Jędrzejak
Email: [email protected]
Public Procurement: The team advises major Polish and international companies, including from the energy, construction and infrastructure sectors, as well as state and local government authorities on strategically important projects. The firm's lawyers assist both contractors and contracting companies at all stages of contract award processes, as well as PPP and concession procedures (including representing clients in disputes). The team also participates in legislative works concerning the public procurement framework.
Contact: Jan Roliński
Email: [email protected]
Real Estate & Property Development: Specialising in real estate transactions (including transaction structuring, financing and security), the team also has experience in property development (including in warehouse, commercial, residential and other markets), greenfield and brownfield investments, special economic zone projects, commercialisation, leases and similar arrangements.
Contact: Anna Wyrzykowska
Email: [email protected]
Restructuring & Insolvency: The firm offers comprehensive services for creditors, debtors, entities undergoing insolvency proceedings or restructuring, and potential acquirers of distressed assets or businesses. Headed by Andrzej Wierciński, the team harnesses the commercial and strategic acumen derived from his many years of practical experience and frequently assists top international firms without offices in Poland on complicated cross-border and domestic insolvency matters.
Contact: Andrzej Wierciński
Email: [email protected]
French Desk, German Desk, Italian Desk: Experienced lawyers team up to provide French, German and Italian-speaking businesses with assistance that is tailored to their needs and compatible with their business culture. The foreign desk services cover all sorts of matters (including M&A, as well as day-to-day operations and disputes) and draw in expertise from various practice areas such as company law, real estate, banking and finance, intellectual property, competition law and others.
Key Clients:
Key clients in recent years include Ryanair, Santander, Uber, Statkraft, ČEZ, ABB, IKEA, EBRD, ALLIANZ, Naspers, Panattoni, Aviva, MB Aerospace, Poczta Polska (Polish National Post), GE Power, ADNOC, PKO BP (the largest Polish bank), Wolters Kluwer, Ekstraklasa (Polish Football Premier League).
PRACTICE AREAS:
Aviation
Banking & Finance
Business Criminal Law
Capital Markets
Company Law & Corporate Governance
Competition & Consumer Law
Compliance
Data Protection
Employment Law
Energy
ESG
Environment & Natural Resources
Infrastructure Projects
Insurance
Intellectual Property & TMT
Life Sciences
Dispute Resolution
Mergers & Acquisitions
Public Procurement
Real Estate & Property Development
Restructuring & Insolvency
State Aid & EU Funds
Tax
OFFICES
POLAND
WARSAW: Plac Małachowskiego 2, 00-066
Tel: +48 22 201 00 00 Email: [email protected]
POZNAN: Paderewskiego 7, 61-770
Tel: +48 61 855 32 20 Email: [email protected]
Ranked Offices
Provided by WKB Wierciński Kwieciński Baehr
Poland
Poznan

7 Paderewskiego Street, 61-770, Poznan, Greater Poland, Poland, 61-770

View ranked office
Contributions
3 Contributions provided by WKB Wierciński Kwieciński Baehr
Slide 1 of 2
Trends and Developments | Poland
Before the outbreak of the COVID-19 pandemic, the commercial real-estate market in Poland had been...
Trends and Developments | Poland
Before the outbreak of the COVID-19 pandemic, the commercial real-estate market in Poland had been...
WKB Wierciński Kwieciński Baehr rankings
Europe Guide 2022
Filter by
Poland
Banking & Finance
1 Department
2 Ranked Lawyers
Department
Lawyers
Banking & Finance: Insurance
1 Ranked Lawyer
Lawyers
Competition/Antitrust
1 Department
2 Ranked Lawyers
Department
Lawyers
Corporate/M&A: Mid-Market
1 Department
3 Ranked Lawyers
Department
Corporate/M&A: Mid-Market
Lawyers
Dispute Resolution
1 Department
1 Ranked Lawyer
Department
Lawyers
Department
Energy & Natural Resources
1 Department
2 Ranked Lawyers
Department
Energy & Natural Resources
Lawyers
Environment
1 Department
1 Ranked Lawyer
Department
Lawyers
Private Equity
1 Department
Department