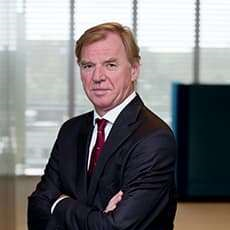 Lawyer profile
Walter Hendriksen
Europe 2023: Insurance
---
About
Provided by Walter Hendriksen
Europe
Practice Areas
Walter Hendriksen specialises in complex issues involving director's and officer's liability, professional liability, general liability, insurance law, commercial litigation, fraud and white-collar crime. Walter's clients are typically professional services organizations (especially lawyers, civil-law notaries, accountants and tax consultants).
Walter regularly gives lectures and publishes papers on professional liability of lawyers and other legal practitioners.
Career
Walter has been a lawyer with Van Doorne since 1983 and a partner since 1991. For many years Walter has lead the Litigation and Insurance group, which handles a wide range of sophisticated liability and insurance matters.
Walter was President of the Netherlands Bar Association from 1 July 2013 until 1 January 2016.
From 1999 to 2006, Walter served as the acting President of the Amsterdam Bar Association and a member of its Supervisory Board. Walter was a member of the editorial board for the disciplinary law section of the Dutch magazine "Advocatenblad" (Lawyer's Journal). Furthermore, Walter has a number of external functions.
A graduate of Utrecht University, Walter invariably appears on the 'recommended lists' of such leading directories as Chambers & Partners and the Legal 500.
Chambers Review
Provided by Chambers
Europe
Insurance - Netherlands
Walter Hendriksen is a well-established presence in the insurance field who has expertise in handling high-value coverage disputes.
Discover other Lawyers at
Van Doorne
Provided by Chambers
Filter by