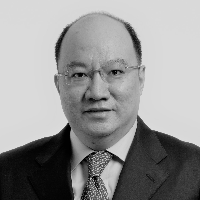 Lawyer profile
Nicholas Chong
Asia-Pacific 2023: Capital Markets: Domestic
---
Asia-Pacific Guide 2023
---
Ranked in 1 Practice Areas
Ranked in Guides
About
Provided by Nicholas Chong
Asia-Pacific
Practice Areas
Corporate and capital markets specialist, focussing on real estate investment trusts (REITs) and business trusts, debt capital markets, structured products and regulatory work. Has advised on various award-winning multi-jurisdictional (cross-border) REIT initial public offerings, rights issues, M&A transactions and fund raisings, as well as the first Singapore retail Collateralised Debt Obligation (CDO), the first Singapore retail structured note programme and the first Singapore retail bond issued by a REIT.
Career
Senior Partner - Dentons Rodyk (2011 – present)
Shook Lin & Bok LLP (2009 – 2011)
Shook Lin & Bok, Allen & Overy Shook Lin & Bok Joint Law Venture (2003 – 2009)
On Secondment, Allen & Overy LLP, London (2002 – 2003)
Shook Lin & Bok (1999 – 2002)
Datuk Keramat Holdings Berhad, Malaysia (1998 – 1999)
The Lion Group, Malaysia (1997 – 1998)
Shook Lin & Bok, Malaysia (1996 – 1997)
Shook Lin & Bok (1994 – 1996)
Colin Ng & Partners (1992 – 1994)
Professional Memberships
Member, Law Society of Singapore
Member, Singapore Academy of Law
Chambers Review
Provided by Chambers
Asia-Pacific
Capital Markets: Domestic - Singapore
Nicholas Chong has a wide-ranging practice, including debt capital markets, REIT deals and IPOs, especially on behalf of trustees. His experience includes acting for issuers on multicurrency debt issuances.
Discover other Lawyers at
Dentons Rodyk & Davidson LLP
Provided by Chambers
Filter by