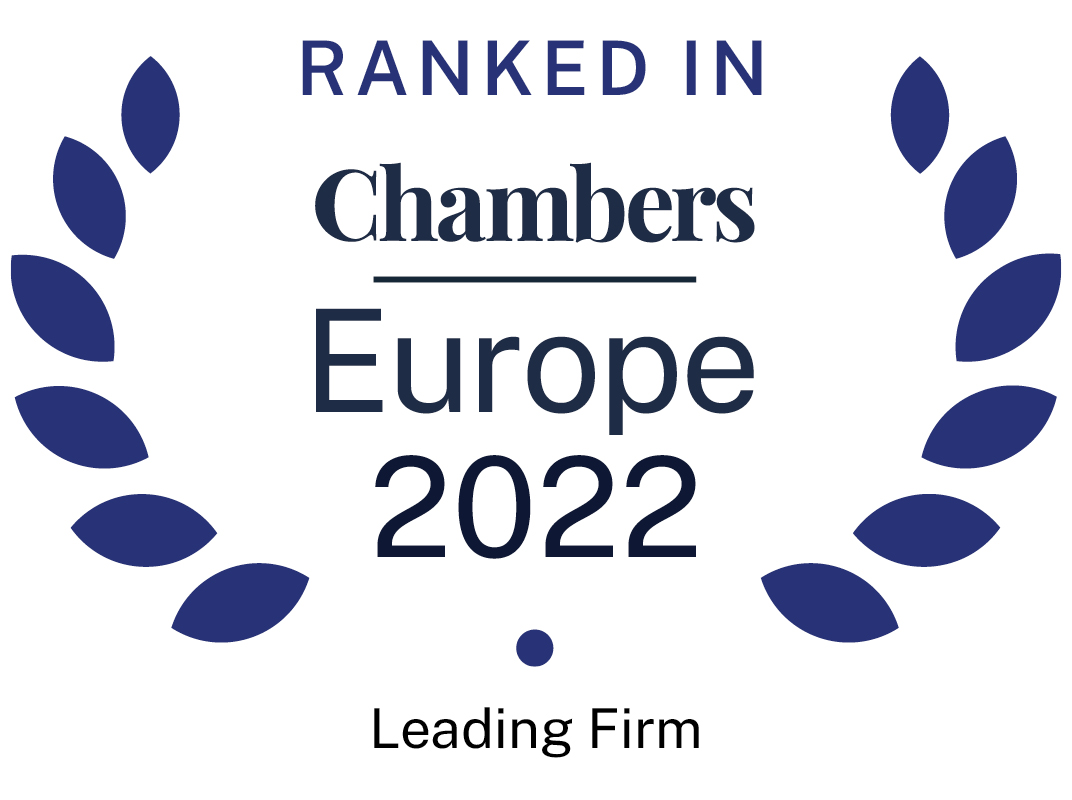 About
Provided by DORDA
Europe
Firm Details
Managing Partners: Axel Anderl, Martin Brodey, Francine Brogyányi
Number of partners: 23
Number of lawyers: 88
Of Counsel: 5
Languages: Bosnian, English, Farsi, Finnish, French, German, Hungarian, Italian, Polish, Romanian, Russian, Serbian, Spanish, Ukrainian
Firm Overview
DORDA is a leading business law firm in Austria. The firm sees itself as a full-service law firm and advises clients in all related areas of law. This holistic approach goes far beyond legal advice alone. The firms offers tailor-made solutions, regardless of the complexity of the problem – and concise, clear risk assessments and proposals for action.
International Work
This innovative approach has earned the firm numerous prestigious awards and top rankings in international legal directories. Additionally, it works closely with renowned law firms all around the world, particularly in CEE. The firm's "Best Friends" network gives access to experienced lawyers who are well established locally.
Main Areas of Practice
Banking & Finance:
DORDA advises on all aspects of banking and finance – whether be it a bank, fund, financial service provider, institution, or a borrower, both domestic and international. The team of experts covers the complete range of versatile and often complex questions concerning banking and finance.
Capital Markets:
DORDA advises in all matters relating to stock exchange and capital markets law and accompanies the issuance of shares or bonds by private and public issuers. The team supports national and international investment banks, issuers, and investors alike on a wide range of capital market transactions, including IPOs, capital increases, private placements, and the issuance of structured and high-yield debt issuances.
Competition & Antitrust:
Competition law intends to ensure that markets function efficiently. This interest is safeguarded by a complex set of rules both at national and at EU level. DORDA helps successfully navigate these rules and to self-assess whether interactions with competitors, customers, and suppliers comply with them. The team also assists in obtaining clearance by competition authorities under the merger control rules and represents in investigations carried out by competition authorities and in proceedings before EU and national courts, including in follow-on damages cases.
Corporate:
DORDA advises on all questions concerning corporate law and helps on the legal side in the event of mergers, demergers, and contributions - including associated due diligence, also for listed companies. The team helps to find the ideal corporate form and with corporate housekeeping and represent in court and out-of-court-corporate disputes.
Data Protection:
The legally secure and correct handling of data is essential for the success of a company. DORDA advises on all areas of data protection law and supports in the legal analysis and structuring of new business ideas with (in)direct reference to data processing – both for SMEs, national or international corporations, or start-ups. In addition, the team helps with complex business models that focus on data generation, with the processing of data processing processes and flows, and representation before the data protection authorities.
Dispute Resolution:
Resolving conflicts has always been at the heart of the work at DORDA. The team even shaped amendments to Austrian arbitration law, which introduced the Austrian Supreme CourtꞋs exclusive, single-level jurisdiction in arbitration-related matters. DORDA also knows that financial aspects, as well as time constraints, can be challenging in litigation processes and therefore require creative approaches. And when it comes to white collar crime, the team fights for the client's rights – whether they or their company are facing a criminal investigation, have become the victim of a fraud, need support in an internal investigation, or in setting up training sessions for their staff.
Employment:
When it comes to the success of a company, employees play a key role. Consequently, labour law issues affect every company.
DORDA advises on all questions of employment law and human resources – both in national and international settings. The employment law experts represent clients' interests, whether you are an employer or a senior executive.
Insolvency & Restructuring:
When markets become unstable and you feel financial uncertainty, DORDA provides comprehensive crisis and insolvency advice, whether the person is a creditor or a debtor, and assist them in all refinancing issues. The team also supports foreign and domestic banks, financial institutions, investors, and insurance companies and helps clients regarding restructuring and the enforcement of claims, collateral, and guarantees. Clients will have DORDA by their side legally, if they want to acquire companies prior to or from bankrupt estates – the firm reorganises or restructures them to avoid insolvency proceedings.
Immigration & Nationality:
As the only Austrian law firm with a strong focus on the handling of settlement and citizenship law mandates, DORDA supports multinational companies, their employees, and selected private clients in all legal matters related to the establishment of a residence in Austria.
The practice group with its own family office develops tailor-made immigration solutions in German, English, and Russian and provides you with comprehensive support.
Thanks to cooperations with renowned immigration attorneys around the world, DORDA is able to assist you in more than twenty countries (including Australia, Canada, the USA, and numerous member states of the European Economic Area) in resolving settlement and citizenship issues.
Insurance:
DORDA advises on all aspects of domestic and international insurance law for insurances, brokers or agents, companies, and institutions. The team assists clients in regulatory matters and all legal issues in connection with insurance policies as well as in associated bank and tax law issues.
IT & IP:
Innovations can be decisive for the success of a company. This makes the protection of intellectual property all the more important, together with legally secure information technology. This is why DORDA advises in all matters of IP and IT law. Whether they are a renowned industry player, an international group, an SME or a start-up – DORDA helps clients to legally protect and use their innovations.
Life Sciences:
Medicine, health and biotechnology are constantly changing areas and thereby frequently raise new legal questions. DORDA finds answers to them, no matter if you are an international pharmaceutical manufacturer, medical device or biotech company, health start-up, wholesaler, or hospital carrier.
DORDA is also a member of the pan-European Biolegis network, in which the firm shares the expertise with over 120 renowned life sciences lawyers from 20 countries.
M&A:
M&A has been a core business of DORDA right from the start. The team accompanies national and international strategic and financial investors in all aspects of corporate acquisitions in the private and public sectors. Clients will benefit from DORDA's broad range of advice: from acquisition strategy and due diligence to the preparation of transaction documents and their negotiation as well as the closing of the transaction.
Public Law:
DORDA supports clients in all matters of public law, in particular trade law, waste law, mineral raw materials law, association, and assembly law as well as land transfer matters. The team also represents clients in proceedings before administrative authorities, before the Constitutional Court and the Administrative Court as well as before the European Court of Justice and the European Court of Human Rights.
In the area of public procurement law, the team advises both bidders and public contracting authorities.
Real Estate & Construction:
Real estate projects take place against the background of the most diverse requirements and legal fields. DORDA advises on real estate and building law matters of all types and sizes, whether the client is a seller, buyer, investor, or developer. The support ranges from the planning phase to the drafting of transaction documents through the secure implementation of the best solution in financial and tax terms.
DORDA's Construction Group goes one step further: It combines real estate and construction law expertise and can thus support you throughout the entire lifecycle of a real estate project– from project planning and tendering, through claim management, representation before (arbitration) courts to the drafting of the transaction agreements and implementation of the sale of the project.
Tax & Private Client:
Whether asset protection, establishing a home in Austria or passing on their assets or company to the next generation – DORDA is by the client's side legally. The team supports individuals, family offices, foundations, and family businesses from all over the world on issues of family and inheritance law, foundation and corporate law, and, of course, tax law.
The lawyers also assist with national and international tax law issues: from structured finance, corporate restructuring, and tax disputes to tax planning for foundations and assets.
Trade & Distribution Law:
In order to bring a product to the market, various strategic and legal issues relating to trade and distribution must be taken into account. DORDA advises on national and international commercial contracts, in particular sales, supply, agency, distribution, and franchise agreements. The firm supports producers and suppliers, agents, distributors, franchisors, and franchisees - from structuring and drafting contracts to termination issues, litigation, and arbitration.
DORDA rankings
Europe Guide 2022
Filter by
Austria
Banking & Finance
1 Department
2 Ranked Lawyers
Department
Lawyers
Banking & Finance: Regulatory
1 Ranked Lawyer
Lawyers
Capital Markets
1 Department
3 Ranked Lawyers
Department
Lawyers
Competition/European Law
1 Department
1 Ranked Lawyer
Department
Lawyers
Corporate/M&A
1 Department
5 Ranked Lawyers
Department
Lawyers
Dispute Resolution
1 Department
Department
Dispute Resolution: Arbitration
2 Ranked Lawyers
Lawyers
Dispute Resolution: Litigation
2 Ranked Lawyers
Lawyers