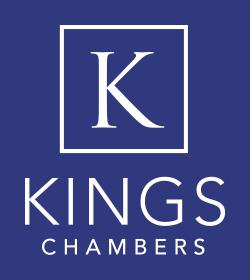 Contact details
---
Email address
Contact number
UK Bar Guide 2023
Northern (Bar) Clinical Negligence
---
10 Ranked Lawyers
Chambers Review
Provided by Chambers
Clinical Negligence - Northern (Bar)
Kings Chambers is widely regarded as a leading chambers for clinical negligence work and a go-to set for high-value and complex claims. Instructing solicitors note: "They have skilled barristers who have an excellent ability to handle complex clinical negligence claims." Members act on behalf of both claimants and defendants, and are well versed in birth injuries, including cerebral palsy cases, and spinal injury claims. The set also houses expertise in surgical negligence matters, and its barristers are frequently instructed in difficult quantum cases. Barristers have recently been involved in a case concerning a claimant who sustained serious injury after his GP failed to refer him for a suspected stroke.
Client service
"The clerks offer a very high standard of service. They acknowledge instructions and reply to emails promptly. They are always on hand to deal with any day-to-day queries."
Stephen Loxton is the director of clerking.
Notable Practitioners
Provided by Chambers
Helen Mulholland
Helen Mulholland is highly praised for the scope of her work, which ranges from complex delayed diagnosis cases to wrongful birth claims. She possesses additional strength in matters concerning failings in psychiatric care.
"She is a brilliant advocate and always very well prepared."
"Helen is impressive in court."
"Helen possesses excellent advocacy skills."
"Her written advice and pleadings are logical and thorough."
Nicholas Braslavsky KC
Nicholas Braslavsky KC is noted for his expert representation of claimants in a wide range of clinical negligence claims, including complex birth injury and delayed diagnosis. He is able to manage large class-action suits and has substantive expertise in acquired brain injury in adults.
"Nicholas is excellent with clients."
Gerard McDermott KC
Gerard McDermott KC receives high praise for his work in the field of clinical negligence. He is frequently involved in complex birth injury and failure to diagnose cases.
"He provides sophisticated, practical advice."
"He turns complex issues into workable solutions. He is a fierce advocate and a master of tactics."
Sarah Pritchard KC
Sarah Pritchard KC is a widely commended advocate who has notable experience in birth injury, spinal injury and failure to diagnose claims. She acts in cases arising from surgical negligence of multiple kinds and is regularly entrusted by hospitals and doctors to defend the highest-value claims, which typically involve numerous expert witnesses.
"Sarah is incisive and clear in conference and settlement meetings."
"She is inspiring in trial."
"She provides clear and realistic advice to clients."
"Sarah is a brilliant barrister and advocate."
Jeremy Roussak
Jeremy Roussak benefits from previous experience as a surgeon, which often assists with the cross-examination of experts. He has expertise in birth trauma and wrongful birth cases, as well as those involving negligent surgery.
"Jeremy is fiercely intelligent."
Claire Steward
Claire Steward has a broad claimant-side practice that includes cases relating to ophthalmology, gynaecology and the delayed diagnosis of cancer. She also handles surgical negligence matters and is well versed in claims involving complex questions of liability.
"Claire's attention to detail and ability to grasp complex medical and legal issues is remarkable."
"She is always well prepared, has an excellent manner with clients and provides thorough and comprehensive written advice."
"She is meticulous in her attention to detail."
"Claire is wonderful with clients."
Richard Borrett
Richard Borrett is a popular junior who practises across a diverse caseload including surgical negligence and secondary victim claims. He possesses considerable experience in matters of consent and cases relating to the Mental Health Act.
"Richard is approachable and provides solid written advice and pleadings."
Louise Green
Louise Green has experience handling a wide range of clinical negligence claims, including those arising from failed or missed diagnoses and negligent treatment. She acts for both claimants and defendants.
"Louise is able to build strong rapport with clients."
"Her communication skills are excellent and she always provides a prompt response to queries with high-quality written advice."
"Louise is approachable and thorough in conferences and in pleadings."
Charlotte Law
Charlotte Law frequently takes on inquests in fatal cases and claims for both physical and psychiatric injuries. Her mainly claimant-side practice takes in issues ranging from surgical negligence to failed dental treatment. She also acts on matters regarding obstetrics and gynaecology.
"Charlotte provides well-drafted pleadings and advice."
Stephen Maguire
Stephen Maguire is an important personal injury lawyer with notable experience in clinical negligence cases, including the delayed diagnosis and treatment of orthopaedic conditions as well as psychiatric care claims. He exhibits good knowledge of surgical negligence.
Ranked Barristers at
Kings Chambers
Provided by Chambers
Filter by
Silks (KC)
Northern (Bar)
Clinical Negligence
---
Juniors
Northern (Bar)
Clinical Negligence
---
Kings Chambers has rankings in the following guides