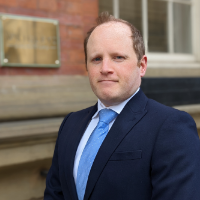 Individual profile
Kieran McIvor
High Net Worth 2022: Private Wealth Law
---
About
Provided by Kieran McIvor
High Net Worth
Practice Areas
Kieran has experience and expertise in the administration of complex and high-value estates, complex tax and succession planning, bespoke Will and Trust drafting and cross-border advice across many different jurisdictions worldwide.
Kieran's clients include landed estates, farming families, business figures and clients in the UK and overseas who are in need of complex cross-border advice.
Career
Kieran graduated from Durham University with a Bachelor of Law degree (LLB) before attending the College of Law to complete the Legal Practice course.
Kieran qualified as a solicitor in 2010 and joined Wrigleys from Barber Titleys in Harrogate in 2015. Kieran was made a partner in the Probate, Trusts and Estate Planning department at Wrigleys in 2020.
Professional Memberships
Kieran is a full member of the Society of Trust and Estate Practitioners (STEP) and has been a committee member for STEP Yorkshire Branch since 2018.
In addition to completing the STEP Diploma, conferring 'TEP' status, Kieran has completed the STEP Advanced Certificate in Cross-Border Estates (with distinction).
Chambers Review
Provided by Chambers
High Net Worth
Private Wealth Law - Leeds, Bradford and surrounds
Kieran McIvor specialises in succession and long-term asset protection for farmers and clients with landed estates. "His technical expertise and clarity on the English law aspects, and understanding the cross-border complexities is invaluable," states a market commentator.
Discover other Individuals at
Wrigleys Solicitors LLP
Provided by Chambers
Filter by
Leeds, Bradford and surrounds
Private Wealth Law
---