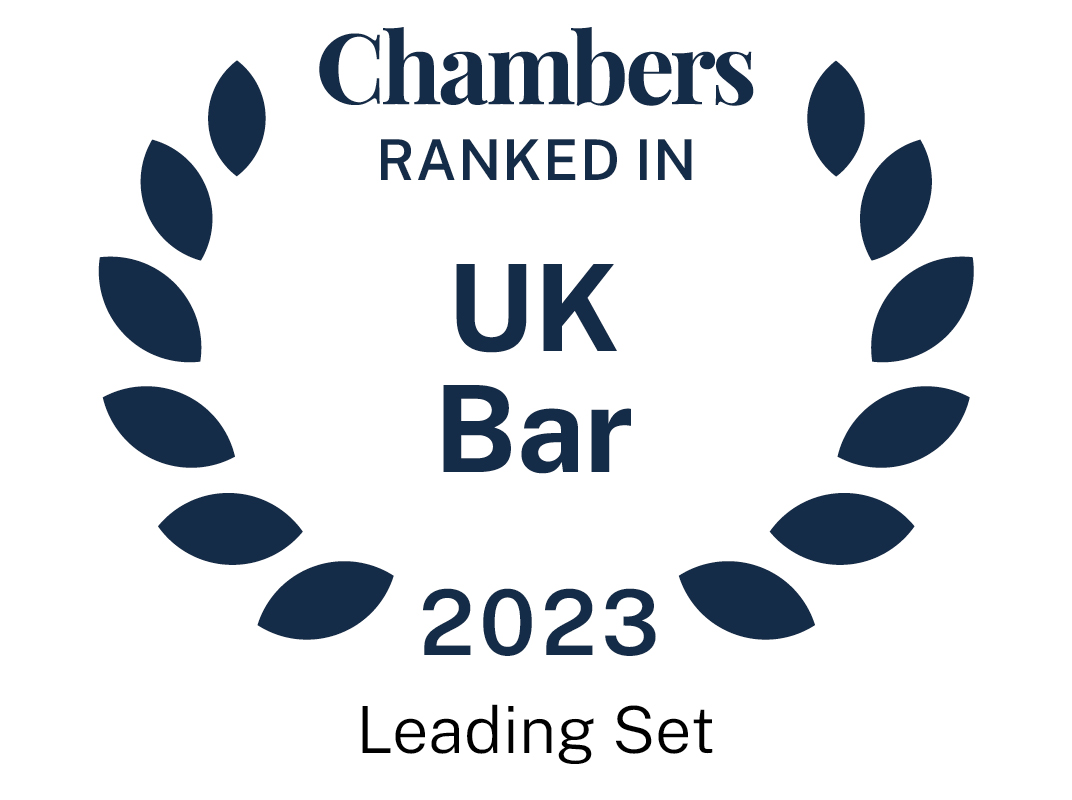 About
Provided by Pump Court Chambers
UK Bar
Head of Chambers: Oba Nsugbe KC, SAN
Senior Clerk: Tony Atkins
Senior Criminal Clerk: Tony George
Senior Civil Clerk: Jonathan Cue
Senior Family Clerk: Sean Gentleman
Tenants: 122
THE CHAMBERS Pump Court Chambers is one of the UK's premier common law chambers, with deep strength in civil, criminal, family law and International law. Based in London and the South East and West, Chambers' breadth of expertise and collaborative approach enable it to provide clients with joined-up, practical solutions across multiple specialisms in law. Its barristers and clerks are approachable, straightforward and focused on solving problems quickly and cost-effectively.
WORK UNDERTAKEN
Civil: The team, made up of over 40 practising members including two silks continues to grow in strength. Chambers has particular expertise in all areas of business and commercial, employment, inheritance, property, personal injury and clinical negligence, professional negligence, regulatory and transport law.
Family: With over 60 members including three KCs, six arbitrators and one mediator, Pump Court Chambers has one of the largest specialist family law teams at the Bar. The team practices in four main areas: family finance, court of protection work and children law; public and private. The family finance team undertakes a wide spectrum of work from complex high net worth 'big money' cases to actions with more modest assets and incomes. The private children law team specialises in residence and contact disputes as well as applications for permission to remove children from the jurisdiction. In public law Chambers advises and represents local authorities, parents and guardians in all areas of children work.
International: Chambers enjoys a strong international practice, members provide advice and representation throughout the UK and abroad. Oba Nsugbe KC, SAN is widely acknowledged as one of the UK's and Nigeria's leading barristers and arbitrators. Anthony Akiwumi is admitted as an Attorney of the Cayman Islands and has practised in this jurisdiction since 1997. Jason Nickless has been called to the Bar in the British Virgin Islands. Hilary Lennox is a highly experienced family practitioner across three jurisdictions and Naima Asif qualified as an Advocate of the High Courts in Pakistan in 2015.
Regulatory & Criminal: Pump Court Chambers' advocates enjoy an outstanding reputation. Over the last 20 years more than 15 of the group have become Circuit Judges. Chambers' regulatory lawyers have expertise in disciplinary, local authority statutory regulation and compliance, health and safety, transport, financial regulation, fraud and corporate manslaughter. The criminal team covers the fields of sexual offences, violence and courts martials.
Members
Oba Nsugbe KC (1985) (KC-2002) SAN+
Nigel Pascoe KC (1966) (KC-1988)
Susan Campbell KC (1986) (KC-2009) *
Leslie Samuels KC (1989) (KC-2011) +
Penny Howe KC (1991) (KC-2017)
James Newton-Price KC (1992) (KC-2018)
Sarah Jones KC (1996) (KC-2019)
Frank Abbott (1972) +
Charles Parry (1973) +
John Ker-Reid (1974)
Charles Gabb (1975)
Julie MacKenzie (1978) +
Stephen Jones (1978)
Margaret Pine-Coffin (1981)
Simon Johnson (1981)
Martin Blount (1982)
Kevin Haven (1982) +
Matthew Scott (1985)
Hugh Travers (1988)
Justin Gau (1989)
Edward Boydell (1989)
Andrew Houston (1989)
Anthony Akiwumi (1989) *
Catherine Breslin (1990)
Helen Khan (1990)
Carolyn Pearson (1990)
Polly Thompson (1990)
Julian Reed (1991)
Imogen Robins (1991) +
Geoffrey Kelly (1992)
Mark Ruffell (1992)
Leonorah Smith (1993)
Mark Ashley (1993)
Oliver Peirson (1993) +
Tom Wilkins (1993)
Adam Clegg (1994)
Daniel Reilly (1995) *
Richard Hall (1995)
Mark Dubbery (1996) +
Peter Asteris (1996)
Andrew Grime (1997) +
Ruth Arlow (1997)
Maria Gallagher (1997)
Anne Ward (1997) +
Amy Ephgrave (1997)
Timothy Dracass (1998)
Andrew Bond (1999)
Richard Tutt (2000)
Rebecca Fairbairn (2000)
Emily Hamilton (2000) *
Naznin Islam (2000)
Stuart McGhee (2000)
Jason Nickless (2001)
Caroline Hartley (2002) +
Heather Platt (2002) +
Neelo Shravat (2002)
David Josty (2002)
John Dyer (2002)
Simon Lane (2002) +
Helen Brander TEP, MCiArb (2002) +
John Chapman (2003)
Charlotte Street (2003)
Zoe Rudd (2003)
Lucy Davis (2003)
Catherine Ellis (2003)
Adam Gadd (2004)
Eleanor Fargin (2004)
Tara Lyons (2005) +
Timothy Akers (2005)
Alexandra Gilmore (2005)
Emma Sole (2005)
Catherine Gee (2005)
Corinne Iten (2006)
Amelia Sugden (2006)
Patricia O'Driscoll (2006)
Elizabeth Spence (2006)
Amy Connell (2006)
Jennifer Lee (2007)
Daniella Gilbert (2007)
Eleanor Bruce (2008)
Simon Purkis (2008)
Hilary Lennox (2008)
Guy Draper (2008)
Jennifer Swan (2009)
Nicholas Williamson (2009)
Stuart Snow (2009)
Jenna Lucas (2010)
Paul Mertens (2010)
Victoria Ellis (2010)
Naomi Gyane (2010)
Timothy Salisbury (2010)
Andrew Stone (2011)
Ezra Macdonald (2012)
Maria Henty (2012)
Jesse Cook (2012) +
Naima Asif (2012)
James Byrne (2012)
Lucy Plumpton (2013)
Cordelia Williams (2014)
Mark Ablett (2014)
Ricky Powell (2014)
James Hankinson (2014)
Richard Wayman (2015) +
Samara Brackley (2016)
Siân Beaven (2016)
Oliver Foy (2016)
Antonia Ford (2017)(Admitted as a solicitor 2002)
Lucy Morell (2017)
Vanessa Wells (2017)(Admitted as a solicitor 2010)
Stephanie Painter (2017)
Louisa Simpson (2017)
Meghan Daniels (2017)
Henry Hawkesworth (2018)
Ed Wylde (2018)
Ruba Huleihel (2018)
Nida Ali (2018)
Christopher Pix (2018)
Hester Calder (2019)
Rebekah Batt (2021)
Christopher Stead (2008)
Elena Johnson (2021)
Albert Gibbon (2021)
Stephen Fielding +
* Associate Member
+ Mediator/Arbitrator
Ranked Offices
Provided by Pump Court Chambers
Pump Court Chambers rankings
UK Bar Guide 2023
Filter by
All Circuits
Ecclesiastical Law
1 Set
3 Ranked Barristers
Set
Juniors
London (Bar)
Inquests & Public Inquiries
1 Ranked Barrister
Juniors
South Eastern (Bar)
Family: Matrimonial Finance
2 Ranked Barristers
Juniors
Set
Western (Bar)
Crime
1 Set
3 Ranked Barristers
Set
Silks (KC)
Juniors
Employment
1 Set
4 Ranked Barristers
Set
Juniors
Family: Children
4 Ranked Barristers
Silks (KC)
Juniors