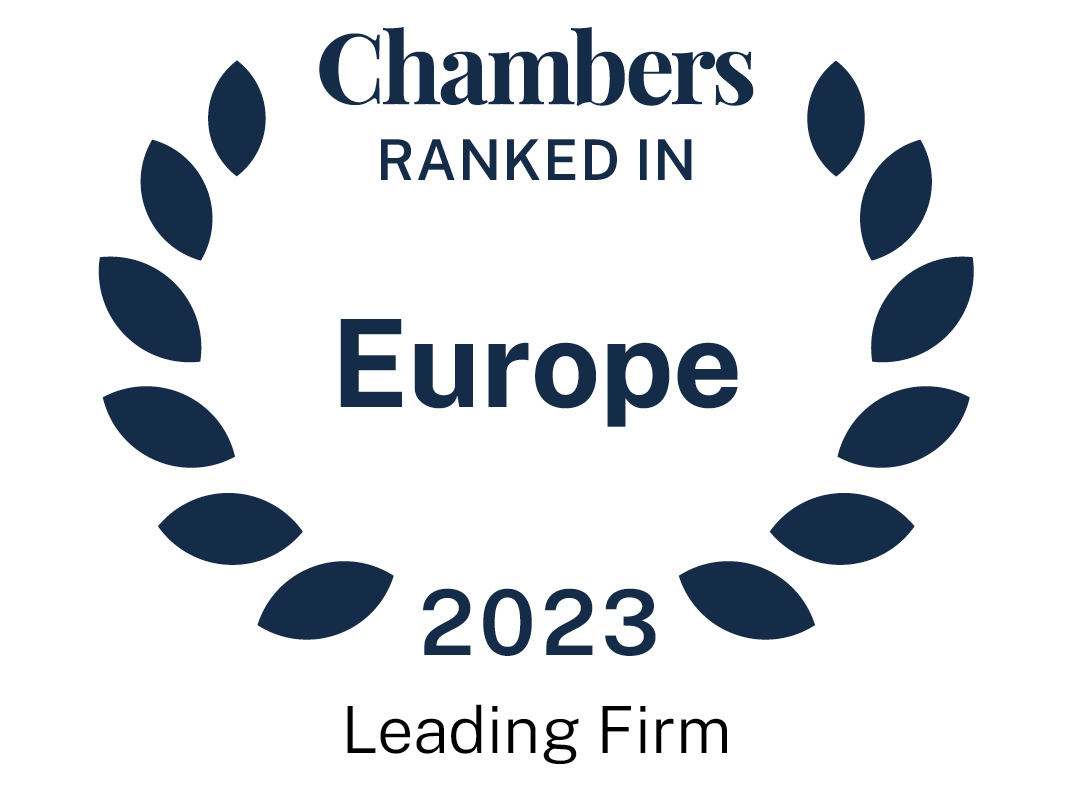 About
Provided by BarentsKrans
Europe
Firm Details:
Managing Partner: Jesse Zijlma
Number of partners: 23
Number of other lawyers and notaries: 69
Languages: Dutch, English, French, German

Firm Overview:
BarentsKrans is an independent Dutch law firm located in The Hague with approximately 90 lawyers and civil-law notaries. The firm has an excellent reputation in dispute resolution and M&A, real estate and finance transactions. BarentsKrans offers dedicated service with a keen eye for its clients' business goals. Through the firm's strong referral practice, it has internationally active companies in addition to its domestic clientele in various sectors. BarentsKrans' lawyers are regularly involved in ground-breaking cases and complex transactions, and are used to work in multi-jurisdictional teams.
Main Areas of Practice
Commercial Contracts
Corporate, Commercial & Financial Litigation
Corporate/M&A
Employment
Estate Planning
EU & Competition
Finance
IP & Technology
Life Sciences
Public Law & Regulatory
Real Estate
Supreme Court Litigation
Commercial Contracts:
The firm has a number of recognised specialists in (international) contract law, who act for companies and clients throughout the life cycle of a commercial contract: from the negotiation stage throughout the contract termination. In the past year, the team on commercial contracts has seen a significant growth in cases and clients. They work for both national and international companies like BMW, Securitas, KPN, Taqa, Aegon, Enexis, Accor, Aramco, Disney (Fox Networks) and the State of the Netherlands. Additionally, the team also advises renowned law firms that need extra expertise in the field of (international) contract law.
Corporate & Commercial Litigation:
The firm's corporate and commercial litigation specialists are recognised as leaders in their respective fields. The team is attracting many high profile cases as a result of excellent working relations with many international and national litigation funders. They advise and represent national and international clients in court proceedings and arbitration. The firm is involved in some of the most prominent international commercial and corporate disputes pending in the Netherlands, including cartel damages litigation (e.g. Air Cargo and Trucks), securities litigation (e.g. (interest rate) derivatives), and Carlos Ghosn vs Nissan/Renault/Mitsubishi.
Corporate / M&A:
BarentsKrans corporate specialists have a lot of experience in the field of corporate law. They service a broad range of national and international clients on all aspects of mergers and acquisitions, private equity and venture capital transactions. Furthermore, the lawyers and civil-law notaries of this team have many years of experience in finance and financing structures, as well as financial services regulatory. Clients appreciate their pragmatism, down to earth approach and find the team members a pleasure to work with. Main client categories are: (i) large Dutch origin non listed corporates and OEMs with national and international growth ambitions (organic growth and growth through M&A), (ii) foreign multinationals through referral practice, (iii) venture capital and private equity and (iv) increasingly panel positions at Dutch listed companies such as KPN and Aegon.
Employment:
The employment team is well known and highly appreciated by clients and peers. For over 25 years, the team has consistently operated in the top of the Dutch employment law market. The team specialises in highly contentious, litigated employment matters, particularly at the Appeals and Supreme Court levels and is known for its highly regarded restructuring practice. Clients include e.g. ABN AMRO Bank, Canon and Deliveroo.
Estate Planning:
The team of specialised and experienced civil law notaries provide personal advice on the interface of business law with law of persons and family law, both national and international, in close collaboration with affiliated specialised tax advisors. The team acts as advisor in relation to structuring or restructuring family businesses, structuring assets under inheritance laws and/or business succession (estate planning and business planning), asset protection and privacy, donation of assets and setting up and managing family foundations and charities.
EU & Competition:
The EU & Competition team handles a wide range of contentious and non-contentious competition law matters. It has an (internationally) well-established competition litigation practice, a solid competition law practice representing clients in matters before the Dutch competition authority (dawn raids, investigations and merger control) as well as a thriving public procurement practice. The team has specific expertise in the Food & Agri, the construction industry, the financial sector and a focus on the transformation to renewable energy and other long-term sustainability initiatives. Clients include e.g. Claims Funding Europe, Canon and BMW.
Finance:
The Finance department of BarentsKrans is well recognised in the market and counsels a diversified group of national and international clients in the financial sector, including major banks, insurance companies, private equity houses, debt funds and other investors, as well as large multinationals, corporations and scale-ups. The team offers a broad legal spectrum of finance and financial restructuring services, with its centre of gravity of work being in the areas of (syndicated) acquisition and leveraged finance, asset-based finance, real estate finance and project finance. Clients include e.g. Huisman Equipment, Zwanenberg Food Group, Royal Bank of Scotland, Landesbank Hessen – Thüringen Girozentrale, Skandinaviska Enskilda Banken (SEB), ING Bank, Triodos Bank and MVGM.
IP & Technology:
BarentsKrans' leading IP experts deal with (multi-jurisdictional) disputes regarding infringement and validity of intellectual property rights as well as licensing and exploitation of technology matters. The firm's IP practice has an outstanding reputation and track record with clients both in the Netherlands and abroad, and continues to attract an ever-growing share of the complex, high-end IP work in the market. Clients are particularly from the life sciences, telecom and nutrition sectors and include e.g. Bayer, Facebook Technologies and Oculus.
Life Sciences:
The BarentsKrans life sciences team is best known for its combined knowledge of regulatory, commercial and patent related aspects of the launch of pharmaceutical products and for representing clients in related (landmark) proceedings. Also in the field of medical devices, the team advises and litigates on regulatory and product liability issues. Clients include e.g. Viatris (formerly Mylan) and Bayer.
Public Law & Regulatory:
This team's legal experts advise and conduct proceedings about environmental law, sector-specific regulations and commodities legislation, public service law, privacy and the protection of personal data, but also about general administrative law, subsidies and government liability. They act not just for businesses like Synchroon, AM and Amvest, but also for central government and local and regional authorities. BarentsKrans is also one of the leading firms in sustainable energy, such as solar parks, heat/cold storage systems (ATES-systems) and large-scale wind farms.
Real Estate:
The real estate team is one of the larger dedicated real estate teams in the Netherlands. The team consists of specialised attorneys and civil law notaries with extensive knowledge and experience, working closely together on all aspects of real estate law. Due to their extensive sector knowledge and wide-ranging expertise, they are able to assist their clients on all real estate related issues, from the first negotiations to the envisaged result. The expertise includes project development, real estate transactions, real estate finance, environmental & zoning law and construction disputes. Key types of work are providing advice on and preparing the required agreements for complex real estate projects and transactions. Clients include e.g. Amvest, Rabobank Coöperatief U.A. and Vestia.
Supreme Court Litigation:
BarentsKrans belongs to a select group of firms with a traditionally large and highly regarded cassation practice. The Supreme Court litigation lawyers advise lawyers and their clients and conduct cassation proceedings covering the entire field of civil law. The firm has been involved in numerous landmark cases and continues to get cases and clients from law firms like Loyens & Loeff, Freshfields, Linklaters, JonesDay and Allen & Overy.
Ranked Offices
Provided by BarentsKrans
Netherlands - Head office
BarentsKrans rankings
Europe Guide 2023
Filter by
Netherlands
Competition/European Law
1 Department
1 Ranked Lawyer
Department
Lawyers
Joost Fanoy
Head of Competition/European Law
Corporate/M&A: Mid-Market
1 Department
1 Ranked Lawyer
Department
Corporate/M&A: Mid-Market
Lawyers
Michiel Martin
Head of Corporate/M&A: Mid-Market
Dispute Resolution
1 Department
2 Ranked Lawyers
Department
Lawyers
Martijn van Maanen
Head of Dispute Resolution
William Schonewille
Head of Dispute Resolution
Dispute Resolution: Supreme Court Litigation
1 Ranked Lawyer
Lawyers
Employment
1 Department
2 Ranked Lawyers
Department
Lawyers
Max Keulaerds
Head of Employment
Intellectual Property: General - Mostly Trade Mark/Copyright
1 Ranked Lawyer
Intellectual Property: Patent
1 Department
1 Ranked Lawyer
Department
Intellectual Property: Patent
Lawyers
Department
Real Estate: Leading Notaries
1 Ranked Lawyer
Lawyers