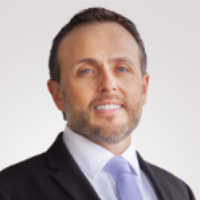 Lawyer profile
Pedro Cordova
Global 2023: Intellectual Property
---
Global Guide 2023
---
Ranked in 1 Practice Areas
Ranked in Guides
About
Provided by Pedro Cordova
Global
Practice Areas
Intellectual Property
Data Protection
Career
Pedro is an advisor to several local and international companies, acting as an Industrial Property agent for many of them. Based on his experience, quality of service and effective response to the concerns of his clients, his work is recognized inside and outside of Ecuador.
Pedro's practice focuses on protecting large brand portfolios where he strategically achieves favorable results. He also obtains and litigates patents and plant varieties.
He has carried out Data Protection negotiations, supporting several foreign firms in the country. He has also participated in the acquisition of brands and in amicable dispute resolution, and has been widely recognized by his clients for doing so.
Professional Memberships
NTA, member of the Personal Data Protection Committee.
ASIPI, member.
AMCHAM, member of the Intellectual Property Committee.
AMCHAM, member of the Personal Data Protection Committee.
Ecuadorian Intellectual Property Association, member.
World Compliance Association, member of the Personal Data Protection Committee.
Publications
"Data Privacy Protection Overview in Ecuador", Thomson Reuter. January 2021.
"Intellectual Property Challenges vs. Personal Data Protection", Intellectual Law Magazine, 2020.
Chambers Review
Provided by Chambers
Global
Intellectual Property - Ecuador
Pedro Cordova of ROBALINO is recognised here for the first time following strong client support from the Ecuadorian IP market. A client affirms: "Pedro Cordova is always keen to learn and work hard. He has achieved a great acumen in his trade mark practice." Another source asserts: "He is our first point of contact in Ecuador for high-level IP cases."
Discover other Lawyers at
ROBALINO
Provided by Chambers
Filter by
Ecuador
Corporate/Commercial
---
Martín Pallares Sevilla
Head of Corporate/Commercial
Dispute Resolution
---
Javier Robalino-Orellana
Head of Dispute Resolution
Intellectual Property
---