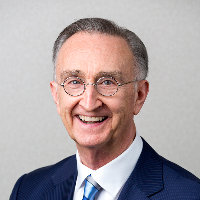 Lawyer profile
Dan Monnat
USA 2022: Litigation: White-Collar Crime & Government Investigations
---
USA Guide 2022
---
Ranked in 1 Practice Areas
About
Provided by Dan Monnat
USA
Publications
Sentencing, Probation and Collateral Consequences, a chapter of the Kansas Bar Association's Kansas Criminal Law Handbook, 5th Edition.
Practice Areas
Criminal Defense; White Collar Criminal Defense; Appellate Defense; Bet-the-Company Litigation
Career
Co-founder of Monnat & Spurrier, Chartered, in 1985. Licensed to practice before the United States Supreme Court, United States Court of Appeals (10th Circuit); federal and state courts of Kansas and Nebraska; and the federal courts of Colorado, Missouri (W.D.), and Michigan (E.D.).
Professional Memberships
Fellow, International Academy of Trial Lawyers; Fellow, American College of Trial Lawyers; Fellow, American Bar Foundation; Fellow, American Board of Criminal Lawyers; Fellow, Kansas Bar Foundation; Past Board Member, National Association of Criminal Defense Lawyers; Past President, Kansas Association of Criminal Defense Lawyers.
Personal
Mr. Monnat has 45 years of litigation experience in high-profile, white-collar and criminal cases. An author on criminal defense topics and nationwide lecturer whose programs include, "Crouching Tiger, Hidden Dragon: Kung Fu Strategies for the Courtroom." Graduate of California State University, San Francisco, B.A., cum laude; Creighton University School of Law, J.D.; Gerry Spence's Trial Lawyers College and Graduate Course I. Selected to Best Lawyers in America for 35+ years. Named one of the Top 10 Missouri & Kansas Super Lawyers from 2018 through 2021.
Chambers Review
Provided by Chambers
USA
Litigation: White-Collar Crime & Government Investigations - Kansas
Dan Monnat is a widely venerated litigator, respected in the market for his expert representation in trial and appellate white-collar criminal proceedings. He often works on healthcare and financial investigations.
Discover other Lawyers at
Monnat & Spurrier
Provided by Chambers
Filter by
Kansas
Litigation: White-Collar Crime & Government Investigations
---