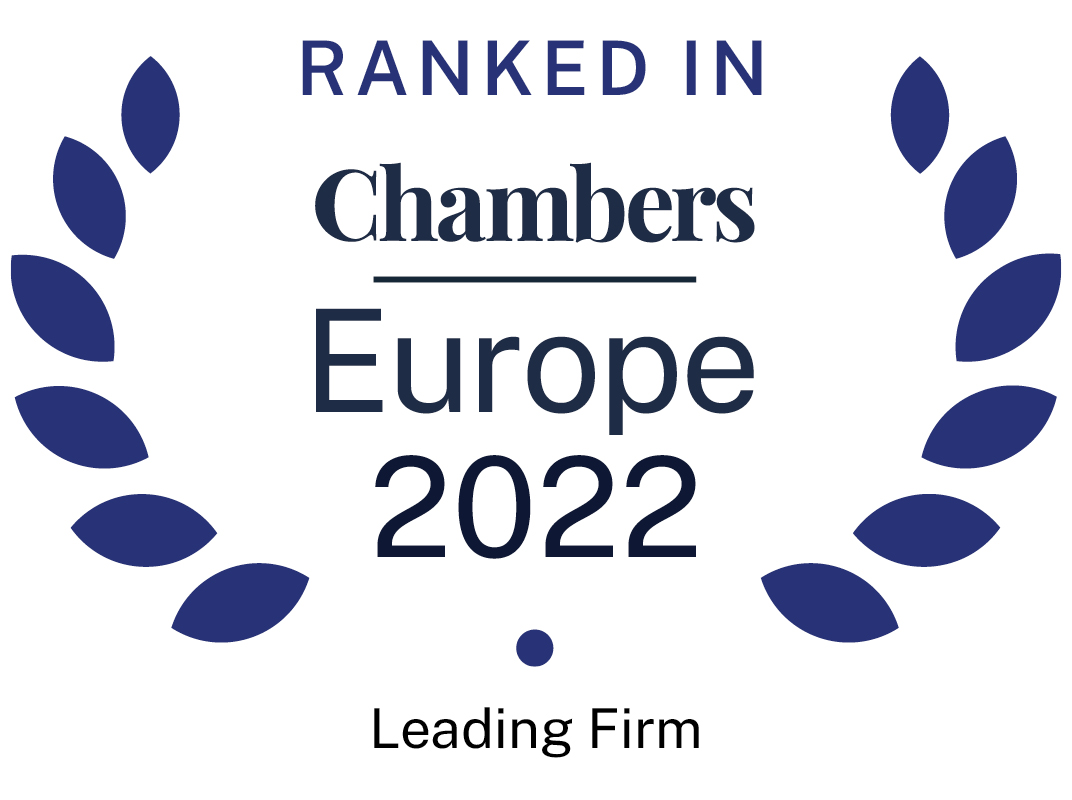 About
Provided by SRS Advogados
Europe
Managing Partner: Pedro Rebelo de Sousa
Number of partners: 30
Number of assistants: 140
Languages: English, French, German, Italian, Japanese, Mandarin, Portuguese, Spanish
Firm Overview:
SRS Advogados is a full-service, multi-practice law firm advising clients on all aspects of domestic, as well as international law. The firm's lawyers are focused on their clients' business and have gained knowledge and experience advising large national and international corporate groups, financial institutions, as well as local and national authorities. Through the creation of SRS Global (Angola, Brazil, Macau, Malta, Mozambique, Portugal and Singapore), as well the creation of a strong network of international relationships with third parties, the firm aims to extend its experience, expertise and services globally so as to ensure that it can respond efficiently to complex issues with global implications.
Main Areas of Practice:
Arbitration & Mediation: Administrative, civil and commercial, ICC, ICSID, tax.
Contacts: José Carlos Soares Machado, José Luís Moreira da Silva
Competition & EU: Complaints, investigations and dawn raids, compliance programmes, EU law, EU litigation, horizontal and vertical agreements, merger control, state aid.
Contact: Gonçalo Anastácio, Sara Estima Martins
Corporate & Commercial: Commercial contracts, corporate governance, startups, joint ventures.
Contacts: Octávio Castelo Paulo, Nuno Miguel Prata, Paulo Bandeira, Maria Paula Milheirão
Data Protection & Cybersecurity: Digital economy, e-privacy, GDPR.
Contact: Luís Neto Galvão
Dispute Resolution: Commercial and financial litigation, contractual and non-contractual liability, due diligence, professional liability, tax.
Contacts: José Carlos Soares Machado, Maria José de Tavares, Regina Santos Pereira, Carla Neves Matias e Natália Garcia Alves, José Jácome.
Employment & Social Security: Collective bargaining and management of collective disputes, international assignments/secondments, corporate restructuring and transfer of undertakings, general employment advice, employment disputes, individual and collective termination of employment, legal and procedural due diligence.
Contacts: César Sá Esteves, Mariana Caldeira Sarávia, Ana Luísa Beirão, Cláudia Varela
Energy: Electricity, oil and gas, regulatory, renewables.
Contacts: Gonçalo Anastácio, José Luís Moreira da Silva
Environment: Impact assessments, liability, litigation.
Contact: José Luís Moreira da Silva
Finance: Asset management, banking, capital markets, corporate finance, derivatives, project finance, regulatory, securitisation.
Contacts: Pedro Rebelo de Sousa, William Smithson, Alexandra Valente;
Immigration & Golden Visa: Citizenship, Golden Visa, immigration: visas and residence permits.
Contact: Raquel Cuba Martins
Insurance & Pensions: Life and non-life insurance contracts, mediation, pension funds, regulatory.
Contacts: César Sá Esteves, Françoise Le Quer
Intellectual Property: Advertising and franchising, domain names, software and internet, IP and copyright litigation, technology transfer.
Contacts: João Paulo Mioludo
Life Sciences & Healthcare: Biotech start-ups, seed-funding and financing, clinical trials, food supplements and cosmetics, health data protection and legal audits, human tissues, organs and cells, licensing, distribution, promotion, publicity and marketing, regulatory, compliance, pricing and reimbursements.
Contacts: César Sá Esteves, Ana Menéres
M&A: Acquisitions/divestments, due diligence, joint-ventures, LBO's/MBI's/MBO's, privatisations, restructurings.
Contacts: Pedro Rebelo de Sousa, Octávio Castelo Paulo, William Smithson;
Private Equity & Venture Capital: Due diligence, establishment and registration of venture capital funds and companies, fundraising, regulatory, structuring and implementation of investments and divestments.
Contacts: Alexandra Valente, Gustavo Ordonhas Oliveira, Paulo Bandeira
Public Procurement: Administrative dispute resolution, licensing, concessions and public procurement, PPP/PFI, regulatory, urban planning.
Contacts: José Luís Moreira da Silva, Alexandre Roque
Real Estate: Commercial and residential acquisitions, construction licensing, real estate finance, real estate funds, security packages, tourism and real estate projects.
Contact: Neuza Pereira de Campos
Startups: Business structuring and corporate governance, commercial contracts, licensing, development and distribution of softwar, public and private financing, spin-off operations, tax structuring and planning.
Contacts: Paulo Bandeira, Gustavo Ordonhas Oliveira
Tax: Audits, compliance, corporate and personal tax structuring, due diligence, international/domestic tax planning, litigation and arbitration.
Contact: Mafalda Alves
TMT - Telecommunications, Media & Technology: Data protection and privacy, internet, media, regulatory, software.
Contacts: Luís Neto Galvão, Octávio Castelo Paulo
Transport & Shipping: Contracts, security and vessel registration, infrastructure management and public service contracts, maritime litigation and arrest of vessels, PPP/PFI, public licensing and tenders, public service obligations.
Contacts: José Luís Moreira da Silva, Alexandre Roque
White Collar Crime: Compliance, corporate crime audits, litigation.
Contact: Mafalda Alves
Ranked Offices
Provided by SRS Advogados
SRS Advogados rankings
Europe Guide 2022
Filter by
Portugal
Banking & Finance
1 Department
2 Ranked Lawyers
Department
Lawyers
Capital Markets
1 Department
1 Ranked Lawyer
Department
Lawyers
Competition/European Law
1 Department
2 Ranked Lawyers
Department
Lawyers
Corporate/M&A
1 Department
2 Ranked Lawyers
Department
Lawyers
Gabriela Rodrigues Martins
Gustavo Ordonhas Oliveira
Dispute Resolution
1 Department
2 Ranked Lawyers
Department
Lawyers
José Carlos Soares Machado
Employment
1 Department
3 Ranked Lawyers
Department
Lawyers
Energy & Natural Resources
1 Department
1 Ranked Lawyer
Department
Energy & Natural Resources
Lawyers