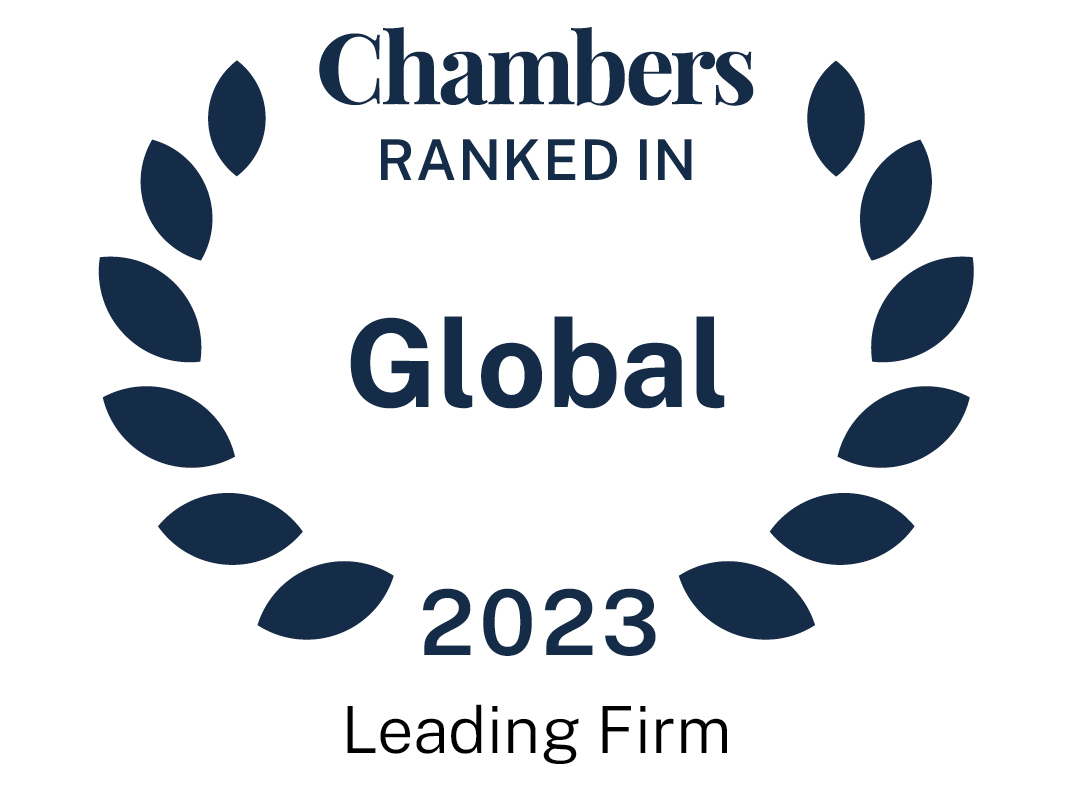 About
Provided by PLMJ
Global
Managing Partners: Bruno Ferreira
Number of partners: +43
Number of lawyers: +260
Languages: English, French, German, Italian, Portuguese, Spanish
Follow us on LinkedIn
Firm Overview:
We are a leading national independent law firm in Portugal, specialising in corporate legal advice, with one of the largest teams of lawyers in the country.
We have been leading the way for over 50 years and are proud of the culture we have built. We see our clients' challenges as our own and we put our people at the heart of our strategy to consistently excel in delivering value to everyone who places their trust in us.
Our teams are made up of the best lawyers in the country, we offer a full service and we take a multidisciplinary approach. The agility of our teams, combined with in-depth knowledge of the sectors in which our clients operate, is a defining characteristic of the way we position ourselves: as true legal partners.
The only complexity we embrace is the complexity of the challenges our clients bring to us. In delivering solutions, we are passionate about clear communication and work with a strong focus on desired outcomes. We believe in long-term, transparent and committed relationships.
PLMJ Colab:
With the aim of being close to its clients, the firm has created PLMJ Colab, its collaborative network of law firms located in Portugal and other countries with which it has cultural and strategic links. PLMJ Colab makes the best use of resources and provides a concerted response to the international challenges faced by its clients, wherever they may be. National partnerships allow the firm to extend PLMJ's presence from Lisbon, Oporto and Faro to the Azores, Coimbra, Guimarães and Madeira. International cooperation is ensured through firms specialising in the legal systems and local cultures of Angola, Cape Verde, Guinea-Bissau, Mozambique, São Tomé and Príncipe and Timor-Leste.
Main Areas of Practice:
Banking & Finance
PLMJ has been involved in some of the most significant transactions in the financial sector in Portugal and abroad, including the sale, purchase and restructuring of banks and financial companies; regulatory matters; financial derivatives; and the supply and distribution of complex financial products.
Contact: André Figueiredo
Capital Markets
PLMJ advises issuers, investors and financial intermediaries on all types of capital markets transactions and has acted on the most complex corporate finance deals in the Portuguese market, including all aspects of securities, financial regulation and corporate governance.
Contact: André Figueiredo
Corporate M&A
The firm has advised on the most significant acquisitions, mergers, demergers and joint ventures in the Portuguese market and has also worked on the most significant privatisations in the country. PLMJ keeps abreast of developments and new trends in the market and handles the most innovative buyout transactions, involving not only equity but also debt and hybrid instruments.
Contact: Diogo Perestrelo, Duarte Schmidt Lino
Dispute Resolution
PLMJ assists clients in complex disputes that are critical to their business and reputation and handles the most sophisticated and sensitive domestic and international cases. The firm is experienced in all aspects of litigation, arbitration and other ADR methods. Specialisms include banking and complex commercial litigation; competition and regulatory proceedings; restructuring and insolvency; commercial, construction and investment arbitration; and all areas of criminal and regulatory law.
Contact: Joaquim Shearman de Macedo, Pedro Metello de Nápoles, Rita Samoreno Gomes
Employment and Labour
PLMJ is experienced in all aspects of employment and labour law, including collective bargaining, compensation and benefits, restructuring, employment litigation, disciplinary investigations and M&A transactions. The Employment and Labour practice comprises one of the largest teams of employment and labour lawyers in Portugal.
Contact: Nuno Ferreira Morgado, Tiago Cortes
EU & Competition Law
PLMJ assists clients in all competition and European Union law matters, regardless of size or complexity. Experience includes cartel, abuse of dominant position and vertical restraint proceedings, as well as merger control and state aid cases, implementation of compliance programmes and litigation before the EU Courts.
Contact: Ricardo Oliveira
Healthcare, Life Sciences & Pharmaceuticals
The firm acts for clients at all stages of the development of their products and services and on all regulatory, commercial and contractual matters. The firm has handled major transactions and assisted in the development of strategic partnerships, acquisitions and structural investments. Specialities include advising on compliance issues in different jurisdictions; regulatory licensing, for manufacturers, distributors and retailers, and at all stages of the product cycle; and defining and handling strategies to protect intellectual property, including trade and industrial secrets and exclusive rights.
Contact: Eduardo Nogueira Pinto
Intellectual Property
PLMJ has expertise in all matters relating to trademarks, industrial designs, patents, copyright and unfair competition. By keeping abreast of the latest technological developments in the field of intellectual property, the firm is able to provide expert advice in areas of rapid development and increasing impact, such as information technology and e-commerce.
Contact: Hugo Monteiro de Queirós
Projects & Energy
The firm assists investors and banking syndicates in investment operations and the implementation of infrastructure, energy, mining and industrial projects. PLMJ also handles the most complex project finance transactions in Portugal, Angola and Mozambique. The team also has expertise in renewable energy, project origination and structuring, debt and syndication restructuring and step-in operations in innovative public-private partnerships.
Contacts: Inês Pinto da Costa, João Marques Mendes
Public Law
PLMJ acts for public and private entities in all areas of public law, in particular in the areas of public procurement and the execution of public contracts, regulatory, administrative and constitutional litigation, the environment and construction. The firm has been involved in the most important infrastructure-related transactions in Portugal and in Portuguese-speaking countries, and has solid experience in arbitration and legal opinions.
Contact: Diogo Duarte Campos
Real Estate and Tourism
The firm advises on all types of real estate and corporate real estate transactions. The team represents the market's leading investors and developers in the purchase, sale, operation and redevelopment of all types of real estate assets. In the tourism sector, PLMJ has advised on some of the most important tourism developments and has acted for the most prestigious Portuguese and international hotel brands.
Contact: Francisco Lino Dias, Rita Alarcão Júdice
Responsible business
PLMJ advises companies and investors on the full range of environmental, social and governance issues, helping them to turn challenges into business opportunities.
The firm's responsible business practice focuses on social and sustainable finance, business and human rights, and business ethics.
Contact: Bruno Ferreira
Tax
PLMJ works in all areas of tax law, including tax consultancy, parafiscal charges and tax litigation. The firm provides proactive support to corporate clients in all areas of business and industry. The team represents clients in cases involving the most controversial and innovative tax issues in Portugal, including before the Court of Justice of the European Union.
Contact: Serena Cabrita Neto
Technology, Media and Telecommunications
The firm acts in all technology-related areas, from telecommunications to personal data. With extensive experience in regulatory, commercial and litigation matters, PLMJ represents both technology companies and technology users. Areas of specialisation include software, media operators, biotechnology, mobility, fintech, internet of things, data protection and cybersecurity.
Contact: Pedro Lomba
Ranked Offices
Provided by PLMJ
Contributions
15 Contributions provided by PLMJ
PLMJ rankings
Global Guide 2023
Filter by
Angola
General Business Law: International Firms
1 Department
1 Ranked Lawyer
Italy
Corporate/M&A
1 Department
Mozambique
General Business Law: International Firms
1 Department
Portugal
Banking & Finance
1 Department
3 Ranked Lawyers
Department
Lawyers
André Figueiredo
Head of Banking & Finance
Capital Markets
1 Department
3 Ranked Lawyers
Department
Lawyers
André Figueiredo
Head of Capital Markets
Corporate/M&A
4 Department
2 Ranked Lawyers
Department
Lawyers
Diogo Perestrelo
Head of Corporate/M&A
Duarte Schmidt Lino
Head of Corporate/M&A
Dispute Resolution
1 Department
6 Ranked Lawyers
Department
Lawyers
Joaquim Shearman de Macedo
Head of Dispute Resolution