Holwell Shuster & Goldberg LLP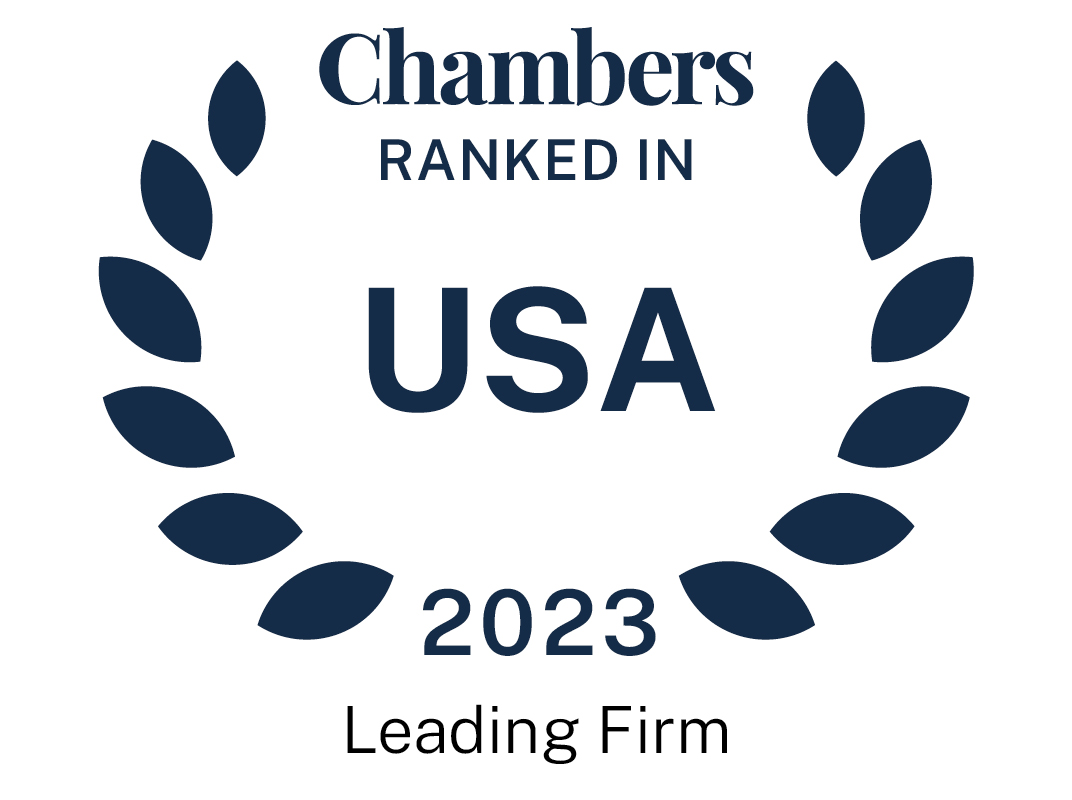 About
Provided by Holwell Shuster & Goldberg LLP
USA
Firm Details
Number of partners: 18
Number of lawyers: 59
Languages: English, French, German, Hebrew, Hindi, Italian, Romanian, Russian, Spanish
Firm Overview
Founded by former Southern District of New York Judge Richard Holwell and trial lawyers Michael Shuster, Daniel Goldberg, and Dorit Ungar Black, Holwell Shuster & Goldberg is an elite litigation boutique focused on high-stakes commercial disputes.
Main Areas of Practice
Antitrust: The firm's lawyers have been at the forefront of antitrust litigation since the late 1970s, counseling clients on vanguard antitrust issues under federal and state law, including Sections 1 and 2 of the Sherman Act (involving both civil and criminal liability), Section 7 of the Clayton Act, and the Robinson-Patman Act. The firm's lawyers have represented clients in antitrust matters on both the plaintiff- and defense-side, in concerted-action cases as well as single-firm conduct cases, and before federal district and circuit courts, the Federal Trade Commission, the Department of Justice, the Department of Defense, the European Commission, and other fora.
Key Clients: Visa Inc., MacAndrews & Forbes Inc., National Basketball Association
Appellate: With its roster of former judges and Supreme Court clerks, the firm brings to the appellate process a unique understanding of how judges approach decision making. The firm's representation of clients in appellate proceedings, including at the Supreme Court of the United States, combines sophisticated legal analysis with a concise, pragmatic presentation of the record on appeal. Whether in litigating an appeal or framing trial disputes in anticipation of appeal, HSG has the benefit of Judge Holwell's experience as a district judge and designated circuit judge, Justice James McGuire's service as a New York trial court and appellate court judge, and the insights offered by former U.S. Supreme Court clerks Vincent Levy, Daniel Sullivan, and Gregory Dubinsky, along with other HSG attorneys who served as law clerks in federal courts of appeals.
Key Clients: Çukurova Holding A.S., HSBC, Heirs to the Herzog Art Collection, Montreux Partners, The Carlyle Group, Caterpillar, Patrolmen's Benevolent Association, U.S. Chamber of Commerce, Vigilant Insurance Co., Federal Insurance Co., TIG Insurance Co.
Arbitration/Mediation: HSG's lawyers have represented clients in the U.S. and abroad in arbitrations under the rules of the AAA, JAMS, ICC, UNCITRAL, ICSID, FIDIC, and LCIA, as well as under various ad hoc arrangements. They have also represented clients in litigation related to arbitration proceedings (such as petitions to enforce arbitration agreements and proceedings related to the enforcement or vacatur of arbitral awards), as well as numerous high-stakes mediations. Two of the founding partners have civil law and common law degrees.
Key Clients: Alstom S.A., Camulos Capital, ECP MENA Growth Fund, LLC, ECP MENA Management LP
Bankruptcy Litigation: HSG handles confirmation hearings, adversary proceedings of various types, disclosure statement disputes, inter-creditor disputes, valuation fights, Rule 2004 discovery, and various other bankruptcy litigation matters.
Key Clients: AP Services LLP, Lehman RMBS Trustees, Directors of Liquid Holdings Group, Inc., Ad Hoc Group of LATAM Bondholders, Holders of Serta Debt
Complex Commercial Litigation: HSG's lawyers have the ability and experience to take complex high-stakes matters from filing to trial and through appeal, on both the plaintiff- and defense-side. HSG lawyers have represented or been adverse to the some of the largest and most prominent companies in the country, including large financial institutions, hedge funds, private-equity funds, public and private corporations, and high-net-worth individuals in disputes involving the capital markets, complex financial instruments and arrangements, mergers and acquisitions, corporate governance and officer fiduciary obligations, real-estate financings and leasing arrangements, insurance coverage claims, and complex contracts of every variety. They have broad experience in cross-border discovery, electronic discovery, and issues involving overlapping liability and exposures across multiple jurisdictions and legal systems. In addition, Judge Holwell's judicial experience affords clients singular insight and judgment into strategies for successfully prosecuting, defending, or resolving complex, sensitive matters. HSG is currently national trial counsel on some of the country's largest and most high-profile cases, including for Visa in the payment card MDL, and Chubb in nationwide opioid coverage litigation. The firm established itself as a pioneer in RMBS 'putback' litigation, resolving billions of dollars in losses from the Great Recession, and is at the forefront of COVID-19-related litigation.
Key Clients: Visa Inc., Chubb, HSBC, U.S. Bank, Freddie Mac, Bank of New York Mellon, XPO Logistics, Inc., PetSmart, Inc., Alberta Investment Management Corp., TiVo, Former Director of Sears Holdings Corp.
Debt & Fund Litigation: The firm's lawyers are active in litigations representing or on behalf of holders of varied debt instruments, as well as related disputes involving hedge funds and private-equity funds. HSG's lawyers have appeared in federal and state courts throughout the country on these matters, including in bankruptcy and Delaware Chancery Court proceedings. HSG represented a hedge fund in closely watched proceedings involving Argentina's default on its sovereign debt, and recently secured a $69.8 million award—approximately 99% of the amount sought following a trial on damages—for Melody Business Finance in litigation against Philip Falcone. The firm's understanding of how funds operate allows it to effectively protect and advance clients' interests, whether in hard-fought litigation or negotiated workouts.
Key Clients: Travelport, Caspian Capital, Camulos Capital, Perry Capital, Montreux Partners, PetSmart, Inc., Ad Hoc Group of LATAM Bondholders, Melody Business Finance
Intellectual Property: HSG represents clients prosecuting or defending high-stakes litigation involving patents, copyright, trademarks, trade secrets, and other forms of intellectual property.
Key Clients: NXP Semiconductors, Cowen and Company, Cold Spring Harbor Laboratory, Microban, Hilite
Pro Bono: HSG's lawyers have a long history of providing pro bono representation in matters ranging from classwide civil rights litigation to habeas corpus petitions, including commercial, immigration, and domestic relations matters on behalf of indigent plaintiffs. Most recently, the firm took to trial a voting rights case in Arkansas, secured a settlement in an excessive force case against Louisiana police officers, and secured a settlement in a groundbreaking workplace discrimination case on behalf of flight attendants arising from Frontier Airline's policies toward pregnant and breast-feeding employees.
Securities Litigation: HSG's lawyers represent clients in the most complex and challenging securities lawsuits, including one of the few securities class actions to proceed to a defendants' verdict. Their experience runs the gamut of securities law issues under the 1933 Act, the 1934 Act, the Investment Companies Act, and criminal statutes. Led by founding partners Michael Shuster and Daniel Goldberg, HSG is at the forefront of litigation relating to securities affected by the mortgage crisis.
Key Clients: HSBC, US Bank, Freddie Mac, Bank of New York Mellon, Directors of Liquid Holdings Group, Inc.
Transnational Litigation: The firm's lawyers have significant experience and expertise litigating transnational disputes in trial and appellate courts in the U.S. as well as in international arbitrations. They have represented individuals and corporations in U.S. litigation and arbitrations based on conduct occurring overseas, as well as sovereign states involved in court proceedings in the U.S. HSG's lawyers have deep experience with issues of subject matter and personal jurisdiction as well as the reach of U.S. laws, issues related to the enforcement of foreign judgments and arbitral awards, and discovery proceedings in the U.S. and overseas (under U.S. law and international treaties).
Key Clients: Aenergy, Republic of Uzbekistan, XPO Logistics, Inc., Alstom S.A., Codere S.A. directors, Polygon
White Collar & Internal Investigations: Judge Holwell brings to bear his judicial experience in high-profile criminal cases to the firm's extensive, collective experience counseling corporations, financial institutions, or their boards, and advising independent and special committees faced with sensitive matters. Judge Holwell, with the assistance of HSG, recently acted as an independent monitor engaged by a large financial institution pursuant to an agreement between the institution and the Securities and Exchange Commission.
Key Clients: Promontory Financial Group, Worrall
Ranked Offices
Provided by Holwell Shuster & Goldberg LLP
Holwell Shuster & Goldberg LLP rankings
USA Guide 2023
Filter by
New York
Litigation: General Commercial
3 Ranked Lawyers
Lawyers
Litigation: General Commercial: Highly Regarded
1 Department
Department
Litigation: General Commercial: Highly Regarded
Securities: Institutional Plaintiffs: Mainly RMBS Litigation
1 Department
1 Ranked Lawyer
Department
Securities: Institutional Plaintiffs: Mainly RMBS Litigation
Lawyers