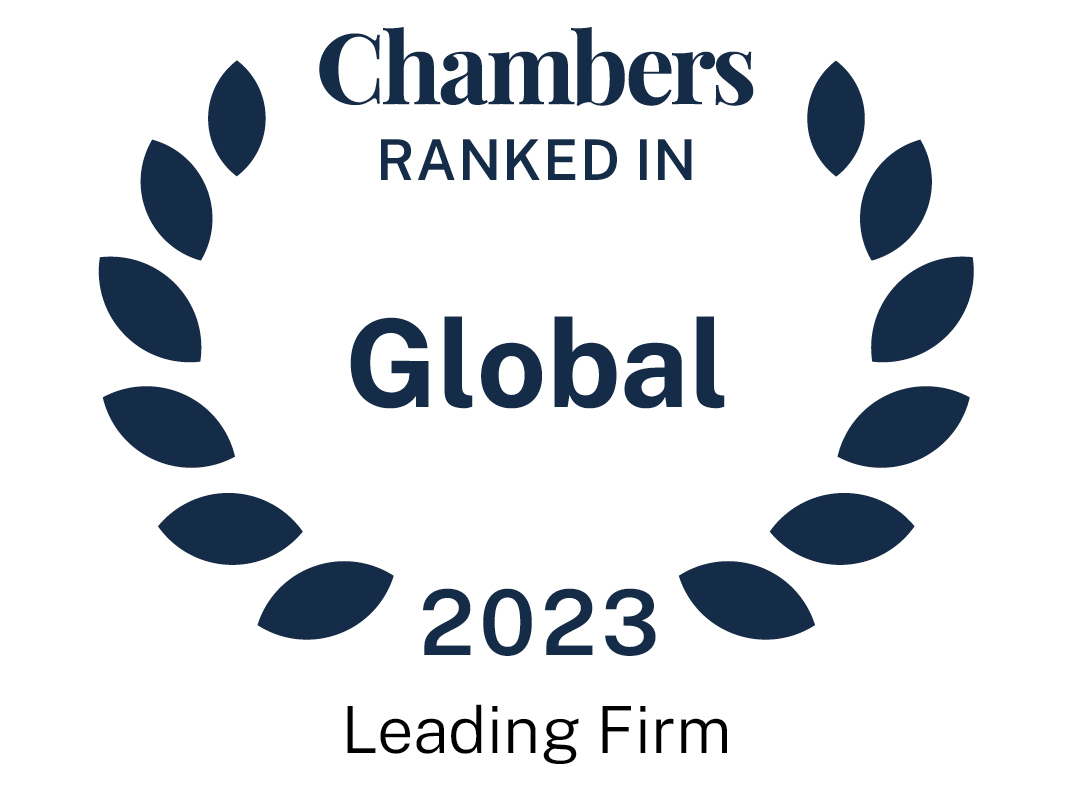 About
Provided by Gómez-Acebo & Pombo
Global
Managing Partner: Iñigo Erlaiz
Number of partners: 51 equity partners
Number of lawyers: More than 300
Languages: Spanish, English, Portuguese, French and German
Firm Overview:
Gómez-Acebo & Pombo is an international law firm whose aim is to provide value to its clients through innovative, practical and successful legal strategies.
This is possible thanks to:
■ The firm's 300 lawyers' solid legal knowledge
■ The firm's working method: creating multidisciplinary teams led by one or more partners who interact with the client, ensuring that the best experts participate effectively on each matter
■ In-depth understanding of its clients' business and sectors, being able to anticipate its needs
■ The long-standing professional relationships lawyers build with their clients
■ International alliances:
■ The existence since 1988 of an Academic Council composed of professors in different areas of law, all of them widely acclaimed in their respective fields. They belong to highly reputed universities and are experts that work together with the lawyers, depending on the specific needs of each client and case, thereby ensuring the highest level of advice. To achieve these objectives the firm has suitable lawyers and offers them an interesting challenge in an environment that allows them to develop their talents, as well as training in legal matters, in language and in communication skills, to improve management and negotiation capacities. Moreover, the firm's professionals bring knowledge from other jurisdictions because of the internships that many have placed in leading international law firms in European Union countries, the United States and Japan.
Main Areas of Practice:
Public Law & Regulated Sectors:
This practice area leads the Sustainability and Environment groups and all matters related to the Europe Recovery Plan. It advises on includes regulated sectors, administrative contracts, public authorities, permits and licences, expropriation, public services, public resources, administrative appeals, and judicial review, among others.
Banking & Finance:
The area has the most relevant Restructuring team in the market which has been advising on the most significant kinds of deals in Spain in the last few years. Additionally, the Banking and Finance lawyers provide legal advice on complex financing and refinancing transactions, distressed debt, LBOs, stock markets and financial regulations. Additionally, the banking practice also provides legal advice regarding regulatory issues and proceedings before supervisory authorities.
Corporate & M&A:
The Corporate and M&A team advises on the most complex transactions both, cross-border and domestic and is one of the key players in Spain. The practice area includes M&A, national and international commercial contracting, corporate governance, joint ventures, shareholders agreements, strategic alliances, commercial distribution, among others.
Private Equity & Venture Capital:
Advice covers tax design and structure of transactions, build up, exit and divestment processes, including IPOs and MAB. The firm also has specialists in fund formation, venture capital and special situations.
Capital Markets:
Covers all types of securities including IPOs or shares offered for subscription, private placements, block trades or accelerated bookbuild offerings, takeover bids, trading admissions, share buyback programmes, employee share programmes, MTN programme updates, securitisation funds, among others.
Intellectual Property & Technology:
The firm has three highly specialised teams providing a full range of services in patents, trademarks and copyrights, with broad expertise in the areas of legal advice, transaction work and, particularly, litigation. These teams cover all the typical intellectual property rights as well as unfair competition, advertising, new technologies, trade secrets and personal data protection.
Litigation & Arbitration:
Covers national and international arbitration, civil and commercial proceedings, constitutional and criminal law.
Competition & European Union Law:
Covers all areas such as control concentrations, state aid and grant and public funding programmes, arbitration in competition matters as well as appeals and complaints before the national competition authorities.
Employment & Pensions:
Advises on a wide range of restructuring processes, collective bargaining agreements, immigration matters, collective disputes, social security, labour audits, equality plans and international postings.
Tax:
Covers advice on all areas of tax law, including M&A and IPOS. The team gives advice on tax planning, tax litigation and tax audits.
Real Estate:
The firm offers legal advice on complex transactions and has expertise in developing unique real estate projects, as it has been involved in the purchase, planning development, and financing of some of the most emblematic real property projects in Spain and Portugal.
International Capabilities:
Although it is an independent firm, since the foundation, the firm has been truly international, and therefore has an extensive network of global contacts with whom they are used to working and collaborating.
Its clients, experience and organisational structure have made Gómez-Acebo & Pombo a go-to firm for international transactions. The in-depth local knowledge runs hand in hand with an expansion of its outreach beyond borders, keeping in constant contact with many of the best law firms in the world.
Gómez-Acebo & Pombo has a privileged access to international markets and therefore follows its clients beyond their borders, wherever they need it. The firm is one of the most active Spanish law firms in international forums.
Its independence allows it to choose the collaboration model that best suits the needs of its clients in terms of specialty, sector, type of work and cost. Its collaboration formats are the perfect combination of not only having different desks it creates synergies from, but also developing close and distinct relationships with its preferred firms in Europe and Latin America, which allows it to build strong global networking links.
Ranked Offices
Provided by Gómez-Acebo & Pombo
Gómez-Acebo & Pombo rankings
Global Guide 2023
Filter by
Belgium
Competition: EU
1 Ranked Lawyer
Lawyers
Cuba
General Business Law: International Firms
1 Ranked Lawyer
Lawyers
Portugal
Banking & Finance
2 Ranked Lawyers
Lawyers
Capital Markets
1 Ranked Lawyer
Corporate/M&A
1 Department
1 Ranked Lawyer
Department
Lawyers
Mafalda Barreto
Head of Corporate/M&A
Dispute Resolution
1 Department
Department
Spain
Banking & Finance
1 Department
3 Ranked Lawyers
Department
Lawyers
Miguel Lamo de Espinosa Abarca
Capital Markets: Debt
1 Department
Department
Corporate/M&A
3 Department
4 Ranked Lawyers
Department
Lawyers