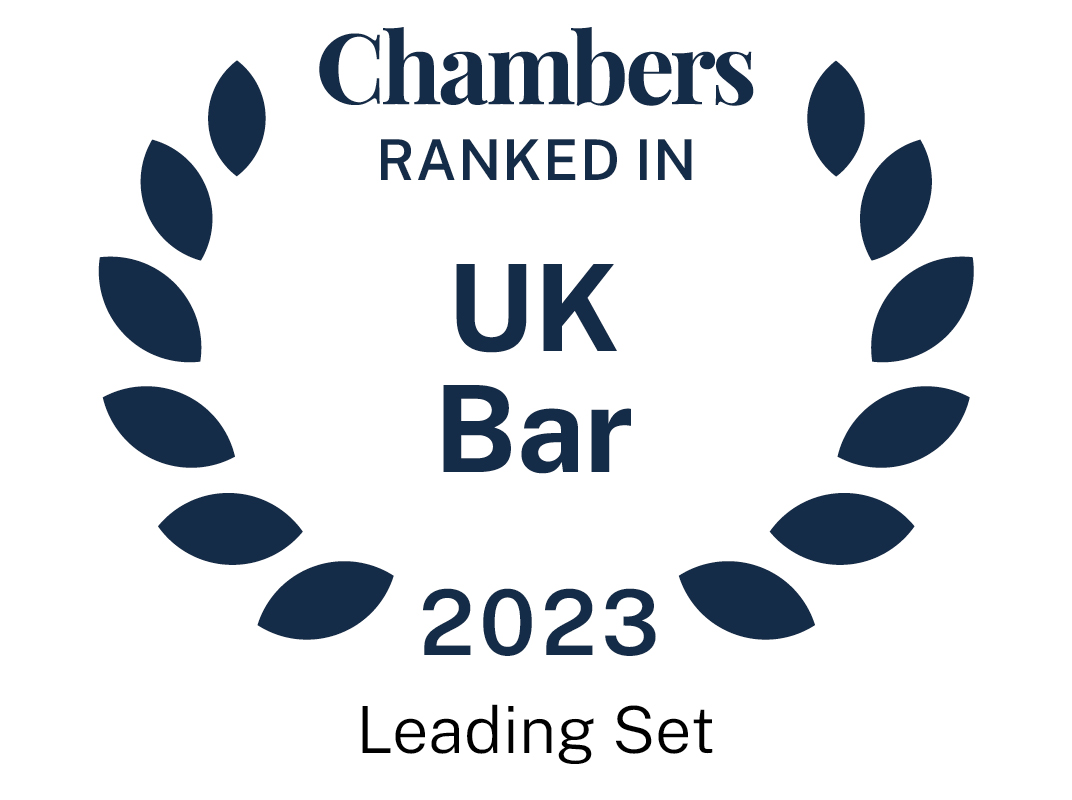 About
Provided by 187 Chambers
UK Bar
Heads of Chambers: Andrew Trollope KC, Richard Christie KC
Senior Clerk: John Pyne
Tenants: 65
THE CHAMBERS
187 Chambers is a long established and well-respected leading crime, fraud and regulatory law set, providing representation at every level for the prosecution and the defence, in both publicly and privately funded instructions and also directly through the Public Access Scheme.
Chambers comprises a highly skilled and supportive group of 7 Queen's Counsel and 58 junior barristers, including 5 Recorders, combining excellent strategic skill and academic ability with tenacious and formidable courtroom advocacy.
A key strength of chambers lies in the breadth and depth of experience of its members who are regularly instructed in the most high-profile cases often attracting media interest nationally and internationally. Chambers has particular expertise in serious fraud and white-collar crime, as well as homicide, terrorism, sexual offences, revenue cases, money laundering and all forms of serious organised crime. A wealth of experience is also offered in respect of VAT tribunals, police discipline, professional regulation, Trading Standards, Courts- Martial, judicial review, parole board hearings, mental health reviews, prison law, health and safety, sports law, inquests, extradition, human rights, licensing, and all road traffic related matters.
Members prosecute at all levels for the Crown Prosecution Service, HM Revenue & Customs, the Serious Fraud Office, the Financial Conduct Authority, Local Authorities and Government Departments. Members of Chambers have also been involved in a number of high profile private prosecutions. A number of members have been appointed to the Attorney General's List.
Members are supported by an excellent clerking team, led by a very experienced senior clerk.
WORK UNDERTAKEN
Corporate Crime & Serious Fraud: Cases include those involving market rigging in share issues and takeovers, cartels and price fixing, advance fee, high yield investment/ponzi and 'boiler room' frauds, fraudulent trading/Phoenix, money laundering/confiscation, MTIC cases involving a wide web of contra trading companies, off shore finance institutions and offshore banking evidence, VAT/excise evasion and revenue cases. MTIC/ diversion cases include: Operations Vitric, Venison, Vex, Carina, Campaign, Domic, Tulipbox (carbon credits) and Devout. Other fraud cases include: the Cheney pension fraud, the Dome fraud, Ikea fraud/corruption case, SFO prosecution of 'Lord' Edward Davenport, SFO Pharmaceutical cartel case, R v Peter Storrie (Harry Redknapp case), R v Henderson, Operation Amazon (HMRC's largest ever case), R v B - £17million gold fraud, R v H - Dentist prosecuted for multi-million pound tax fraud based on participation in a tax avoidance scheme and alleged falsification of records. SFO prosecutions of Jeffrey Revell Reade (the 'Wolf of Wimbledon'£70m boiler room scam). R v Nascimento and others - FCA investigation into a complex international investment fraud, R v Guralp - SFO investigation into international bribery and corruption, advising the ICO in relation to the investigation into Facebook and Cambridge Analytica. Members of Chambers also have specialist knowledge and experience of acting both for the Revenue and the taxpayer before the First Tier Tax/Upper Tribunals.
Serious Crime: Murder, serious sexual offences, including a large number of historical cases, large scale drugs conspiracies, conspiracies to import and supply extremely large volumes of class A drugs, offences against the person, terrorism offences, bribery and corruption. Cases have included the Joss Stone murder plot; R v Ian Watkins and others (involving lead singer of the Lostprophets); R v Davis (Conspiracy to hack SOCA and News International); R v Connors (first ever modern slavery trial); terrorist conspiracies to murder (Heathrow and transatlantic flights); the fertiliser bomb plot (Operation Crevice); the Tonbridge Securitas robbery; the murder of the private eye, Daniel Morgan, which is linked to the News of the World phone-hacking case, the Stephen Lawrence case and alleged police corruption, R v Abrams (attempted murder of George Harrison), successful defence of Headmaster and businessmen charged with historical sexual offences including incest, R v Rafiq (defending in the first ever prosecution of any end user of trafficked labour in the UK), R v Bergin and others (attempted murder/aggravated burglary of millionaire businessman shot in his own home), R v Rooney (vast modern slavery trial) R v Dr Ian Paterson, prosecution of the 'rogue surgeon' who performed unnecessary mastectomies on patients. R v Ali (Westminster Bridge Terrorism trial), R v B (father charged with murder of 8 week old son - 'shaken baby' case involving evidence from experts in 6 separate areas of medical expertise), R v Raza and others - carefully planned gangland killing of a rival drug dealer. Members of chambers have been appointed to review 'Rough Justice'/historic appeal cases and have particular expertise in this area. They have been engaged to act on behalf of both prosecution and defence in such cases, including receipt of instructions on a Direct Access basis. They have also regularly been instructed by the Criminal Cases Review Commission in judicial reviews of the Commission's refusal to refer cases to the Court of Appeal, including in the cases of Jeremy Bamber and Kenneth Noye.
Professional Regulation: A number of members of Chambers have been instructed by, or have represented regulated persons before various regulatory bodies including ACCA, NMC, GDC and GMC. Members are also experienced at representing professionals and military personnel accused of serious offences.
Sports: Members of Chambers have represented individuals before the British Horseracing Authority, the British Judo Association, the Rugby Union Disciplinary Tribunal, England & Wales Cricket Board and represented Peter Storrie in the Portsmouth Football Club case which was in relation to allegations that key officials at Portsmouth football club manipulated the sale and transfer of players so as to minimise payments to HMRC.
Public Inquiry Work: Members of Chambers are instructed in the Pitchford Inquiry into Undercover Policing and the Dame Linda Dobbs review.
Editor of the Criminal Appeal Reports
INTERNATIONAL
Bengali, Hindi, Punjabi, French and German are spoken. Counsel have also appeared in other jurisdictions such as the Cayman Islands.
Members
Andrew Trollope KC
Richard Christie KC
Daniel Janner KC
Nicholas Rhodes KC
Jason Bartfeld KC
Gideon Cammerman KC
Mozammel Hossain KC
Brian Reece
Peter Guest
Gerard Renouf
Diana Pigot
Mark Tomassi
Anthony Rimmer
Gareth Hughes
Mitchell Cohen
James Lachkovic
David Lyons
Christopher Kerr
Grant Vanstone
Kate Davey
Andrew Newton
Terence Woods
Neil FitzGibbon
Anna Hamilton Shield
Avirup Chaudhuri
Rachel Bright
Richard Potts
Sean Kivdeh
Andreas O'Shea
Richard Burrington
Matthew Bagnall
Daniel Kersh
Laureen Husain
Adam Butler
Peter Clark
Caroline Milroy
Neelam Sharma
Yasmin Punjani
Sarah O'Kane
Emma Nash
David Baird
Henry Hughes
Rebecca Lee
Ben Hayhurst
Matt Morgan
James Onalaja
Anna Keighley
Greg Unwin
Donal Lawler
Satya Chotalia
Ali Dewji
Harry Warner
Daisy Monahan
Edward Duncan Smith
Daniel Setter
Liam Edwards
Gavin Capper
Vakas Hussain
Alfred Underwood
Tom Worden
Robert Levack
Sebastian Cox
Subagarey Pathmanathan
Sean Summerfield
David Tremain
Anthony Korda*
Matthew McDonagh*
Katharine Blackburn*
Emma Kurzner*
Helen Fleck*
Victoria Weaver*
Joseph Abadoo*
Jack Walsh*
Laura Fearnfield*
Susannah Brooke*
* Door Tenant
Ranked Offices
Provided by 187 Chambers
187 Chambers rankings
UK Bar Guide 2023
Filter by
All Circuits
POCA Work & Asset Forfeiture
1 Ranked Barrister
Juniors
London (Bar)
Crime
1 Set
9 Ranked Barristers
Set
Silks (KC)
Juniors
Financial Crime
2 Ranked Barristers
Financial Crime: Private Prosecutions
2 Ranked Barristers