Department profile
Banking & Finance
---
Contact details
---
Email address
Contact number
Global Guide 2023
Spain Banking & Finance
---
4 Ranked Lawyers
About
Provided by Gómez-Acebo & Pombo
Our Banking, Capital Markets and Insurance team has extensive experience advising on credit and capital market transactions, and on regulatory issues in the financial sector and in the insurance field.
In relation to credit operations advice, we have a preferred position advising companies, financial institutions and investment funds on corporate finance, project finance, LBOs, asset finance, real estate finance, restructuring and secondary market operations. We work together with our London and New York offices and with the best Anglo-American law firms in international credit operations, including those subject to laws other than Spanish or Portuguese.
In relation to capital markets, we advise issuers, underwriters or insurers, investment services companies and investors in local and international capital market operations, on all types of securities, including IPOs or shares offered for subscription, private placements, block trades or accelerated bookbuild offerings, etc.
Our advice on financial regulatory matters includes matters related to regulated markets, Multilateral Trading Systems, clearing and settlement chambers, their operating regulations, management entities, MiFID, rules of conduct, transparency and information, inside information, sanctioning proceedings, both in the administrative and judicial stages etc., including regulatory proceedings before the supervisory authorities, such as the Spanish and Portuguese Securities Market Authorities.
Ranked Lawyers at
Gómez-Acebo & Pombo
Provided by Chambers
Filter by
Spain
Banking & Finance
---
Miguel Lamo de Espinosa Abarca
Project Finance
---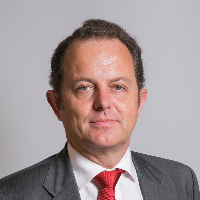 Members
Provided by Gómez-Acebo & Pombo
Gómez-Acebo & Pombo has rankings in the following guides