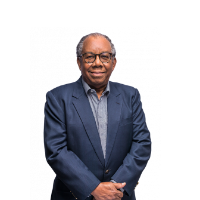 Lawyer profile
Trevor Patterson
Global 2023: General Business Law
---
About
Provided by Trevor Patterson
Global
Practice Areas
Trevor Patterson, the Senior Partner of the Firm, has practiced in Jamaica for more than forty four years within a wide range of commercial law areas including shipping, insurance, banking, telecommunications and taxation.
In recent years, Trevor has focused his practice in the areas of corporate finance, securities law, foreign direct investment and taxation. He has been the lead lawyer in several IPOs and in major take-over transactions involving both public and private companies.
Trevor has been consistently ranked over several years by Chambers and Partners as a Star Individual – General Business Law. He is considered a pre-eminent figure in commercial law.
Professional Memberships
Jamaica Bar Association
Publications
Aircraft Finance (contributor): Sweet & Maxwell, London
Aircraft Liens & Detention Rights (contributor): Sweet & Maxwell, London.
Chambers Review
Provided by Chambers
Global
General Business Law - Jamaica
Trevor Patterson is widely considered to be a pre-eminent lawyer in Jamaica's commercial law market. He maintains an outstanding track record of advising on foreign direct investment, taxation and corporate finance mandates. He has many decades of experience and is held in high regard by his peers.
Discover other Lawyers at
Patterson Mair Hamilton
Provided by Chambers
Filter by
Jamaica
General Business Law
---