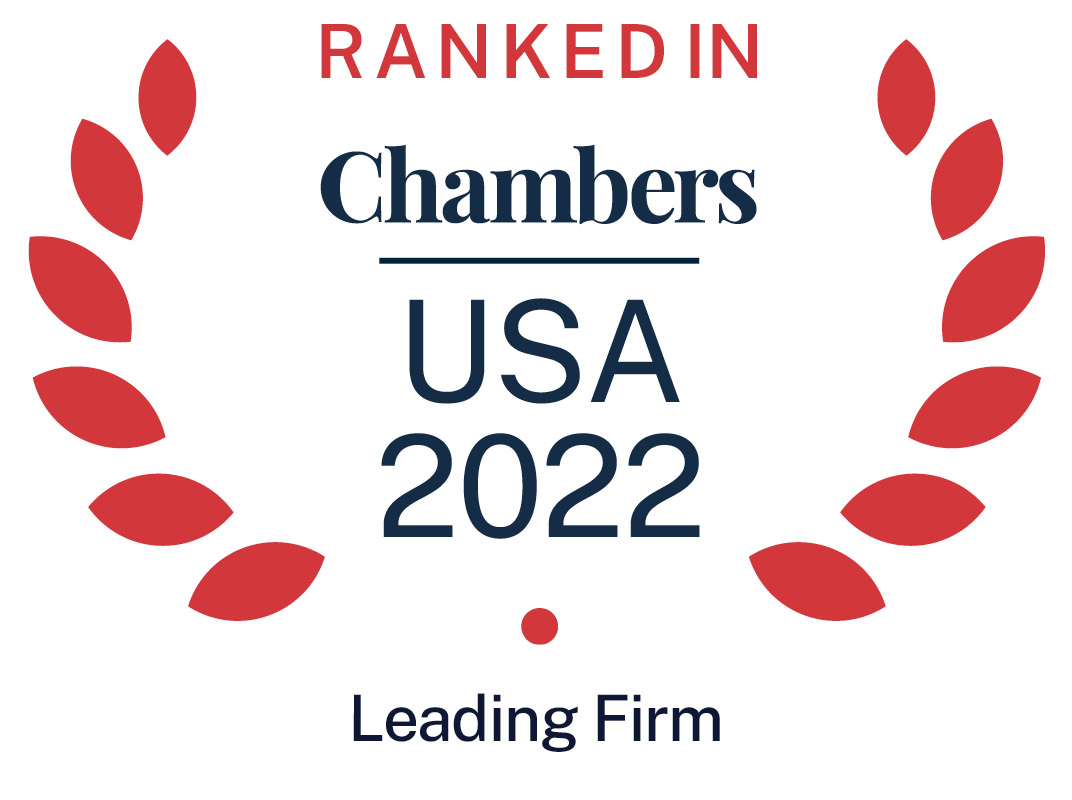 Also ranked in the following guides
About
Provided by Winston & Strawn LLP
USA
Firm Details
Chairman: Thomas P Fitzgerald
Senior Partners: Dan K Webb (Co-Executive Chairman), Jeffrey L Kessler (Co-Executive Chairman), Michael S Elkin (Vice Chairman)
Number of partners in US: 324
Number of other lawyers in US: 479
Number of lawyers worldwide: 900+
Firm Overview:
Winston & Strawn LLP is an international law firm with more than 900 attorneys among 15 offices in Brussels, Charlotte, Chicago, Dallas, Hong Kong, Houston, London, Los Angeles, Miami, New York, Paris, San Francisco, Shanghai, Silicon Valley, and Washington, DC.
Main Areas of Practice
Antitrust/Competition:
Winston's global antitrust/competition attorneys help clients across many sectors with a full range of services, including advice related to all aspects of global cartel defense, civil and criminal litigation, government investigations, mergers and acquisitions, and regulatory counseling and compliance.
Litigation:
Corporate America consistently trusts Winston with their most high-stakes litigation. Winston litigators have tried major jury and bench trials in virtually every significant federal and state venue and assisted with high-profile investigations related to SEC, AG, and other regulatory inquiries. They handle appeals before the US Supreme Court, US Courts of Appeals, and state appellate courts. Winston's international arbitration attorneys have extensive experience with all the major arbitration and international claims institutions and rules. Substantive areas of litigation work include: antitrust, commercial, breach of fiduciary duty, securities, product liability, class actions, financial services, white collar, patent, trademark, copyright, trade secrets, energy, media and entertainment, tax, and bankruptcy-related litigation.
Corporate & Finance:
Winston's corporate and finance practice provides securities and M&A legal services to multinational companies, investment banks, and other financial services firms. The firm's private equity work encompasses capital raising, investment and divestiture, and operational activities. In the finance area, Winston represents clients in capital markets, corporate lending, securitization, lease finance, and derivatives transactions. The firm's financial services practice assists clients in bank regulatory and compliance, investment management, private fund, broker-dealer, and futures/exchange matters. Winston provides restructuring and insolvency advice to debtors, creditors, committees, purchasers, and other parties in bankruptcy matters. Winston is also a leader in special purpose acquisition company (SPAC) transactions and the team regularly represents SPAC sponsors and underwriters in structuring SPACs and completing their IPOs; SPACs and target companies in SPAC business combination transactions; and investors considering investments in SPACs.
Employee Benefits & Executive Compensation:
Winston assists employers with the compensation of employees and the planning and administration of employee benefits, as well as all forms of executive compensation plans. Winston also advises clients regarding the use of ESOPs and ESOP-related strategies in a wide variety of transactions.
Energy:
For more than 30 years, Winston has helped clients navigate changes in the energy industry, from leading renewable energy projects to advising on nuclear security matters. Energy attorneys handle development, financing, construction, oil and gas, and regulatory matters, and the sale and purchase of energy companies and assets. They also provide litigation, tax, and labor advice.
Environmental:
This practice handles all aspects of environmental law, from Superfund actions and toxic tort claims to environmental compliance in transactions to regulatory issues.
Health Care:
Winston has developed an industry-wide practice in the health care and life sciences field that encompasses virtually all aspects of health care law and integrates nearly every legal practice area. Our attorneys are seasoned practitioners with experience serving as general, litigation, and special counsel to a wide variety of health care organizations and entities. We have a solid understanding of the health care sector and proven success in representing our clients in a broad spectrum of issues.
Labor & Employment Relations:
Winston's labor and employment law practice provides counseling and has appeared in state and federal courts around the country and before the NLRB, DOL, EEOC, and other local, state, and federal agencies. Intellectual Property: The firm's IP attorneys litigate disputes in federal courts and before the USPTO and ITC. The practice includes risk assessment, portfolio management, and prosecution of applications for patents, trademarks, and copyrights, and supervision of global IP enforcement initiatives. Winston's IP attorneys assist with patent, trademark, and copyright licenses, product development deals, privacy and data security, advertising, marketing, and promotions.
Real Estate:
Winston real estate attorneys assist purchasers, sellers, developers, borrowers, and lenders in major real estate investment, development, and lending activities. They represent US and international corporations, financial institutions, and other clients in acquisitions, financings, sales, developments, and leasings.
Tax:
Winston tax attorneys provide assistance ranging from planning to dispute resolution and legislative and regulatory representation. They help clients resolve significant tax issues by creatively planning transactions, effectively influencing tax policy, and carefully working with the IRS. They also resolve tax controversies through the IRS administrative process and litigation.
Transportation :
Winston & Strawn has significant experience representing clients in the transportation sector. Notably, Winston is nationally recognized as a "go-to" firm for the maritime industry, advising on US government policy, law, regulations, and enforcement. By representing a diverse mix of industry participants—from vessel owners and operators to businesses that charter vessels to port authorities to others engaged in the financing of maritime transportation assets—Winston's maritime attorneys have gained a deep understanding of the most important issues facing its clients. Winston also has a team of aviation attorneys who are leaders in the field of structuring, negotiating, and closing complex commercial transactions involving all types of aircraft, engines, spare parts, and related assets.
Clients
AAR Corporation, Abbott Laboratories, AbbVie Inc., American International Group, Inc., AOL Inc., AON Corporation, Arris Group Inc., Bankers Life and Casualty Company, Inc., Cameron International, Cisco Systems, Inc., Dell Inc., Deutsche Bank AG, Discover Financial Services, Duke Energy Corporation, eBay Inc., Eos Partners, L.P., FAGE International S.A. GenNx360 Capital Partners, Goldman Sachs & Co., Groupon, Inc., Hospira Inc., JPMorgan Chase & Co., Luxottica Group S.p.A., LVMH Moët Hennessy Louis Vuitton SA, Microsoft Corporation, Motorola Mobility, Inc., National Football League Players Association, Northern Trust Corporation, NRG Energy, Inc., Panasonic Corporation, Schlumberger Limited, SEPLAT Petroleum Development Company Plc, Telefónica International, Teva Pharmaceuticals, TreeHouse Foods, Inc., Verizon Communications Inc., Wal-Mart Stores, Inc., Wells Fargo & Company, Yahoo! Inc.
Ranked Offices
Provided by Winston & Strawn LLP
Winston & Strawn LLP rankings
USA Guide 2022
Filter by
California
Corporate/M&A: Private Equity
1 Ranked Lawyer
Lawyers
Corporate/M&A: Private Equity: Highly Regarded
1 Department
Department
Corporate/M&A: Private Equity: Highly Regarded
Energy: State Regulatory & Litigation
1 Department
Department
Energy: State Regulatory & Litigation
Labor & Employment
2 Ranked Lawyers
Labor & Employment: The Elite
1 Department
Department
Labor & Employment: The Elite
Litigation: White-Collar Crime & Government Investigations
1 Department
1 Ranked Lawyer
Department
Litigation: White-Collar Crime & Government Investigations
Lawyers
District of Columbia
Employee Benefits & Executive Compensation
1 Department
1 Ranked Lawyer
Department
Employee Benefits & Executive Compensation
Lawyers
Litigation: General Commercial: Highly Regarded
1 Department
Department
Litigation: General Commercial: Highly Regarded
Litigation: White-Collar Crime & Government Investigations
1 Department
1 Ranked Lawyer
Department
Litigation: White-Collar Crime & Government Investigations
Lawyers
Florida
Banking & Finance: Regulatory
2 Ranked Lawyers
Banking & Finance: Transactional
1 Ranked Lawyer
Litigation: General Commercial
3 Ranked Lawyers
Lawyers
Florida: South
Bankruptcy/Restructuring
1 Ranked Lawyer
Lawyers