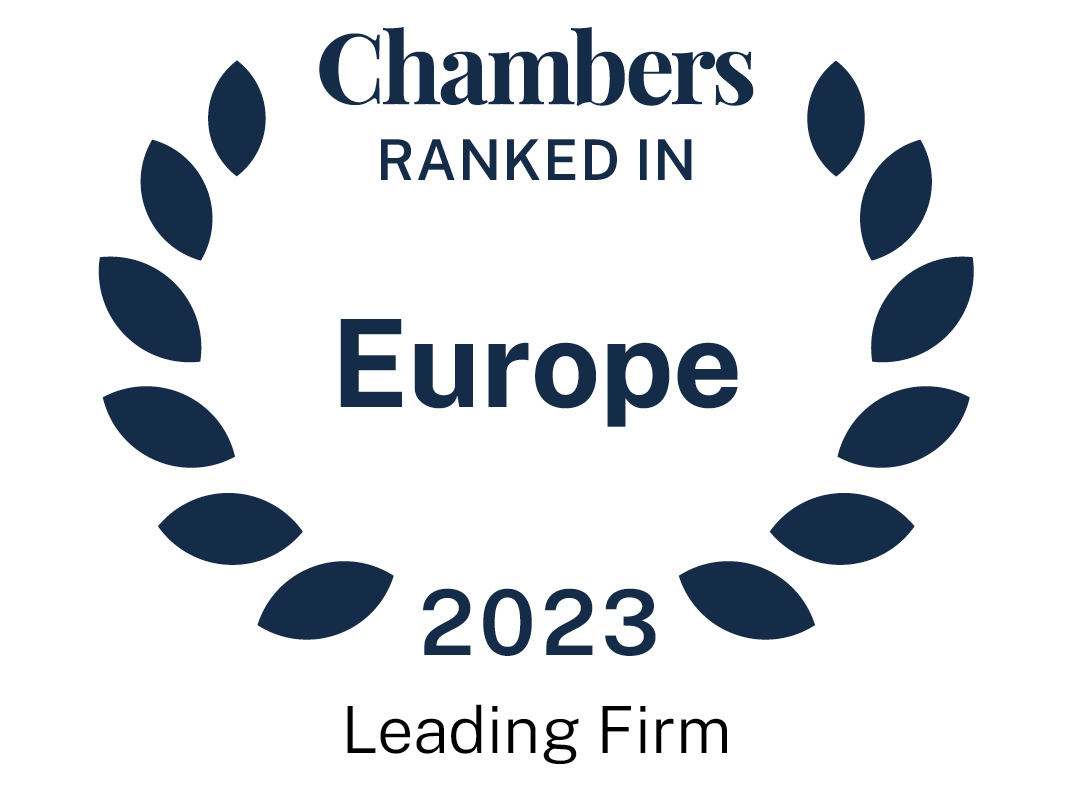 About
Provided by Uría Menéndez
Europe
Senior Partner: Luis de Carlos Bertrán
Managing Partner: Salvador Sánchez-Terán
Number of partners: 134
Number of lawyers: 574
Languages: Chinese, English, French, German, Italian, Japanese, Polish, Portuguese, Spanish
Firm Overview:
Uría Menéndez is one of the most prestigious independent law firms in the Iberian market. Founded in the 1940s, it comprises 130 partners, and over 400 associates in 12 offices in the most important financial centres in Europe and the Americas.
The firm's international structure allows them to provide Spanish, Portuguese and EU legal advice to clients on their investments in the Iberian Peninsula and abroad.
The firm focuses on banking and capital markets, company and commercial, environment, litigation and arbitration, infrastructures, project finance, private equity, telecommunications, EU and competition, intellectual property, labour, tax, maritime, transport, logistics and real estate.
Main Areas of Practice:
Corporate & Commercial:
■ Covers all areas of corporate and commercial law, including M&A, commercial contracts, energy and utilities and food and beverages
Key Contact: Carlos de Cárdenas
Tel: +34 91 586 07 90
Email: [email protected]
Financial:
■ Handles all matters relating to banking, corporate finance insurance, investment funds, project finance, securities and securitisation
Key Contact: Ángel Pérez López
Tel: +34 91 587 09 11
Email: [email protected]
Restructuring & Insolvency:
■ Active role in complex debt restructuring and refinancing transactions, advising both borrowers and lenders
Key Contact: Ángel Alonso Hernández
Tel: +34 91 586 07 57
Email: [email protected]
Tax:
■ Covers advice on all areas of tax law, focusing on: M&A, financial products and capital markets, international tax planning, real estate, project finance, insurance and pension funds, family businesses and high net worth individuals and tax investigation and disputes, including criminal-tax issues
Key Contact: Víctor Viana Barral
Tel: +34915864556
Email: [email protected]
Competition & EU:
■ The firm is experienced in all areas of competition law, ranging from preventive advice to representing and defending clients in administrative sanction proceedings, appeals and claims before Spanish, Portuguese and EU bodies
Key Contact: Antonio Guerra Fernández
Tel: +34 91 586 04 66
Email: [email protected]
Intellectual Property:
■ Covers all aspects of industrial and intellectual property issues, trademarks, patents, copyright, data protection, pharmaceuticals, etc.
Key Contact: José Massaguer
Tel: +34 91 586 05 90
Email: [email protected]
Key Contact: Rafael Sánchez Aristi
Tel: +34 91 586 07 54
Email: [email protected]
Telecommunications, Media & Entertainment:
■ The firm has a vast experience in dealing with ecommerce, information technology, media and entertainment, sports and leisure, telecommunications and advertising
Key Contact: Pablo González-Espejo
Tel: +34 91 586 04 09
Email: [email protected]
Litigation & Arbitration:
■ Covers civil and commercial proceedings, local and international arbitration, administrative and constitutional law, contentious-administrative proceedings, tax and criminal law
Key Contact: Jesús Remón
Tel: +34 91 586 03 71
Email: [email protected]
Key Contact: Gabriel Bottini
Tel: +34 91 587 08 31
Email: [email protected]
Key Contact: Javier García Sanz
Tel: +34 91 586 06 92
Email: [email protected]
Real Estate/Urban Planning:
■ Provides advice covering all aspects of real estate, including sale, leasing and purchase of land, project management, investment and financing and urban planning
Key Contact: Fernando Azofra Vegas
Tel: +34 91 586 45 64
Email: [email protected]
Environment:
■ Advises companies and public entities on all types of environmental issues assisting clients at every phase of sanction proceedings deriving from alleged infringements of environmental regulations
Key Contact: Juan Antonio Loste Madoz
Tel: +34934165121
Email: [email protected]
Energy:
■ Provides comprehensive advice on every aspect of the energy sector, from regulatory and contractual issues to financing and acquisitions
Key Contact: Juan Ignacio González
Tel: +34 91 586 03 81
Email: [email protected]
Employment & Pensions:
■ Advises on a wide range of issues including contracting, collective negotiation, corporate restructuring, litigation and pension fund management
Key Contact: Mario Barros García
Tel: +34 91 586 45 54
Email: [email protected]
Maritime & Transport:
■ Provides advice on administrative and regulatory proceedings, finance and insurance to companies in the maritime and transport industries
Key Contact: Carlos López-Quiroga
Tel: +34 91 586 07 68
Email: [email protected]
Ranked Offices
Provided by Uría Menéndez
Contributions
1 Contribution provided by Uría Menéndez
Uría Menéndez rankings
Europe Guide 2023
Filter by
Belgium
Competition: EU
1 Department
1 Ranked Lawyer
Department
Lawyers
Portugal
Banking & Finance
1 Department
Department
Capital Markets
1 Department
1 Ranked Lawyer
Department
Lawyers
Carlos Costa Andrade
Head of Capital Markets
Competition/European Law
1 Department
1 Ranked Lawyer
Department
Lawyers
Tânia Luísa Faria
Head of Competition/European Law
Corporate/M&A
1 Department
3 Ranked Lawyers
Department
Lawyers
Antonio Villacampa Serrano
Catarina Tavares Loureiro
Dispute Resolution
1 Department
3 Ranked Lawyers
Department
Lawyers
Fernando Aguilar de Carvalho
Head of Dispute Resolution
Dispute Resolution: Corporate Crime
3 Ranked Lawyers
Lawyers
Fernando Aguilar de Carvalho
Francisco Proença de Carvalho
Employment
1 Department
1 Ranked Lawyer
Department
Lawyers
André Pestana Nascimento
Head of Employment