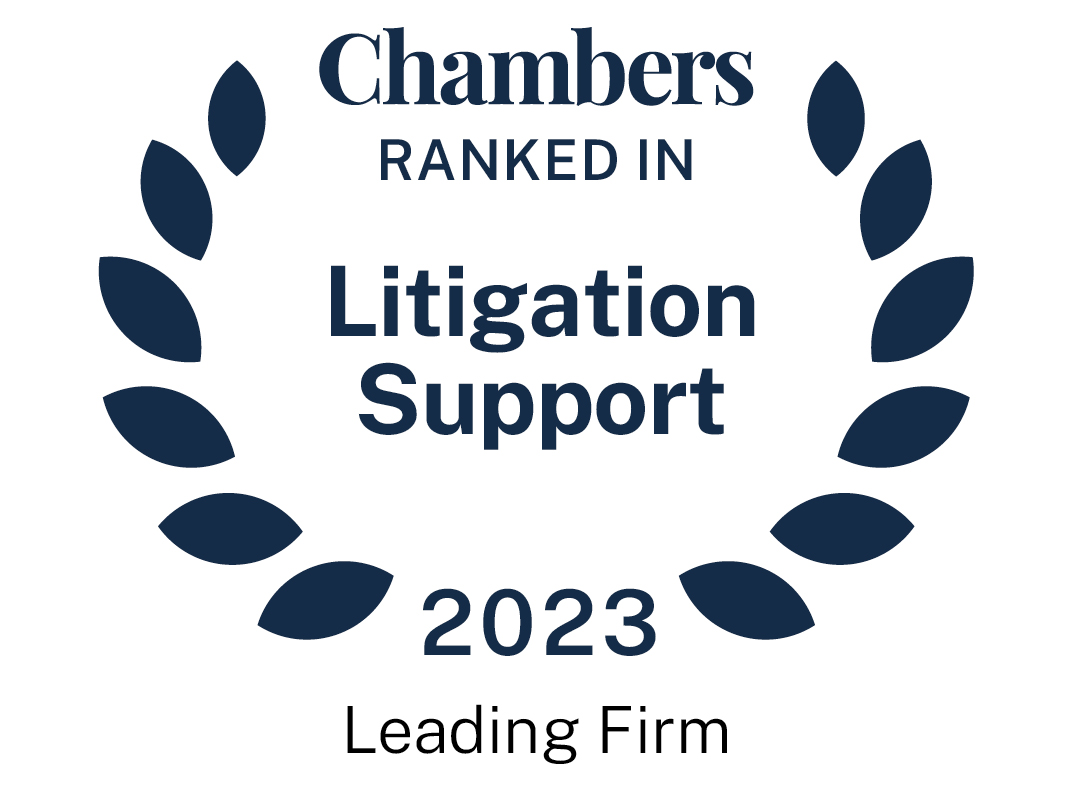 About
Provided by S-RM
Litigation Support
Firm Details
Key Contacts: Martin Devenish, MBE (Board Director, Head of Corporate Intelligence), Marcus Fishburn (Global Practice Head), Sam Taylor (Practice Head, US), Septimus Knox (Global Practice Deputy Head)
Number of Employees: 350+
Number of Languages Spoken: 35+ including Afrikaans, Arabic, Armenian, Bengali, Bulgarian, Cantonese, Czech, Farsi, French, German, Greek, Hindi, Hebrew, Hungarian, Indonesian, Italian, Japanese, Korean, Malay, Mandarin, Polish, Portuguese, Russian, Spanish, Turkish, Ukrainian
International Offices: 9
Year founded: 2005
Firm Overview
S-RM is a global intelligence and cyber security consultancy comprising 350+ practitioners across nine international offices, serving clients across all regions and major sectors. Headquartered in London with offices in Cape Town, Hong Kong, Rio de Janeiro, Utrecht, Singapore, New York, Manchester and Washington, D.C., S-RM supports clients by providing intelligence that informs critical decision-making and strategies.
The firm established a dedicated Disputes & Investigations practice in 2018 to provide specialist support to clients engaged in contentious situations. Our intelligence is deployed in a number of scenarios including litigation, international arbitration, internal investigations and fraud-related investigations. We work on many different types of dispute, including shareholder and joint venture disputes; IP-related matters; family and investor-state disputes. In the last three years our practice has received international recognition by leading legal directories. Both our global practice head, Marcus Fishburn, and our deputy global practice head, Septimus Knox, have been individually recognised by Chambers & Partners and Who's Who Legal.
S-RM provides a full spectrum of dispute-focused services including asset tracing; enforcement strategy; litigation and arbitration support; eDiscovery and digital forensics; cyber threat intelligence; physical surveillance; expert witness support; witness identification, profiling and location; and strategic intelligence. At the firm, traditional investigators collaborate with cyber security experts and seasoned crisis managers to deliver a wide range of services.
S-RM's research and analysis is provided by six regional teams, which provide expert coverage of a range of jurisdictions globally, from the most prominent to some of the smallest and most obscure. Collectively, S-RM's analysts and managers speak over 35 languages and have come to the business from a broad range of sectors including intelligence, government, finance, journalism, the military and academia. Each team is adept at locating hard-to-find public records and has built an extensive network of human sources on the ground in their region. On every project, we bring together the most relevant and experienced practitioners from across our business, creating teams designed to address unique problems and complex challenges.
Our clients include Sovereigns, multinational corporations, law firms and private clients (often UHNWIs). They trust us to keep them well informed and to resolve their most sensitive disputes with speed, versatility and discretion. We build long-term partnerships with our clients to gain a deep understanding of their challenges and goals. Fostering close relationships means that we can respond quickly to changing requirements and adapt our approach as our clients' needs develop.
Our advice is direct, honest and objective. We deliver tangible results and present our findings in clear, straightforward language. Our approach is always transparent, and we place great emphasis on understanding our clients and staying in close contact with them. Combined with our rigorous methodology, deep regional expertise and diverse career experience, this means that our clients can always rely on our advice and act upon our intelligence.
In parallel to its Disputes & Investigations practice, S-RM has specialist Deal Advisory, Strategic Intelligence, and Cyber Security practices. The Deal Advisory team delivers complex pre-transaction due diligence to some of the world's largest private equity houses, corporate M&A teams and international financial institutions. The Cyber Security team specialises in cyber incident response, digital and cyber forensics, and technical expert witness work. The Strategic Intelligence team is focused on assessing the impact of (geo)political, macroeconomic, social and security developments on the commercial environment across the globe.
Main Areas of Practice
International asset tracing:
S-RM regularly supports the enforcement of judgments and awards by mapping assets, unpicking complex corporate structures and providing expert reports to courts in support of interim measures. The firm also conducts lighter touch pre-litigation asset searches to inform legal strategy.
Litigation and arbitration support:
Working with legal teams, expert witnesses and PR professionals, S-RM's intelligence crafts strategy and drives successful outcomes in complex, international disputes. The firm works with clients in pursuit of favourable settlements, but also regularly collects and submits evidence to support arguments made in court and in front of arbitral tribunals.
Internal investigations:
S-RM builds multidisciplinary teams of analysts, investigators, cyber experts and digital forensics practitioners to investigate internal issues at some of the world's leading corporates. The firm's internal investigations often deal with issues including bribery and corruption, fraud, bad leavers, IP theft and data leaks.
Special situations:
Over the past 18 years, S-RM's investigators have helped clients navigate an array of highly complex and sensitive situations by providing timely intelligence and strategic advice. The firm has designed activist shareholder defence strategies, unmasked the architects of 'dark' PR campaigns and helped broker negotiations between feuding joint venture partners.
Investigative due diligence:
In the context of major transactions, S-RM provides in-depth research to support critical decision-making. The firm has advised some of the world's leading private equity houses, DFIs and banks as well as numerous governments worldwide.
Digital forensics and cyber incident response:
S-RM's Digital Forensics team identifies, preserves and analyses digital evidence to uncover the facts for their clients' most complex and sensitive investigations and legal cases. The firm's experts ensure a thorough investigation is conducted and provide clear, factual findings for the firm's clients, their counsel and the courts.
Offices
Brazil
Praia de Botafogo, 228, 1105, Rio de Janeiro, RJ, 22.250-906
Tel: +55 219 7486 0035
Hong Kong
Unit 1901, 19/F, Kinwick Centre, 32 Hollywood Road, Central
Tel: +852 6209 2185, +852 3008 2134
South Africa
21st Floor, Towers South, The Towers, 2 Heerengracht, Cnr Hertzog Boulevard, Foreshore, Cape Town, 8001
Tel: +27 (0)21 300 9870
United Kingdom
London (HQ): 4th Floor, Beaufort House, 15 St Botolph Street, London, EC3A 7DT
Tel: +44 (0)20 3763 9595
Manchester: 11 York Street, Manchester, M2 2AW
Tel: +44 (0)161 521 8607
United States
New York: 25 Broadway, 10th Floor, New York, 10004
Tel: +1 212 653 1910
Washington: The Homer Building, 601 13th Street NW, Washington, DC, 20005
Netherlands
Lange Viestraat 2B, Utrecht, 3511 BK
Singapore
The Great Room, 3 Temasek Avenue, Centennial Tower, Level 18 & 17, Singapore, 039190
Ranked Offices
Provided by S-RM
S-RM rankings
Litigation Support Guide 2023
Filter by
Global-wide
Asset Tracing & Recovery (Investigations Agencies)
1 Department
1 Ranked Lawyer
Department
Asset Tracing & Recovery (Investigations Agencies)
Lawyers
Marcus Fishburn
Head of Asset Tracing & Recovery (Investigations Agencies)
UK-wide
Business Intelligence & Investigations
1 Department
2 Ranked Lawyers
Department
Business Intelligence & Investigations
Lawyers