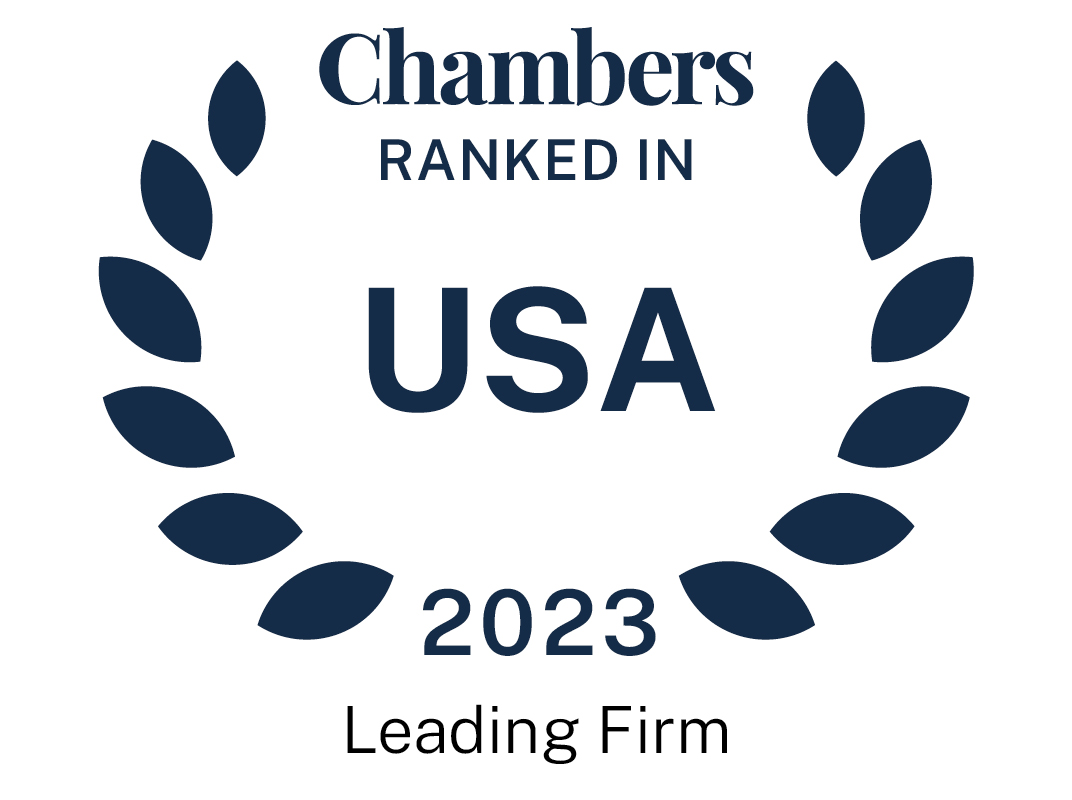 About
Provided by Rivkin Radler LLP
USA
Managing Partner: Evan H Krinick
Number of partners: 119
Number of lawyers: 238 (includes partners)
Languages: Albanian, English, French, French and Haitian Creole, Greek, Hebrew, Hindi, Italian, Korean, Punjabi, Polish, Spanish, Tagalog, Urdu
Firm Overview:
Through six offices and nearly 240 lawyers, Rivkin Radler delivers focused and effective legal services in nearly all areas of civil practice. Rivkin Radler's attorneys are the advisors of choice for successful individuals, middlemarket companies and large corporations. In business for 70 years, the firm provides strong representation and builds even stronger client relationships. Many clients have been placing their trust in the firm for decades.
Main Areas of Practice:
Appeals
Banking
Bankruptcy
Business Dissolution
Cannabis
Class Action
Commercial Litigation
Complex Torts & Product Liability
Compliance, Investigations & White Collar
Construction
Corporate
Critical Incident Response
Directors & Officers Liability
Employment & Labor
General Liability
Health Services
Immigration
Insurance Coverage
Insurance Fraud
Intellectual Property
Medical Malpractice Defense
Privacy, Data & Cyber Law
Professional Liability
Real Estate, Zoning & Land Use
Tax
Trusts & Estates
Rivkin Radler's Insurance Coverage Practice:
With approximately 50 attorneys and a long track record, Rivkin Radler's insurance coverage group is one of the largest coverage-focused practice groups in the US. The firm represents insurers big and small, domestic and foreign, investor-owned and policyholder-owned. The firm tackles the insurance industry's newest and most challenging issues, with innovative strategies. Rivkin Radler was among the first firms to handle complex coverage issues such as pollution, cyber, asbestos, advertising injury, molestation, life sciences, medical technologies, climate change, terrorism, antitrust, intellectual property, and fraud. Many of the firm's insurer relationships are more than 20 years old. The attorneys handle all aspects of insurance coverage law, including litigation and other forms of dispute resolution.
Representative Matters:
■ Represent Allianz and Allstate in a huge insurance coverage case against national rail operator Amtrak, which seeks $179 million in damages
■ Tried the Radiator Specialty benzene case and won a no-pay judgment for an insurer client.
■ Won affirmance of summary judgment in the Sapa Extrusions coverage case in the Third Circuit. The underlying action sought over $100 million
■ Won summary judgment in the Royal Waste coverage case concerning an accident with three fatalities
■ Won summary judgment for Underwriters dismissing a claim under a property policy in the Darlington Heritage coverage case
■ Represented insurers in the September 11 World Trade Center liability coverage litigation
■ Represented insurers in addressing coverage issues arising from diocesan sex abuse cases
■ Obtained summary judgment on behalf of Travelers declaring that Travelers has no duty defend or indemnify alleged insureds in an underlying wrongful death case under a business auto policy based upon the Employer's Liability Exclusion
■ Obtained summary judgment on behalf of Northfield insurance Co., with the court finding that Northfield has no duty to defend or indemnify its named insured, a related entity, and a purported additional insured, in an underlying wrongful death action filed by the estate of a deceased patron of the named insured's nightclub
Clients Include:
ACE Insurance Co., AEGIS Insurance Services, Allianz, Allstate Insurance Companies, Argonaut Insurance, Central Insurance Companies, Certain Underwriters at Lloyds, Fireman's Fund, GEICO, Hanover Insurance, Hudson Insurance Co., Interstate, Kinsale Insurance Co., Liberty Mutual Insurance Co., Medical Liability Mutual Insurance, Metropolitan Life Insurance Co., Network Adjusters Inc., OneBeacon Insurance, Oxford Health Plans, QBE Insurance, Riverstone Claims Management, Seneca Insurance Co., Sentry Insurance, State Farm Insurance, The Cincinnati Insurance Co., The Hartford, Travelers, and Utica National Insurance Group.
Rivkin Radler's Health Services Practice:
Rivkin Radler represents a diverse group of healthcare clients including health systems, clinically integrated networks, IPAs, specialty provider networks, managed care organizations and ACOs, urgent care centers, hospitals, and physician practices. The firm's expertise encompasses complex healthcare transactions, regulatory compliance, enforcement actions, managed care contracting, disputes, and defense of criminal prosecutions. The firm frequently advises clients on privacy and security laws including HIPAA and the HITECH Act. The firm also represents clients in fraud and abuse cases, including False Claims Act and qui tam/whistleblower cases.
Representative Matters:
■ Advised St. Peter's Health Partners, Saratoga Hospital, Health Quest Systems, and Adirondack Health on a wide range of transactional, regulatory, and compliance issues
■ Advised 13 leading mental health and addiction treatment providers across seven rural Northern New York counties in the formation of Northwinds Integrated Health Network IPA, Inc.
■ Representing Long Island Community Hospital, a premier, Level II, acute care community hospital in its planned integration and affiliation with Stony Brook University Hospital, a leading academic medical center
■ Advised PRINE Health, a medical practice focused on chronic kidney disease, on a wide range of transactional and regulatory matters, including the establishment of an IPA and MSO
■ Represented the New York University Clinically Integrated Network on a wide range of contracting issues
■ Worked closely with ProHEALTH and CareMount medical on a range of healthcare and regulatory assignments
■ Represented Trinity Health System in connection with licensure and operating issues in the state of New York
■ Represented the Hospital for Special Surgery in connection with the creation of an ambulatory surgery center
■ Represented some of the largest companies in the country providing intraoperative neurophysiologic monitoring, including Neuro Alert
Clients Include:
Adirondack Health, CareMount Medical, Hospital for Special Surgery West Side ASC, Hospital for Special Surgery ASC of Manhattan, Long Island Community Hospital, Northwinds Integrated Health Network IPA, Inc., NYU Clinically Integrated Network, Northwell Health, Optum (UnitedHealth Group), PRINE Health, ProHEALTH, St. Peter's Health Partners, Synergy Advisors, Talkiatry, Zwanger-Pesiri Radiology.
Ranked Offices
Provided by Rivkin Radler LLP
Rivkin Radler LLP rankings
USA Guide 2023
Filter by
New York
Healthcare
1 Department
2 Ranked Lawyers
Department
Lawyers
Benjamin Malerba
Head of Healthcare
Insurance: Dispute Resolution: Insurer
1 Department
1 Ranked Lawyer
Department
Insurance: Dispute Resolution: Insurer
Lawyers