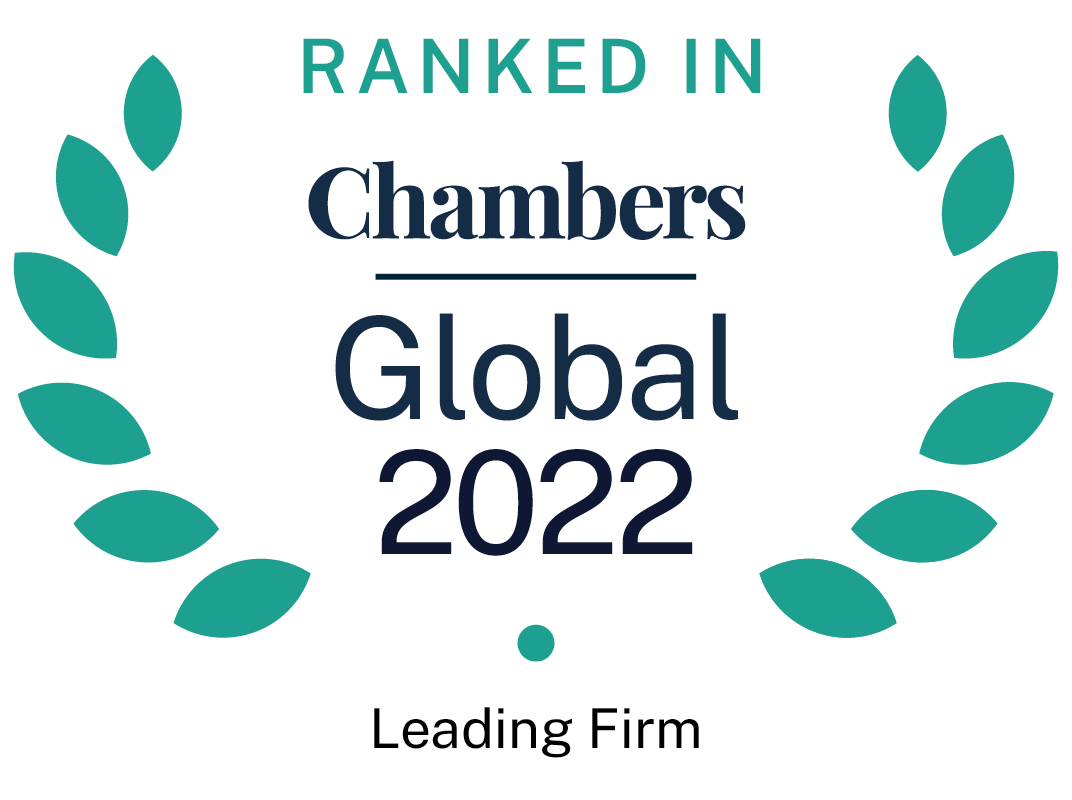 Also ranked in the following guides
About
Provided by Meritas
Global
President: Sona Pancholy
Number of countries represented worldwide: 91
Number of member firms worldwide: 184
Number of lawyers worldwide: 8,042
Network Overview:
Meritas' global alliance of independent, market-leading law firms provides legal services to companies looking to effectively capture opportunities and solve issues anywhere in the world. Companies benefit from local knowledge, collective strength and new efficiencies when they work with Meritas law firms. The personal attention and care they experience is part of Meritas' industry-first commitment to the utmost in quality of service and putting client priorities above all else. Founded in 1990, Meritas has member firms in 248 markets worldwide with more than 8,000 dedicated, collaborative lawyers. To locate a Meritas resource for a specific need or in a certain market, visit www.meritas.org or call +1-612 339-8680.
Member Firms:
Argentina: Allende Brea
Australia: NSW, Swaab; QLD, Bennett & Philp Lawyers; SA, DMAW Lawyers; VIC, Madgwicks; W.A., Williams + Hughes Lawyers
Austria: Binder Grösswang
Bahamas: Glinton Sweeting O'Brien
Barbados: Lex Caribbean Attorneys-at-Law
Belgium: Lydian
Bermuda: Cox Hallett Wilkinson Limited
Bolivia: Indacochea & Asociados, Abogados Sociedad Civil
Brazil: Felsberg Advogados
British Virgin Islands: Campbells
Bulgaria: Dimitrov, Petrov & Co.
Canada: AB, McLennan Ross LLP; BC, Boughton Law Corporation; MB, Pitblado Law; NB, Lawson Creamer; NL, Benson Buffett; NS, Patterson Law; ON, Brazeau Seller Law; ON, Minden Gross LLP; PE, Key Murray Law; KC; BCF LLP; SK, Robertson Stromberg LLP
Cayman Islands: Campbells
Chile: Prieto Abogados
China: HHP Attorneys-At-Law; Broad & Bright
Colombia: Posse Herrera Ruiz
Costa Rica: BLP
Côte D'Ivoire: Lex Ways
Croatia: Žurić i Partneri d.o.o.
Curaçao: HBN Law & Tax
Cyprus: Ioannides Demetriou LLC
Czech Republic: Tríska & Žák
Democratic Republic of the Congo: Kalema Legal & Associates
Denmark: Loeven Law
Dominican Republic: Russin, Vecchi & Heredia Bonetti
Ecuador: Romero Arteta Ponce Abogados
El Salvador: BLP
Estonia: LEXTAL, The Baltic Law Firm
Finland: Lexia Attorneys Ltd.
France: Bignon Lebray
Germany: ASD
Ghana: Ntrakwah and Co
Greece: Tsibanoulis & Partners Law Firm
Guatemala: Marroquín, Peréz & Asociados, S.C.
Haiti: Cabinet Pasquet, Gousse et Associés
Honduras: BLP
Hong Kong: Gallant
Hungary: FKlaw
India: Khaitan & Co
Indonesia: HHR Lawyers
Ireland: Whitney Moore Solicitors
Israel: Gross & Co. Law Firm (GKH)
Italy: Pirola Pennuto Zei & Associati
Japan: Kojima Law Offices
Kenya: TRIPLEOKLAW ADVOCATES, LLP
Lebanon: BSA Ahmad Bin Hezeem & Associates LLP
Luxembourg: LG AVOCATS
Malaysia: ZUL RAFIQUE & partners
Mauritius: Chambers of Urmila Boolell, SC (Temple Group)
Mexico: Cuesta Campos
Morocco: Benzakour Law Firm (BLF)
Netherlands: Lexence
New Zealand: Martelli McKegg
Nicaragua: BLP
Nigeria: ǼLEX Legal Practitioners and Arbitrators
North Macedonia: Apostolska Aleksandrovski & Partners
Norway: Brækhus
Oman: BSA Al Rashdi & Al Barwani Advocates & Legal Consultants
Panama: Alemán, Cordero, Galindo & Lee
Paraguay: PSTBN
Peru: Garcia Sayán Abogados
Philippines: ANGARA ABELLO CONCEPCION REGALA & CRUZ (ACCRALAW)
Poland: Domański Zakrzewski Palinka sp.k.
Romania: BANU & Associates S.C.A.
Russia: YUST Law Firm
Saudi Arabia: BSA Ahmad Bin Hezeem & Associates LLP
Serbia: Lalin & Partners
Singapore: Joyce A. Tan & Partners LLC
Slovakia: BEATOW PARTNERS s.r.o.
South Korea: K1 chamber
Spain: Marimón Abogados
Sri Lanka: Neelakandan & Neelakandan
Switzerland: Wenger & Vieli Ltd.
Taiwan: Formosan Brothers
Thailand: LawPlus
Trinidad & Tobago: Lex Caribbean Attorneys-at-Law
Tunisia: Zaanouni Law Firm& Associates
Turkey: Yarsuvat & Yarsuvat Law Firm
Turks & Caicos Islands: Miller Simons O'Sullivan
United Arab Emirates: BSA Ahmad Bin Hezeem & Associates LLP
United Kingdom: England & Wales: Howard Kennedy
United Kingdom: Scotland: Anderson Strathern
Uruguay: Posadas
USA:
Alabama, Helmsing, Leach, Herlong, Newman & Rouse; Wallace, Jordan, Ratliff & Brandt, LLC; Alaska, Holmes Weddle & Barcott; Arizona, Sacks Tierney; Waterfall, Economidis, Caldwell, Hanshaw & Villamana P.C.; California, Baker Manock & Jensen, PC; Glaser Weil Fink Howard Avchen & Shapiro LLP; Procopio Cory, Hargreaves & Savitch LLP; Weintraub Tobin; Colorado, Altman, Keilbach, Lytle, Parlapiano & Ware, P.C.; Fairfield and Woods, P.C.; Connecticut, Updike, Kelly & Spellacy, P.C.; Delaware, Bayard, P.A.; District of Columbia: Barnes, Richardson & Colburn LLP; Stradley Ronon; Florida, Lowndes, Drosdick, Doster, Kantor & Reed, P.A.; Smith Hulsey & Busey; Stearns Weaver Miller; Georgia, Parker, Hudson, Rainer & Dobbs LLP; Hawaii, Damon Key Leong Kupchak Hastert; Idaho, Evans Keane LLP; Illinois, Barnes, Richardson & Colburn, LLP; Brown, Hay & Stephens; Goldberg Kohn.; Greensfleder, Hemker & Gale, P.C. Indiana, Kahn, Dees, Donovan & Kahn, LLP; Krieg DeVault LLP; Rothberg Logan & Warsco LLP; Iowa, Nyemaster Goode; Kansas, Adams Jones Law Firm, P.A.; Kentucky, English, Lucas, Priest & Owsley, LLP; McBrayer; Louisiana, Baldwin Haspel Burke & Mayer, LLC; Blanchard, Walker, O'Quin & Roberts; Maryland, Tydings & Rosenberg LLP; Massachusetts, Goulston & Storrs PC; Michigan, Abbott Nicholson, P.C.; Miller Johnson; Minnesota, Maslon LLP; Mississippi, Brunini; Missouri, Greensfelder, Hemker & Gale, P.C.; Swanson Bernard, LLC; Montana, Worden Thane P.C.; Nebraska, Abrahams Kaslow & Cassman LLP; Nevada, McDonald Carano LLP; New Hampshire, Orr & Reno, Professional Association; New Jersey, Norris, McLaughlin P.A.; New Mexico, Moses, Dunn, Farmer & Tuthill, P.C.; New York, Carter Ledyard & Milburn LLP; Hinman Straub P.C.; Woods Oviatt Gilman LLP; Barnes, Richardson & Colburn, LLP; North Carolina, Allman Spry Leggett & Crumpler, P.A.; Johnston, Allison & Hord, P.A.; Wyrick Robbins Yates & Ponton LLP; North Dakota, KELSCH RUFF KRANDA NAGLE & LUDWIG; Ohio, Katz Teller; KJK; Luper Neidenthal & Logan; Sebaly Shillito + Dyer; Oklahoma, Doerner, Saunders, Daniel & Anderson, L.L.P.; Oregon, Dunn Carney LLP; Pennsylvania, Meyer, Unkovic & Scott LLP; Stradley Ronon; Puerto Rico, Estrella, LLC; Rhode Island, Partridge Snow & Hahn LLP; South Carolina, Robinson Gray; South Dakota, MorganTheeler LLP; Tennessee, Chambliss, Bahner & Stophel, P.C.; Farris Bobango Branan PLC; King & Ballow; Texas, Cantey Hanger LLP; Chamberlain Hrdlicka; Fitz, Byrne, Head & Gilstrap PLLC; Langley & Banack, Incorporated; Utah, Parr Brown Gee & Loveless; Vermont, Langrock Sperry & Wool, LLP; Virginia, Glenn, Feldmann, Darby & Goodlatte; Pender & Coward; Thompson McMullan, P.C.; Washington, Hillis Clark Martin & Peterson P.S.; West Virginia, Kay Casto & Chaney PLLC; Wisconsin, Boardman & Clark LLP; O'Neil, Cannon, Hollman, DeJong & Laing S.C.; Ruder Ware, L.L.S.C.; Wyoming, Davis & Cannon, LLP
Vietnam: Russin & Vecchi
Zimbabwe: Scanlen & Holderness Legal Practitioners
Ranked Offices
Provided by Meritas
Meritas rankings
Global Guide 2022
Filter by
Asia-Pacific Region
Leading Regional Law Firm Networks
1 Department
Department
Leading Regional Law Firm Networks
Global Market Leaders
Leading Law Firm Networks: The Elite
1 Department
Department
Leading Law Firm Networks: The Elite