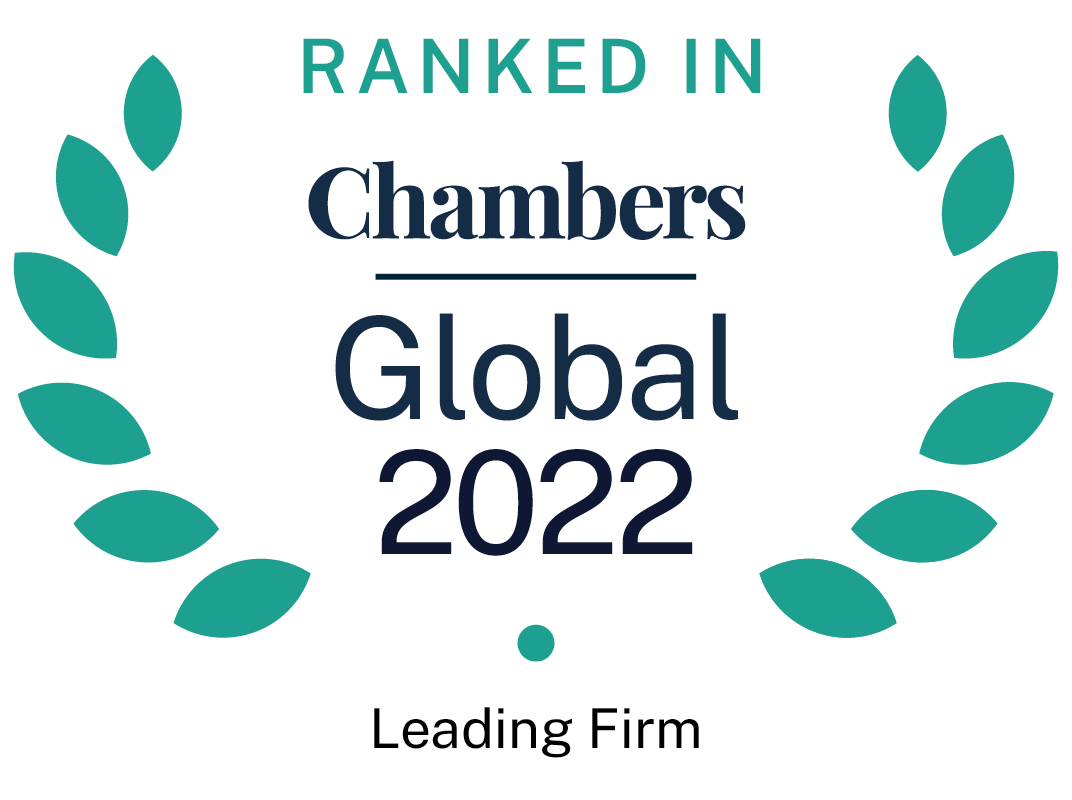 About
Provided by Interlaw
Global
Interlaw Board Chair: Glenn M. Cunningham, Shipman & Goodwin LLP (Connecticut, USA)
Network Overview:
With business now operating without the traditional international boundaries, it demands truly global legal services able to meet its needs worldwide. While many law firms claim to have a worldwide presence, few have the international reach of Interlaw. A unique and 'elite' global legal service, Interlaw clients have access to over 7,500 trusted, established and continuously vetted independent legal experts around the world, who are experienced in working on both domestic and international matters. The network distinguishes itself by its longevity, quality of client service, and the strong professional and personal relationships of its lawyers. For over 35 years, Interlaw has been able to refine its provision of global legal services and continues to grow worldwide, offering clients unrivalled high quality legal advice, wherever in the world they want to do business.
Interlaw lawyers are not only experts in law, they are multilingual, understand each country's individual business customs, etiquette and language. Not many law firms can claim to be truly global. But those who are part of Interlaw can. Members are distinguished, full service corporate law firms, selected after a significant due diligence process that identifies firms with a solid reputation for impeccable professional and ethical standards. Member firms are reviewed regularly to confirm that expectations are met and continually exceeded. This routine review process ensures that quality is never compromised.
Strong forged relationships built on the bedrock of trust and professional courtesy, are at the heart of the spirit, culture and success of Interlaw. Interlaw lawyers from across the world meet quarterly to discuss topical issues and the latest legal innovations to ensure that their professional development is at the forefront. The Interlaw special business teams cover a wide range of practice areas and sectors with the aim of sharing legal and business development expertise, to promote best practices and to network together and with clients.

Member Firms:
Algeria, Algiers: Thompson & Knight LLP
Argentina – Buenos Aires, Cordoba, Rosario: Brons & Salas
Australia – Darwin, Melbourne, Perth, Sydney: Hunt & Hunt Lawyers
Austria – Innsbruck, Vienna: Binder Grösswang Rechtsanwälte GmbH
Bahrain, Manama: Trowers & Hamlins LLP
Belgium, Brussels: Janson
Bolivia, LaPaz: Moreno
Baldivieso Bosnia and Herzegovina, Sarajevo: Femil Čurt
Brazil, Belo Horizonte: Manucci Advogados
Brazil, São Paulo: Tess Advogados
British Virgin Islands, Road Town: ARIFA – Arias, Fábrega & Fábrega
Bulgaria, Sofia: Andrey Delchev & Partners Eurolex
Bulgaria Canada – Calgary, Edmonton: Bishop & McKenzie LLP
Canada, Montreal: De Grandpré Chait LLP
Canada, Toronto: Aird & Berlis LLP
Canada, Vancouver: Owen Bird Law Corporation
Chile, Santiago: Cariola Diez Pérez-Cotapos
China (PRC) – Beijing, Shanghai, Shenzhen, Tianjin: Zhonglun W&D
China (PRC), Guangzhou: Stevenson, Wong & Co.
Colombia, Bogotá: Posse Herrera Ruiz
Costa Rica – Los Sueños, San José: BLP
Croatia, Zagreb: Glinska & Mišković
Cyprus – Limassol, Nicosia: Christodoulos G. Vassiliades & Co. LLC
Czech Republic, Prague: DELTA legal
Denmark, Copenhagen: Mazanti-Andersen, Korsø Jensen Dominican Republic, Santo Domingo: Pereyra & Asociados El Salvador, San Salvador: BLP
England – Birmingham, Exeter, London, Manchester: Trowers & Hamlins LLP
Ecuador, Quito: Pérez Bustamante & Ponce
Finland, Helsinki: Waselius & Wist
France, Paris: UGGC Avocats
Germany – Berlin, Dresden, Frankfurt, Hamburg, Leer, Munich: ARNECKE SIBETH DABELSTEIN Rechtsanwälte
Germany, Dusseldorf: Lang & Rahmann
Germany, Stuttgart: BRP Renaud und Partner mbB
Greece, Athens: Rokas Law Firm
Guatemala, Guatemala City: BLP
Honduras – San Pedro Sula, Tegucigalpa: BLP
Hong Kong: Stevenson, Wong & Co.
Hungary, Budapest: Lakatos, Köves és Társai Ügyvédi Iroda
India – Bangalore, Mumbai, New Delhi: L&L Partners
Indonesia, Jakarta: Mochtar Karuwin Komar (MKK)
Ireland, Dublin: AMOSS Solicitors
Israel, Tel Aviv: M Firon & Co.
Italy – Milan, Rome: De Berti Jacchia Franchini Forlani
Japan, Tokyo: Momo-o, Matsuo & Namba
Lebanon, Beirut: Tohme Law Firm
Liechtenstein, Vaduz: Wolff Gstoehl Bruckschweiger
Luxembourg: Molitor Avocats à la Cour
Macedonia, Skopje: Konstantinović & Miloševski
Malaysia, Kuala Lumpur: Lee Hishammuddin Allen & Gledhill
Malta, Valletta: Camilleri Preziosi
Mexico, Mexico City: Ramírez, Gutíerrez-Azpe, Rodríguez-Rivero y Hurtado S.C. (RGRH)
Monaco, Monte Carlo: Law Offices of Jean-Charles S. Gardetto
Montenegro, Podgorica: Lukšić & Živković-Milić
Morocco, Casablanca: UGGC Avocats
The Netherlands – Amsterdam, Breda, Eindhoven, Rotterdam: AKD
New Zealand, Auckland: Fortune Manning
Nicaragua – Managua, San Juan del Sur: BLP
Norway, Oslo: Advokatfirmaet Haavind AS
Oman, Muscat: Trowers & Hamlins LLP
Panama, Panama City: ARIFA - Arias, Fábrega & Fábrega
Peru, Lima: Rodrigo, Elías & Medrano Abogados
Philippines, Manila: Quasha Law
Poland, Warsaw: CDZ Legal Advisors
Portugal, Lisbon: Barrocas Advogados
Puerto Rico, San Juan: Goldman, Antonetti and Córdova, P.S.C.
Romania, Bucharest: ONV LAW
Russia – Moscow, St. Petersburg: Capital Legal Services
Scotland – Edinburgh, Glasgow: Morton Fraser
Serbia, Belgrade: Samardžić, Oreški & Grbović
Singapore: CNPLaw Slovakia, Bratislava: Poláček & Partners
Slovenia, Ljubljana: Law Firm Sibinčič Križanec
South Korea, Seoul: Lee & Ko
Spain – Barcelona, Madrid: Gómez-Acebo & Pombo Abogados, S.L.
Sweden – Gothenburg, Stockholm: Advokatfirman Wåhlin
Switzerland, Zurich: Thouvenin Rechtsanwälte
Taiwan, Taipei: Winkler Partners
Thailand, Bangkok: Blumenthal, Richter & Sumet Ltd.
Turkey, Istanbul: GökçeAttorney Partnership
UAE – Abu Dhabi, Dubai: Trowers & Hamlins LLP
USA: Arizona – Phoenix: Sherman & Howard L.L.C.
USA: California – Irvine, Los Angeles, San Francisco: Jeffer, Mangels, Butler & Mitchell LLP
USA: Colorado – Aspen, Denver: Sherman & Howard LLC
USA: Connecticut – Greenwich, Hartford, Stamford: Shipman & Goodwin LLP
USA: Florida – Fort Lauderdale, Jacksonville, Miami, Orlando, Sarasota, Tallahassee, Tampa, West Palm Beach: Shutts & Bowen LLP
USA: Illinois – Chicago: Neal, Gerber & Eisenberg LLP
USA: Louisiana – Baton Rouge, New Orleans: Kean Miller LLP
USA: Maine - Portland: Verrill
USA: Massachusetts - Boston: Verrill
USA: Michigan – Detroit: Honigman LLP
USA: New York – New York City: Pryor Cashman LLP
USA: North Carolina – Chapel Hill, Charlotte: Robinson Bradshaw & Hinson, P.A.
USA: South Carolina – Rock Hill: Robinson Bradshaw & Hinson, P.A.
USA: Texas – Austin, Dallas, Fort Worth, Houston: Thompson & Knight LLP
USA: Virginia – Richmond, Roanoke: Woods Rogers PLC
USA: Washington DC: GKG Law, P.C.
Uruguay, Montevideo: Guyer & Regules
Venezuela, Caracas: Rodríguez & Mendoza
Vietnam, Hanoi: Vision & Associates
Ranked Offices
Provided by Interlaw
Interlaw rankings
Global Guide 2022
Filter by
Asia-Pacific Region
Leading Regional Law Firm Networks
1 Department
Department
Leading Regional Law Firm Networks
Global Market Leaders
Leading Law Firm Networks: The Elite
1 Department
Department
Leading Law Firm Networks: The Elite