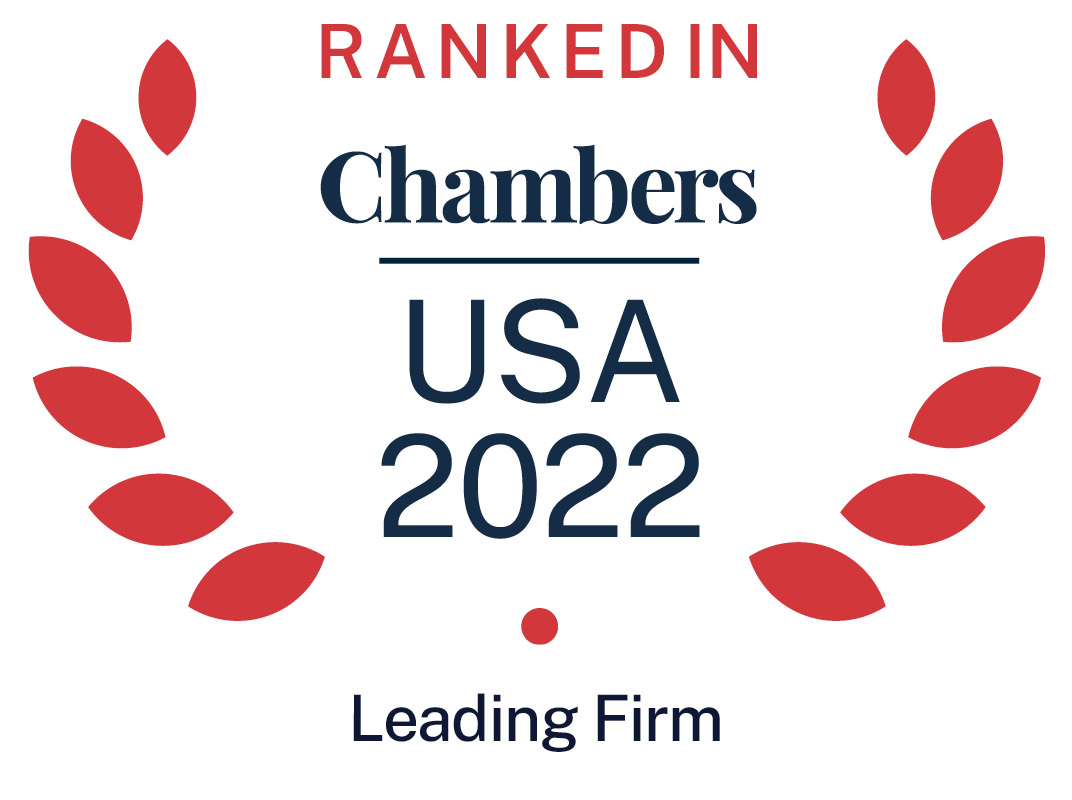 Also ranked in the following guides
About
Provided by Cooley LLP
USA
Firm Details
Chairman & CEO: Joe Conroy
Number of partners: 375+
Number of lawyers: 1,500+
Cooley's lawyers solve legal issues for entrepreneurs, investors, financial institutions and established companies with an emphasis on technology, life sciences and other high-growth industries. Clients partner with Cooley on transformative deals, complex IP and regulatory matters, and high-stakes litigation, where innovation meets the law. Cooley maintains an environment of inclusion and is proud to be recognized by Law360 as a "Best Law Firm for Minority Partners." The firm has 1,500+ lawyers across 17 offices in the US, Asia and Europe.
Main Areas of Practice
Corporate: Key corporate strengths include capital markets, M&A, emerging and public companies, venture capital, tech transactions and life sciences corporate partnering and licensing. Cooley is continuously ranked as the most active law firm representing issuers and underwriters in IPOs in the life sciences and tech sectors. Cooley's leadership in this area gives the firm deep industry-specific experience as corporate counsel to high-growth companies.
Litigation: Key litigation strengths include advertising, antitrust, appellate, arbitration, business restructuring, class actions, employment, insurance, IP litigation, ITC, life sciences and healthcare, patent, privacy and cybersecurity, product liability, regulatory, securities, tax, trademark and white collar. Cooley's global trial practice has won verdicts and awards worth billions of dollars and protected clients against competitors, consumers and regulators. The team includes five partners who are ACTL Fellows and 20+ former Assistant US Attorneys and Department of Justice lawyers. Cooley offers experience in 100+ state, federal and international courts, arbitral forums and administrative bodies.
Cyber/data/privacy: Cooley's cyber/data/privacy practice is a global team of lawyers focusing on all aspects of cyber, data protection and privacy. The firm represents clients across all industries, ranging from emerging to Fortune 500 companies, across the full spectrum of privacy and cyber-related issues. Cooley has successfully litigated a wide range of cases involving privacy and data breach issues, including class actions and government enforcement actions.
M&A: Since 2019, Cooley has handled 1,000+ M&A transactions, with an aggregate value of $465+ billion, including 100+ deals over $1 billion, makingthis practice one of the most active in the country, particularly for technology and life sciences companies. We represent all categories of participants in transactions, including buyers, sellers, major stockholders, lenders, financial advisors, management, special board committees, venture capitalists, individual investors, private equity funds, hedge funds and others.
Capital Markets: Cooley advises disruptive companies across the United States and internationally on some of the market's most cutting-edge capital markets transactions. With a rare and balanced representation of issuers and managers, Cooley has led the market in issuer-side IPOs for nearly a decade and regularly ranks among the top firms for manager representation. Cooley's practitioners represent clients of all sizes across major industries and provide advice on a wide range of transactions, which include: initial public offerings, direct listings, follow-on and secondary public offerings, PIPE transactions and other private placements, convertible, high-yield and investment grade debt, preferred stock transactions, and derivative products.
Intellectual Property: Cooley has one of the largest full-service IP practices of any law firm in the US, with 200+ lawyers and patent professionals globally. As a fully integrated, full-service practice, Cooley provides prosecution and counseling services that allow clients to gain the most value from their IP and represents clients in complex infringement suits in which core products and brands are at stake. Cooley's global patent counseling and prosecution team is comprised of 120+ lawyers and patent professionals, and its global trademark, copyright and advertising team is comprised of nearly 30 lawyers and paralegals. Team members bring decades of experience obtaining, protecting and managing IP rights across nearly 200 countries and jurisdictions worldwide. Cooley's IP litigation team is comprised of 70+ litigators with experience litigating all types of IP cases including patent, trademark, trade dress, trade secret, copyright, false advertising, domain name and licensing matters and regularly win cases across all venues including district and appellate courts, the Patent Trial and Appeal Board, the Trademark Trial and Appeal Board, the International Trade Commission, the US Supreme Court and in international arbitration proceedings. Cooley's IP team is also called upon to lead investor-side and company-side due diligence reviews, protecting and strengthening IP assets in high-value deals and transactions.
Life Sciences: With 1,900+ public and private life science clients worldwide, Cooley is the leading deal firm across all aspects of corporate and transactional practices, including M&A, IPOs, financings and private equity. Cooley represents nearly 50% of the NASDAQ Biotechnology Index and is widely known as a best-in-class firm for handling corporate partnering and licensing transactions. Our regulatory lawyers understand the myriad challenges and opportunities facing the life sciences industry and have the depth of experience necessary to navigate the ever-changing rules of this dynamic marketplace. Cooley is also at the forefront of representing life sciences clients in complex litigation matters, including False Claims Act, fraud abuse, RICO, unfair competition, provider and member disputes, privacy, consumer and securities class actions.
Technology Transactions: With over 50 lawyers, the firm's technology transactions team combines intellectual property and commercial transactions expertise, working with companies of all sizes and at all stages of development to meet the demand of a fast-evolving, increasingly global environment. The technology transactions group is well versed in both domestic and cross-border matters, helping companies maximize the value of their strategic relationships and the return on their intellectual property investments. Whether our clients are buying, selling, licensing or developing technology-based products or services, we help them attain successful business relationships while protecting their IP assets.
Public Companies: Cooley counsels public companies in high-stakes, complex business and litigation matters across the globe, advising seasoned and newly public companies of all sizes – listed on both US and non-US stock exchanges. Cooley represents 1,500+ public companies and serves as principal corporate governance and securities counsel for 240+ public companies. The firm houses a specialized advisory team that has extensive experience and familiarity with federal and state securities laws, enabling the firm to be strategic advisors to public companies, guiding them through transformative transactions and helping them navigate corporate governance matters and regulatory and disclosure requirements on an ongoing day-to-day basis.
Regulatory: Key strengths include antitrust and competition, communications, financial services, government contracts, insurance, healthcare, FDA, education, international trade, media and securities. Cooley has significant experience representing clients in regulatory matters, investigations and enforcement involving the SEC, DOJ, FTC, FCC, ITC, DOD, Department of Education FDA, NSC, EEOC, Treasury and other federal agencies.
Antitrust & Competition: Providing a full range of counseling, litigation, agency representation and arbitration services, Cooley handles all aspects of antitrust/competition law and trade regulation matters for Fortune 500 corporations, as well as growing companies, in virtually every sector.
Emerging Companies: Cooley represents 7,000+ private companies across all industries. Over the past decade, Cooley has represented thousands of technology, life sciences and other high-growth businesses with all aspects of their formation and development. Cooley is consistently ranked as the #1 law firm representing VC-backed companies in the US and globally. Additionally, Cooley leads the market in the formation and deployment of venture and growth capital globally. No firm is better equipped to partner with investors – our lawyers advise venture capital firms, corporate VCs, growth equity firms, family offices and high growth companies on 1,600+ private financings each year. With an equal split of investor and company clients, we understand all angles and offer support at all stages of investment.
Securities Litigation: Cooley has one of the most active practices for the defense of issuers in shareholder litigation in the US. The firm's securities litigation clients include a diverse range of businesses and individuals, including startups and Fortune 500 companies.
Fund Formation: For 60+ years, Cooley has focused on representing fund managers. We are counsel to 600+ private investment fund organizations worldwide and have formed hundreds of global investment funds over the past 6 decades. Most recently, we advised 490+ fund clients with closings in 2021 with $61B+ committed to these funds. We represent venture capital, fund of funds, private equity, evergreen, growth equity and other managers with primary operations and/or investing in the US, China, Europe, India, Vietnam, Singapore, Russia, Japan, Israel, Brazil, Latin America and elsewhere. Our representation includes managers specializing in all investment phases from angel to late stage and in investment areas from internet, social media and mobile to clean technology, healthcare, biotechnology and more traditional industries. Our clients include funds as small as $5 million to funds of $1 billion or more.
Compensation and Benefits: Cooley's compensation & benefits group addresses its clients' needs to compensate, reward and protect their employees and other service providers. The firm brings together the ERISA, tax, corporate, labor and securities law skills necessary to deal effectively with the structuring and administration of its clients' most complex compensation and benefit programs.
Private Equity: Cooley's team has guided leading private equity sponsors in some of the market's largest and most complex transactions. Tax: The firm has a market reputation for innovative, tax-efficient structuring of business transactions and effective resolution of significant tax controversies.
Real Estate: The team's diverse capabilities allow the firm to explore all facets of real estate development and craft the best business-oriented solutions for its clients. Cooley assist owners, operators, developers, lenders, tenants, and institutional investors and advisors with a wide variety of real property and related capital markets transactions as well as litigation.
Financial Services: Cooley provides innovative yet practical advice to financial services industry clients such as banks, nonbank consumer financial services providers, payment networks, marketplace providers, and other technology companies and investors. Our cross-disciplinary team counsels clients on regulatory matters, privacy, transactions, government enforcement and litigation.
Ranked Offices
Provided by Cooley LLP
Cooley LLP rankings
USA Guide 2022
Filter by
California
Capital Markets: Debt & Equity
1 Department
11 Ranked Lawyers
Department
Capital Markets: Debt & Equity
Lawyers
Healthcare
1 Ranked Lawyer
Lawyers
Intellectual Property: Patent Litigation
1 Department
2 Ranked Lawyers
Department
Intellectual Property: Patent Litigation
Lawyers
Intellectual Property: Patent Prosecution
1 Department
1 Ranked Lawyer
Department
Intellectual Property: Patent Prosecution
Lawyers
Intellectual Property: Trademark, Copyright & Trade Secrets
1 Department
Department
Intellectual Property: Trademark, Copyright & Trade Secrets
Life Sciences
1 Department
Department