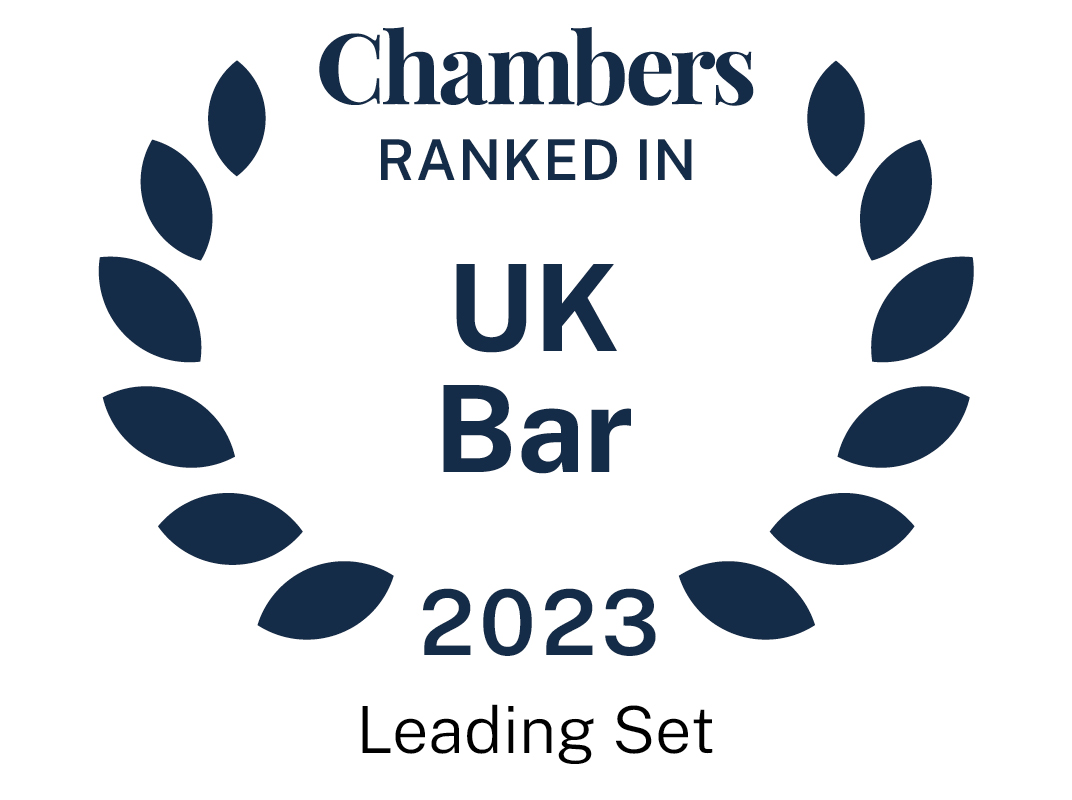 About
Provided by 1 Crown Office Row
UK Bar
Head of Chambers: Richard Booth KC
Chambers Director: John Petrie MBE
Senior Clerk: Matthew Phipps
Tenants: 75
THE CHAMBERS 1 Crown Office Row is recognised as one of the top 20 sets in the UK and a leader in civil and public law. A striking feature of the set is its breadth of work and the diversity of its clients, which include individuals, small businesses, large corporations, NGO's and the Government. 1COR has a stellar reputation for advocacy, high-quality advice and a top drawer client service from the team of clerks, led by Senior Clerk Matthew Phipps. Barristers are known for the versatility of talent and expertise that underpins all of their work. 1COR has a pre-eminent reputation in health law, including its clinical negligence and personal injury practice, and regulatory work for medical organisations and individuals. Members appear in significant and high profile public and private inquests and inquiries, tax, costs, immigration and environmental law are specialist practice areas. 1COR's members frequently appear in landmark cases in the Court of Appeal, Supreme Court and European Courts. 1COR's well established UK Human Rights Blog and podcast, Law Pod UK, are a widely used resource for people wanting insight into the hot topics of the legal world. 1COR Members recently launched a Quarterly Medical Law Review to keep clients up to date. Members are active in various specialist bar associations, a wide range of charitable initiatives, including Advocate, Freebar, FRU and is a 'Platinum Friend in Law' as well as encouraging diversity at the bar through an assessed mini-pupillage and Sutton Trust events.
WORK UNDERTAKEN Members are recognised as leading practitioners in healthcare law including clinical negligence, personal injury, professional disciplinary, negligence and regulatory proceedings, public enquiries, abuse compensation and inquests, human rights, immigration, environmental law, sports law and multi-party actions with costs and tax practices.
PUBLICATIONS The Inquest Book, Halsbury's Laws on Coroners, Cremations and Burial, UK Supreme Court Yearbook Vol. 9, Information Rights, Same Sex Marriage & Civil Partnerships, Online Law Encyclopaedia, Ethics for Advocates Manual, Dictionary of Law, Personal Injury Handbook, An Introduction to Human Rights and the Common Law, Civil Court Precedents, Guide to Child Abuse Compensation Claims, Value Added Tax, Commentary and Analysis, Regulation of Healthcare Professionals: Law, Principle and Process, Burnett-Hall on Environmental Law, Fitness to Practise: Health Care Regulatory Law, Principle and Process, Clinical Negligence - A Practitioner's Guide, Contributory Negligence, Civil Partnership, Human Rights and the Common Law.
RECRUITMENT More details on 16 mini-pupillages and at least ten assessed mini pupillages on 1COR's website.
Members
Richard Booth KC (1993) (KC-2013)
Robert Seabrook KC (1964) (KC-1983)
Stephen Miller KC (1971) (KC-1990)
Philip Havers KC (1974) (KC-1995)
Lord Sandhurst KC (1972) (KC-1994) Retired/ Associate Tenant
Elizabeth-Anne Gumbel KC (1974) (KC-1999)
Paul Rees KC (1980) (KC-2000)
Margaret Bowron KC (1978) (KC-2001)
David Balcombe KC (1980) (KC-2002)
David Hart KC (1982) (KC-2003)
Martin Forde KC (1984) (KC-2006)
William Edis KC (1985) (KC-2008)
Angus McCullough KC (1990) (KC-2010)
John Whitting KC (1991) (KC-2011)
David Evans KC (1988) (KC-2012)
Marina Wheeler KC (1987) (KC-2016)
Henry Witcomb KC (1989) (KC-2016)
Owain Thomas KC (1995) (KC-2016)
Jeremy Hyam KC (1995) (KC-2016)
Clodagh Bradley KC (1996) (KC-2016)
Peter Skelton KC (1997) (KC-2016)
Oliver Sanders KC (1995) (KC-2017)
Shaheen Rahman KC (1996) (KC-2017)
Sarah Lambert KC (1994) (KC-2018)
Sarabjit Singh KC (2001) (KC-2018)
Neil Sheldon KC (1998) (KC-2019)
Robert Kellar KC 1999 (KC-2019)
Andrew Kennedy KC (1989) (KC-2021)
John Gimlette (1986)
Martin Downs (1990)
Giles Colin (1994)
Sydney Chawatama (1994)
Justin Levinson (1994)
Richard Smith (1999)
Christopher Mellor (1999)
Matthew Barnes (2000)
Cara Guthrie (2000)
Iain O'Donnell (2000)
Shahram Sharghy (2000)
David Manknell (2001)
Suzanne Lambert (2002)
Judith Rogerson (2003)
Amy Mannion (2003)
Robert Wastell (2004)
Richard Mumford (2004)
Rachel Marcus (2005)
Leanne Woods (2005)
Pritesh Rathod (2006)
Caroline Cross (2006)
Matthew Donmall (2006)
Michael Paulin (2007)
Amelia Walker (2007)
Isabel McArdle (2008)
Matthew Hill (2009)
Alasdair Henderson (2009)
Claire McGregor (2009)
Natasha Barnes (2010)
Matthew Flinn (2010)
Rory Badenoch (2010)
Paul Reynolds (2010)
Lois Williams (2012)
Jim Duffy (2012)
Dominic Ruck Keene (2012)
Jessica Elliott (2013)
Hannah Noyce (2013)
Marcus Coates-Walker (2013)
Michael Deacon (2014)
Rhoderick Chalmers (2014)
Emma-Louise Fenelon (2015)
Gideon Barth (2015)
Jo Moore (2015)
Jonathan Metzer (2016)
Rajkiran Barhey (2017)
Thomas Beamont (2019)
Darragh Coffey (2019)
Alice Kuzmenko (2018)
Jasper Gold (2021)
Lucy McCann (2020)
Thomas Hayes (2021)
Rosalind English (Academic Consultant)
Duncan Fairgrieve KC (Honoris Causa) (Academic Consultant)
Ranked Offices
Provided by 1 Crown Office Row
UK
Brighton

Blenheim House, 119 Church Street, Brighton, East Sussex, UK, BN1 1UD

View ranked office
1 Crown Office Row rankings
UK Bar Guide 2023
Filter by
All Circuits
Animal Law
1 Ranked Barrister
Costs Litigation
1 Ranked Barrister
London (Bar)
Administrative & Public Law
1 Set
4 Ranked Barristers
Set
Administrative & Public Law
Silks (KC)
Juniors
Civil Liberties & Human Rights
1 Set
6 Ranked Barristers
Set
Civil Liberties & Human Rights
Silks (KC)
Juniors
Clinical Negligence
1 Set
31 Ranked Barristers
Set
Silks (KC)