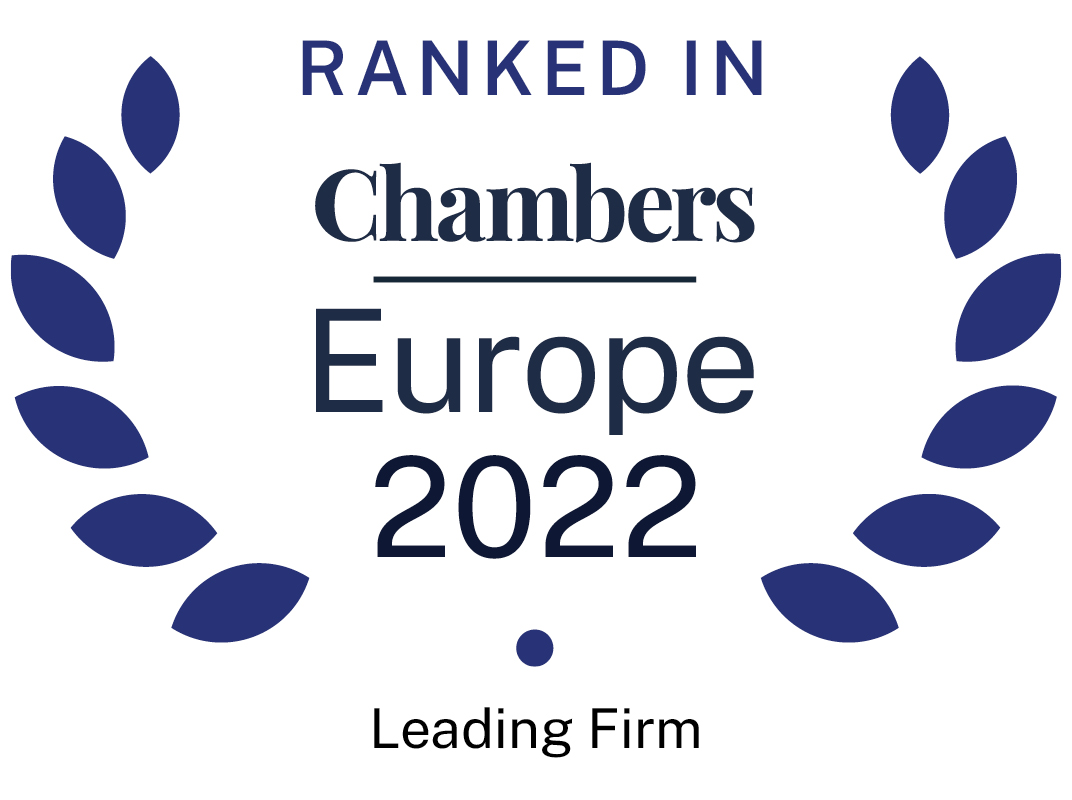 About
Provided by Heuking Kühn Lüer Wojtek
Europe
Managing Partners: Dr Andreas Urban, Dr Pär Johansson, Dr Johan Schneider, Dr Philip Kempermann, Boris Dürr
Number of partners: 145
Number of lawyers: about 400
Languages: Chinese, Czech, Dutch, English, French, German, Hungarian, Icelandic, Italian, Japanese, Norwegian, Polish, Portuguese, Romanian, Russian, Spanish, Swedish, Turkish
Firm Details
With more than 400 lawyers, tax advisors and notaries providing legal services across eight offices in Germany as well as an office in Zurich, Heuking Kühn Lüer Wojtek is one of the major commercial law firms in Germany.
The spectrum of its legal advice ranges from German and foreign medium-sized companies to international (including listed) large corporations in all matters of commercial law. Another focus of its client support lies in public law in which it has counsel decision-makers on all levels of administration.
International Work
More than 400 lawyers speak over 22 different languages.
The firm's expertise allows it to advise foreign clients in Germany comprehensively and to support German clients successfully in overseas business.
The firm advises and represent clients from around the world in their activities in Germany and Europe and supports clients anywhere in the world.
Providing its lawyers with the appropriate training, the firm works closely with law firms around the globe who are best suited for the task at hand.
Over the years, clients have come to focus on certain territories, which are represented by the firm´s Country Desks for China, French, India, Japan, CIS & Turkey.
Heuking Kühn Lüer Wojtek is represented in Switzerland with an interdisciplinary team and combines Swiss legal know-how with the full expertise of a large law firm.
Practice Areas
Corporate / M&A:
The firm advises on mergers and acquisitions, incorporations and international cooperation agreements. The firm assists in reorganisations and due diligence reports and advises on issues of distribution. The firm structures cross-border transactions and implements them, including international tax counselling.
Banking & Capital Markets & Investment Funds & Private Equity/Venture Capital:
The firm advises on all areas of banking, finance, capital markets and private equity law, including the foundation and acquisition of bank branches and all related aspects. The firm counsels on investment funds and financing instruments and advises clients on initial public offerings and private placements.
Antitrust:
The firm offers advice on all aspects of competition law applicable in Germany and at EU level, including merger control, competition restrictions, unfair competition and StateAid. It also advises on intellectual property rights and its interrelation with competition law.
IP, Media & Technology:
Heuking Kühn Lüer Wojtek advises in the fields of IP (trademarks and designs including portfolio management, patents, copyright), unfair trade practices and advertising, protection of trade secrets, IT, data protection, IT security as well as in the fields of media and telecommunications. In all areas, Heuking Kühn Lüer Wojtek represents clients in contentious and non-contentious matters.
Tax:
The firm advises on the development and implementation of tax strategies for corporations and individuals and handles statutory and voluntary audits of company and group accounts and special audits in case of company acquisitions.
Public Sector & Public Procurement:
The firm advises on administrative matters relating to privatisations and foreign governments in structuring standards and contracts under aspects of commercial and general civil law.
Restructuring:
Companies and corporate groups are advised on reorganisation and restructuring of their businesses in terms of corporate law and insolvency law, supported by measures in employment law and tax law.
Real Estate & Construction:
The firm advises on public and private building law, focusing on questions of real estate acquisitions and development and advises in public procurement.
Private Clients:
The team at Heuking Kühn Lüer Wojtek advises on matters of family law and law of succession, estate planning and all of their private client counselling needs.
Insurance/Reinsurance:
The firm's expertise is particularly geared towards the demands and economic objectives of its clients. In addition to advising in all legal matters of insurance companies the firm also assumes the representation in litigation before ordinary courts or arbitration courts.
Litigation /Arbitration:
The firm handles litigation in civil, criminal and fiscal matters and represents its clients in national and international arbitration proceedings and commercial law litigation.
Employment:
The firm advises management boards, directors and employees who expect excellence in legal counsel in issues requiring expertise in services and employment law, in particular in issues involving the establishment and dissolution of service and employment relationships.
Energy:
The firm advises on energy and natural resources regulation, as well as on issues related to the privatisation of the energy sector.
Transport, Traffic & Infrastructure:
The firm counsels companies and also associations in postal services, transport, aviation and shipping industries on a wide range of legal questions, including counselling on legislation in development.
Distribution & Trade:
The firm assists clients in developing the appropriate marketing system for their goods and services or to adapt an existing distribution system to new economic and legal conditions.
Health Care, Pharma & Life Science:
The firm provides advice and representation to health care service providers and organisations, in particular pharmaceutical companies, various private and public speciality clinics and doctor's offices in almost all areas of law concerned, including tax law.
White Collar & Criminal Compliance:
The firm provides counsel to companies and individuals on avoiding criminal investigations, in all phases of criminal proceedings and subsequent to proceedings.
Ranked Offices
Provided by Heuking Kühn Lüer Wojtek
Germany
Cologne

Magnusstrasse 13, Cologne, North Rhine-Westphalia, Germany, 50672

View ranked office
Contributions
4 Contributions provided by Heuking Kühn Lüer Wojtek
Slide 1 of 2
Trends and Developments | Germany
Since 1 July 2022, the minimum wage has been EUR10.45 gross per hour. As of 1 October 2022, the min...
Law and Practice | Germany
The general counsel's comprehensive guide | Germany
Slide 2 of 2
Law and Practice | Germany
The general counsel's comprehensive guide | Germany
Law and Practice | Germany
Heuking Kühn Lüer Wojtek rankings
Europe Guide 2022
Filter by
Germany
Commercial Contracts
1 Department
1 Ranked Lawyer
Department
Lawyers
Corporate/M&A: Mid-Market
1 Department
Department
Corporate/M&A: Mid-Market
Dispute Resolution
1 Department
Department
Dispute Resolution: White-Collar Crime: Corporate Advisory
1 Ranked Lawyer
Lawyers
Department
Department
Energy: Regulatory
1 Ranked Lawyer
Insurance
1 Department
1 Ranked Lawyer
Department
Lawyers
Intellectual Property: Patent Litigation
1 Ranked Lawyer
Investment Funds
1 Department
1 Ranked Lawyer
Department
Lawyers
Projects: Construction
1 Department
1 Ranked Lawyer
Department
Lawyers
Armin Freiherr von Grießenbeck
Public Law: Public Procurement/PPP
1 Department
1 Ranked Lawyer
Department
Public Law: Public Procurement/PPP
Lawyers
Restructuring/Insolvency
1 Ranked Lawyer
Articles, highlights and press releases
2 items provided by Heuking Kühn Lüer Wojtek