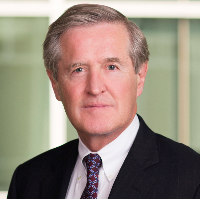 Lawyer profile
Kevin Gaynor
USA 2023: Environment
---
About
Provided by Kevin Gaynor
USA
Practice Areas
Kevin enjoys a national practice as an environmental litigator. His practice focuses on the defense of environmental civil and criminal enforcement actions, and complex environmental litigation matters. He is national environmental litigation counsel for one of the country's largest natural resources companies and handles matters in fourteen states covering all aspects of environmental litigation.
Before coming to the firm as a partner in 1993, he served in the U.S. Department of Justice, where he was involved in developing national environmental enforcement policies and strategies, and as lead counsel in selected cases of national significance. He also served as Assistant U.S. Attorney in Maine.
Career
Admitted to Connecticut Bar in 1973, District of Columbia Bar in 1978, and Maryland Bar in 1991. Joined the firm as a Partner in 1993.
Professional Memberships
Member: Environment, Energy, and Natural Resources Steering Committee, DC Bar; Environment and Litigation Sections, American Bar Association.
Publications
Challenges Plaintiffs Face in Litigating Federal Common-Law Climate Change Claims, 40 The Environmental Law Reporter 10845, September 2010 and Unresolved CERCLA issues after Atlantic Research and Burlington Northern, 40 The Environmental Law Reporter 11198, December 2010
Chambers Review
Provided by Chambers
USA
Environment - District of Columbia
Kevin Gaynor has extensive experience managing environmental civil and criminal enforcement actions and other litigation in the space. He often acts for companies involved in natural resources extraction.
Discover other Lawyers at
Vinson & Elkins LLP
Provided by Chambers
Filter by
California
Antitrust
---
Litigation: Securities
---
District of Columbia
New York