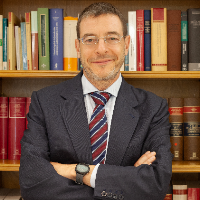 Lawyer profile
Enrique Llopis
Europe 2022
---
About
Provided by Enrique Llopis
Europe
Practice Areas
Enrique heads the Valencia office of Baño León abogados. His practice areas include public procurement, local administration and professional bodies. He is also a certified mediator and has been involved in the first mediations in administrative law in the region.
Career
Enrique Llopis Reyna joined José María Baño León Abogados in 1994. He is a Masters in Law from the University of Saarland University (Saarbrücken) and holds law degree from the University of Valencia.
Professional Memberships
Enrique is a member of the Valencia bar.
Publications
Enrique Llopis Reyna has published articles on the Exchange of information between administrations Public and right of defense in the Spanish Journal of Administrative Law and Das kartellrechtliche Verwertungsverbot. Ein Kommentar zum Artikel 20 Abs. Der Verordnung 1 17/62 in Nomos Verlagsgesellschaft.
Personal
Enrique is fluent in English and German.
Discover other Lawyers at
Baño León Abogados
Provided by Chambers
Filter by
Spain
Competition/European Law
---
Planning
---
Public Law
---
Other Lawyers